Le Mans 2023
10 of the wildest Le Mans 24hr records
Most retirements? Longest stint a driver has done? All that and more answered here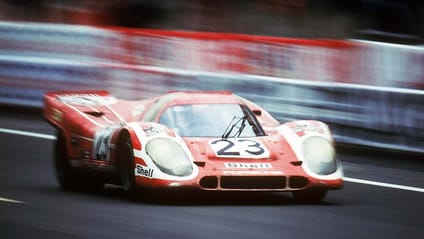 3m 17.297s – Mike Conway / Toyota TS050 Hybrid

Despite the many changes that the Circuit de la Sarthe has undergone over the years, the fastest ever lap set during the 24-hour race was by Mike Conway in 2019. The imperious Toyota TS050 Hybrid was even able to beat the fastest pre-chicane lap of 3m 18.4s set by Jackie Oliver in a Porsche 917 LH.

Advertisement - Page continues below

253mph (407kph) – Roger Dorchy / WM P88

Speaking of pre-chicanes, back in 1988 the Welter-Meunier P88 rocked up at Le Mans with the sole aim of breaking the 400kph mark on the Mulsanne Straight. Barely bothering with qualifying (as winning the race was never the goal), the 910bhp P88 started 36th on the grid and eventually clocked a top speed of 407kph (253mph) before it retired, although the advertised figure was lowered slightly as WM's founders – Gerard Welter and Michel Meunier – were Peugeot engineers and their bosses thought 405kph would help to sell the then-new 405 saloon.

24 hours – Eddie Hall / Bentley

Only one man has ever finished the Le Mans 24hrs having driven solo for the whole race. That man was Eddie Hall in 1950, who completed a remarkable 236 laps (around 2,000 miles) in a 16-year-old Bentley. You've got to feel for his co-driver Tom Clarke, who watched the whole thing from the pit lane as Hall finished an impressive eighth overall. 
 

Advertisement - Page continues below

19 – Porsche

You could have guessed which manufacturer had won outright at Le Mans the most times, couldn't you? Even still, Porsche's record of 19 titles is mightily impressive. Want to nerd out with the specific years? Here goes: 1970-71, 1976-77, 1979, 1981-87, 1994, 1996-98, 2015-17.

Nine – Tom Kristensen

You don't get the nickname 'Mr Le Mans' for nothing. Kristensen has stood on the top step at the Circuit de la Sarthe a bonkers nine times, with all of his wins coming between 1997 and 2013, mostly at the wheel of Audis.  

Most podiums before a win

Six – Toyota

Toyota may be the dominant force in endurance racing right now, but it took a while to get there. In fact, the Japanese manufacturer managed six podiums (and a last-lap breakdown from the lead in 2016) before finally bagging its first win in 2018.

16 years and 117 days – Josh Pierson

American Josh Pierson set a new record for the youngest ever driver at Le Mans in 2022. He was just 16 years and 117 days old when he took to the track in the United Autosports Oreca 07-Gibson LMP2 car. What were you doing at that age?

Advertisement - Page continues below

75 years and 269 days – Dominique Bastien

Dominique Bastien set his record in 2021 when he started the 24-hour slog at 75 years old and drove a Porsche 911 RSR to finish in 42nd place. Good effort. 

Most retirements – driver

18 – Henri Pescarolo

Given that he also holds the record for the most starts at Le Mans (a whopping 33), it's perhaps no surprise to hear that Frenchman Henri Pescarolo (third from left, above) has also suffered the most retirements. Still, not finishing on 18 separate occasions has got to hurt. 

Advertisement - Page continues below

Six – 1931

The 1931 running of the Le Mans 24hrs only kicked off with 26 cars, and yet thanks to tyre issues and a 2:30am thunderstorm only SIX eventually finished. The race was won by Brits Earl Howe and Sir Henry Birkin in an Alfa Romeo 82-2300 LM.