List
Eight of the best three-seater sports cars
Because what's a sports car if you can't enjoy it with your mates?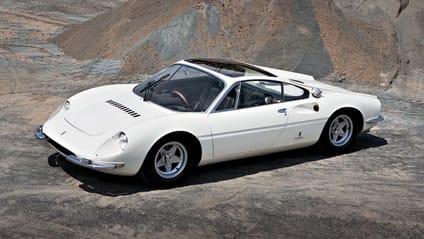 No surprises here. Overseen by Gordon Murray and powered by a 6.1-litre, 627bhp V12 created by BMW's engine genius Paul Rosche, the F1 is regarded as one of the greatest sportscars ever built. It remains one of the most furiously sought-after cars, too, with notable past and present owners including Elon Musk, Rowan Atkinson, and Jay Leno. They'd make for an interesting road trip trio...

Advertisement - Page continues below

Is this the coolest EV in history? The Nissan BladeGlider was first revealed to the world as a concept in 2013, and we had a go in it a couple of years later. Similar to the McLaren F1, the central driver's seat was flanked by one each side and slightly behind, while drive came from two independent electric motors, with a combined power output of 268bhp. Nissan initially suggested that it would make showrooms, but just two were built. Shame.

Scuderia Cameron Glickenhaus SCG004S

Meet the Scuderia Cameron Glickenhaus SCG004S. Ok, it's not a particularly pretty name, but the specs? Sheesh. Thanks to its all carbon construction, it apparently weighs just 1,179kg – less than a suitcase more than the McLaren F1 – with power coming from a mid-engined twin-turbo V8 with 641bhp and 531lb ft of torque.

Advertisement - Page continues below

Introduced in 1973 and perhaps best known for its three-abreast seating, the Bagheera was the product of co-operation between French conglomerate Matra and Chrysler-owned Simca. An affordable, mid-engined, rear-wheel-drive sports coupe with a small, naturally aspirated engine and a manual gearbox, a handful survive today in the hands of a group of enthusiasts. And yes, it really was named after the Jungle Book character.

Photo: Bonhams Auctions

In 1980, the Murena was unveiled as the Bagheera's replacement. Despite the disappointment of not continuing the Jungle Book character theme, it offered better aerodynamics and arguably more style, improved corrosion resistance, and most essentially for all enthusiasts, more power, thanks to its 2.2-litre Talbot Tagora engine. Sadly, politics between Peugeot-Talbot and Matra saw the Murena prematurely halted in 1985.

Photo: Anglia Car Auctions

Ferrari 365 P Berlinetta Speciale

Here's one you might not have heard of – a three-seat Ferrari. Unofficially nicknamed Tre Posti, meaning three-seater in Italian, it was conceived by Sergio Pininfarina and based on a design by Aldo Brovarone, who would later design the Dino. Unveiled at the Paris show of '66, underneath sat a race-derived 4.4-litre V12 and mechanics taken from Ferrari's 365 P2. Head of Fiat Gianni Agnelli was said to have loved it so much he ordered another one built, with only two ever created, and the first – a white coloured 365 – as recently as 2014 put up for auction... where a bid of $23m was rejected.

Photo: Gooding & Company Auctions

The McLaren Speedtail is the fourth car in the firm's Ultimate Series, after the Senna, the P1, and the F1, and offers three seats, a stratospheric top speed – 250mph – and a price tag – £1.75m – that's similarly out of this world. Still, that gets you 1,055bhp and 848lb ft – the highest of any McLaren road car – and enough for 0–186mph in 13 seconds. Oh, and guaranteed fun for you and two mates. Which, in our opinion, is quite frankly priceless.  

Advertisement - Page continues below

And so we come full circle, to the spiritual successor to the McLaren F1. Gordon Murray's £2.8 million T.50 is a 963kg, 654bhp three-seater that aims to right the 'wrongs' of the McLaren F1 – his words, not ours. Indeed, the T.50 shares many features with the F1, including a central driving position with two passenger seats flanking the driver, a naturally aspirated V12, a six-speed manual gearbox, dihedral doors, fan assisted ground effect aerodynamics, and a laser focus on saving weight. We've only been treated to a passenger ride so far – click these blue words to see how we got on.