List
Five mad facts about the BMW sculpture at Goodwood's Festival of Speed
A global first-look, genuine motoring history and a big old bill. Here's the inside story of that giant statue thing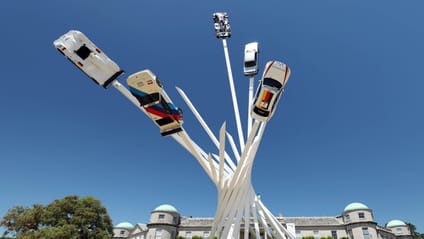 It cost a pretty penny

How much do you reckon it costs to suspend five cars up in the air on giant Kerplunk-like sticks outside the front of Goodwood House on Festival of Speed weekend? Well, rumour has it the bill that BMW had to foot was a cool £1million. Ouch. And that was before they sent someone to the shop to buy fireworks. Wouldn't a Catherine wheel have done?

Advertisement - Page continues below

The cars are the real deal

Don't assume – as we did – that those are just fibreglass models up on the plinths, though. The five cars are all completely real. The 3.0 CSL Batmobile is actually from BMW UK's heritage collection. Hope they used some strong superglue to keep it up there for four days.

Although they've undergone one major modification

In order to qualify for sculpture status, all the cars had to have their fluids drained (obvs) and engines completely removed. Presumably there's a storage centre somewhere in the leafy Sussex countryside with some very valuable four, six, eight and twelve cylinder engines sat around.

Advertisement - Page continues below

One man has designed every sculpture

The featured manufacturer – usually one with a big anniversary to celebrate – has had a sculpture in front of the Earl of March's house at every Festival of Speed since 1997. Artist and designer Gerry Judah has been the man responsible for each one, with the fabricating done by local company Littlehampton Welding Ltd since 2004.

It's the first time we've seen BMW's LMDh car in the flesh

Heading to the Festival of Speed over the next few days? Take your binoculars with you and you'll be able to get a first look at BMW's upcoming M Hybrid V8 LMDh endurance racer. This is the very first time it's been shown in the flesh and although it's upside down you can get a good look at the celebratory '50 years of M' camouflage. It is of course joined up there by the glorious V12 LMR, the aforementioned 3.0 CSL, an M1 Procar and Jörg Müller's old 3 Series WTCC racer. Very cool.