List
Have a look at Ian Callum's incredible back catalogue of cars
Here are the former Jag design boss's greatest hits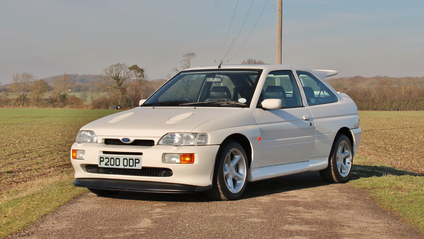 By now you'll have heard the news. Jag's legendary Director of Design, Ian Callum, is leaving the company to "focus on personal projects". The 64 year-old Scot is hanging up his H2B after 20 years at the company, and an almost uniterrupted run of really very good-looking cars indeed. What will he do next? We don't know. Hopefully many excellent things. But for now, let's have a look at the best bits of his back catalogue, the cars he's had a hand in.

Once you've clicked through, dive into the comments and tell us which one you think is his crowning achievement. 

Advertisement - Page continues below

With 900bhp, development from the Williams Formula One team and styling that's a world away from the XJ220 it effectively supercedes, the C-X75 would have put up a pretty strong fight against the LaFerrari, 918 and P1 if Jaguar hadn't pulled the plug on it. Bah humbug. Least the world got to see it going quickly in 007 film Spectre.

Some of our more junior readers may know only of the GT-R as Nissan's take on the supercar. Well, it's made to look a complete pussycat by the R390. Callum helped pen Nissan's top-class Le Mans competitor, which spawned a pair of road-going hypercars before that was even a genre.

With its twin-turbo 3.5-litre V8 engine serving up around 640bhp, it can complete 0-100mph in 6.5sec on its journey to a top speed beyond 220mph, making this much faster than even the Nismo version of the GT-R. And few will disagree the R390 is prettier, we imagine.

Advertisement - Page continues below

Another super looking car from competition, Ford's bonkers Group B rally entrant was homologated by 200 road-going RS200s. All were four-wheel driven and mid-engined; the rally car produced up to 450bhp, while the showroom iteration was a little tamed, with 250bhp.

The RS200 lived a short motorsport career, with Group B regulations scrapped a year after its debut. But its punchy design has ensured its status as a legend.

Callum's stint at Ford also saw the meek Escort family car turned into one of the most iconic hot hatchbacks of all time. Like it or not, there's no mistaking that humongous whale-tail wing and those bonnet vents.

While its mix of turbocharged power and four-wheel drive made it one of the fastest point-to-point cars new, its 217bhp is little more than you'll find in Ford's uppermost Fiesta ST Mountune nowadays. The Escort beats it hands down for muscle and presence, though.

Probably the most famous line on Ian Callum's CV, and a car that's topped numerous 'most beautiful car in the world' polls. Look at a DB9 or V8 Vantage in side profile and the DB7's influence on Aston's current design language is clear to see, even if its performance and dynamics lagged considerably behind its (then) modern-day equivalents.

Speak of the devil: the DB9 shares stylistic links with the DB7 because it also came from the end of Callum's pen. It's fine evidence of a good design being timeless. Facelifts since its 2004 introduction have all been pretty minor, and the Virage and mk2 Vanquish have both shamelessly riffed off its looks.

Advertisement - Page continues below

You can keep your DB7 and DB9, though. For us, this is Callum's finest work for Aston Martin, the first generation Vanquish treading the line between beautiful and brutal without straying a millimetre. Just a shame that one of the jerkiest paddleshift gearboxes of all time took the shine off an otherwise wondrous car. Happily, Aston Martin Works will swap it out for a manual, should you so wish.

As synonymous with Callum as the DB7, the XK (and its pokier XKR sibling) launched in 2006 with its seamless design only blemished by a cackhanded radio aerial; it looked borrowed from a Ford Granada and no doubt the result of Jag's pre-Tata penny pinching.

It was retired to make way for the F-Type as Jaguar's premier league sports car, but not without an abundance of special editions beforehand, including the XKR-S and the XKR-S GT, which has aero addenda aplenty.

Advertisement - Page continues below

Ford hit a real sweet spot in the late 1990s, with just about everything it produced driving deftly, even the Escort-replacing Focus. Perhaps its greatest hit of the period is the Puma.

Not only supremely agile to drive and possessing a Yamaha engine that relished a good revving, it looked cool enough for Ford to superimpose Steve McQueen behind the wheel for a TV ad and get away with it. And it can thank Ian Callum's penmanship for that.

Another mainstream hit with Ian Callum putting in design shifts. The C70 is quite probably Volvo's best looking car of the modern era, and if you assess its side profile against an XK or DB7, it's recognisably Callum-influenced from its window shape. It also spawned a convertible version, but for the hallmark C70 look you need an early coupe in signature 'saffron pearl metallic'.

Callum may have helped kick-off Jaguar's new era with the big-selling XF, but it's the wilder, more daring XJ that deserves applause.

It truly split opinion on first reveal, its hindquarters specifically. Age has softened the outrage but it's not lessened the impact of a design that shows its Audi A8 and Mercedes S-Class rivals up as staid and safe. The fact it's only just going out of production vindicates Jag's, and Callum's, bravery.

Ian Callum's greatest hits really wouldn't be complete without the F. It may not be boy's bedroom wall material like the C-X75, but this is a car that made production virtually unchanged from its prototype (the C-X16) and which looks superb as either Convertible or Coupe.

There are nods to the E-Type it recalls, but it's not at all retro, while its design has already proved malleable enough to comfortably morph into the limited-run - and wonderfully crackers - Project 7.

Jag's first EV was the first credible rival to Tesla's premium EV dominance, a car that beat its German rivals - the Audi e-Tron and Mercedes EQC - to market and a truly radical piece of design. Still Jag, with all those little flourishes Callum is known for, just modernised.