List
Seven great cars we never got in the UK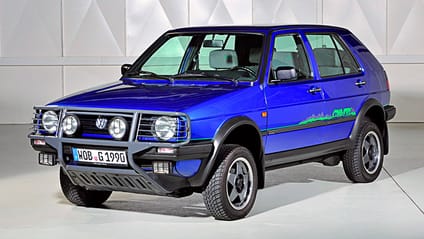 There are many fine and upstanding cars you can buy in the UK that you can't get in other parts of the globe; things like the Ariel Atom and Morgan Three Wheeler. There are also many questionable motors that were wheeled into British showrooms we'd have rather seen the back of. You know which ones.

And yet there are some excellent cars we can't buy. Not content with months of incessant rain, a sometimes rubbish road network and The Only Way Is Essex, we also have to live with the fact that some of the world's best cars never appeared for sale on our beloved shores.

Contained in this list then, are seven of the best cars we never got.

Advertisement - Page continues below

The best point-to-point distance motor the UK never got. It's a Five with the triple-turbocharged 3.0-litre diesel we get in the X6 and X5 with 376bhp and 546lb ft of torque, giving 0-62mph in under five seconds and in-gear acceleration that'll wrench your eyebrows off. The problem was that such a torque figure required the fitment of xDrive all-wheel drive - which we don't get on the 5-Series in the UK. Which means that the 5-Series diesel that outperforms an M5 in the real world never made it to these shores.

Some would think we probably don't need the Raptor, what with its wide-track, Fox Racing by-pass shocks and 35in tyres, all powered by a 411bhp 6.2-litre V8, designed as it was for deserty-type off-roading in the US. And they'd be right. We don't need the Raptor. We just want it. Rather badly.

Advertisement - Page continues below

This year is the FJ Cruiser's last in series production, marking eight years of one of Toyota's most characterful contemporary cars. A chunky exterior aesthetic, hose-down rubberised interior and buttons designed to work in thick gloves, it's a fun, useful SUV that we nonetheless were denied. Boo.

A bit rare-groove, but the Century is Japan's luxury sedan for the discerning captain of industry/dictator. And the imperial family of Japan. First produced in 1967, the first generation actually managed to last until 1997, and its subsequent longevity in the current second gen is probably thanks to such whimsy as an in-house 5.0-litre V12, and optional granite sills. It looks retro, and yet it's just... actually old. Want.

Mercedes-Benz E63 AMG Estate 4Matic

Big power requires big traction, and yet in the UK there are a whole swathe of AMGs that we only get as RWD. Good for smokey drifts, less good for rain-soaked roundabouts. Mercedes cites the conversion to RHD cost-vs-take-up of such vehicles, but we think they're just wanting to keep the best stuff for themselves.

A crossover before the crossover was even a glint in other manufacturers' planning departments, the Country was a Synchro (AWD) Golf with jacked-up ride height, bull bars and sump guard. Only 9,000 were made between 1990 and 1991, and there was even a special Wolfsburg edition with a 1.8 GTi engine for factory workers. We never got it.

Advertisement - Page continues below

Fancy an MPV that looks like a squashed Range Rover? We would, and Ford has sold the Flex seven-seater in the US since 2008. Ok, so it's big, and only comes with a 3.6-litre V6, but why can't we get it in the UK?