List
Ten things we learned this week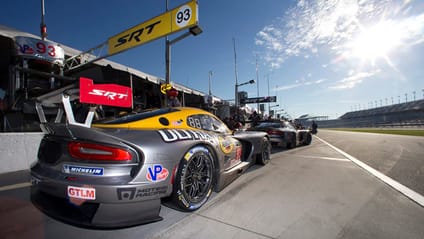 SRT's pulled out of Le Mans, so no more factory Vipers. Boo.

Leave your ear plugs at home, people - SRT's announced that it won't be providing its usual service of tinnitus and Dodge Vipers at this year's 24 Hours of Le Mans.

The news follows an announcement that Chrysler's stopped production of the ordinary, slightly-less-ear-damaging Viper for two months after a dip in sales.

Come on people! Buy more Vipers so SRT'll be back next year! What with the lack of free-piped V10s and all this hybridery, there's a danger we might be able to hear ourselves think at La Sarthe...

Advertisement - Page continues below

Volvo made a car with KERS in 1979

Ford's putting a Mustang convertible on the Empire State Building

Ford reckons that you might have missed the official unveiling of the Mustang convertible at the busy Detroit motor show this year. So just so you're categorically, 100 per cent sure the all-new Stag exists, Ford is putting one on top of the Empire State Building.

If you're reading this in a pair of Rowan trousers, or are James May, you'll already know why - 50 years ago, Ford unveiled the first drop-top Mustang with same stunt. Half a century later, it'll bring its roofless pony car to the same observation deck on the building's 86th floor.

Advertisement - Page continues below

The all-electric Formula E racing series might just be epic

We already know the freshly minted Formula E FIA championship will feature electric racing cars, urban circuits, and car swaps mid-race. But this week we found out that former F1 hot-shoes Jarno Trull and Nick Heidfeld are the latest big names to sign up.

Trulli, who's competed in 256 grands prix, and Heidfeld, who's racked up 13 F1 podium finishes, bring the total up to 40 drivers competing in Formula E this season, which opens on September 13 in Beijing.

Mitsubishi UK is having a laugh

We were vey excited when Mitsubishi revealed a 'new' Lancer Evolution X. It had many exciting features, like an ECU re-map, tubular Janspeed exhaust manifold, huge HKS turbo, and bigger intercooler. That lot boosts power to a huge 440bhp and 412lb ft.

But when we read the small print, Mitsi told us that each of the 40 models will cost £50,000. That's M5 and RS4 Avant money. Remember you can have a new WRX STI for less than 30 grand...

On March 29 the VW Golf will join Eva Mendes, Hello Kitty, and Abba in celebrating its 40th birthday.

Four decades has seen the Golf pile on the pounds. The 1974 original weighed 790kg, but today's Mk VII model is 415kg heavier - equivalent to around 13 Alsatians - at 1205kg.

The Mercedes GLA likes salt mining

Almost definitely inspired by this subterranean Benz, Mercedes has put a GLA 189 meters underground in a salt mine to show off its four-wheel drive system.

Four standard GLAs were lowered nose-first into the mine before being driven through 130 miles of tunnels underneath Cheshire. It's grim down t'pits...

Advertisement - Page continues below

Rooi Mahamutsa now has eight lives

Rooi Mahamutsa, a footballist for South Africa's Orlando Pirates, lost control of his BMW 335i in Marlboro, Johannesburg, and skewered it on some Armco.

Unbelievably, despite the crash barrier giving it the full kofte by piercing the Beemer from window to boot, Mahamutsa escaped uninjured.

The old BMW E9 looks incredible with a futuristic nip-tuck

OK, so this unofficial rendering isn't quite as terror-provoking as the rat rod Lambo, or real-life as the David Brown Automotive Speedback, but you'll still look at it in a way you're not supposed to look at women.

The designer behind this neo CSL's called David Obendorfer, and while its swoopy loveliness looks unencumbered and free-form, the designer says it'll fit on top of the current 6-Series platform.

Advertisement - Page continues below

Australian pigeons fly on the motorway at 55mph, and take exit ramps

Sensing that somebody had just washed their car, this Australian pigeon wasted no time taking to Australia's M1 motorway, speeding up to 55mph, then carefully exiting the slip road for the Ormeau junction.