Modified
These are the star cars of Fast & Furious Live
FF turns into a two-hour live show. Here are the cars. And remember: no crust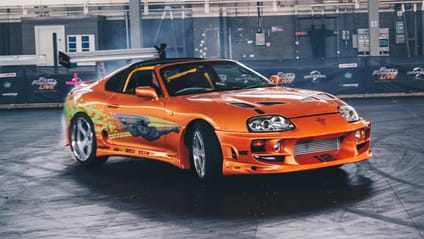 From January 2018, you'll be able to enjoy living your life one quarter mile at a time. Scratch that. You'll be able to enjoy it one explosion at a time. Bring your own tuna sandwiches.

Yes folks, Fast & Furious Live will hit the road next year, and it's exactly what you think it is: a live-action recreation of some of the finest stunts and motoring hoonery across eight films that have not so much broken box offices globally, but dispatched them into space.

"It's been years in the making," explains FF Live creative director Rowland French, "and we are beyond excited to finally show fellow fans what we have been creating in order to bring Fast & Furious Live to the global stage."

We're promised a two-hour show that will become "the most spectacular live arena production every produced". There's super advanced digital projection tech, "physics defying stunts", fire, and of course, high-speed precision performance driving.

This is where it gets interesting. You've seen these hero cars do things on screen. Now you can watch things like the original Supra and Dom's Charger do inexplicable things to the laws of physics.

"With this mix of extraordinary stunts, special effects, cutting-edge 3D projection-mapping – as well as drivers pushing their own limits – every performance will create an unforgettable experience for the live audience," Rowland added.

So, before the tour kicks off proper, here's a little look at the cars you'll see on stage, and a bit from the rehearsals...

Advertisement - Page continues below

You can thank overnight parts from Japan for this little beauty. It's arguably the most heroic of Fast & Furious hero cars: Brian's very own stupendously modified Supra. This will apparently feature in the "breathtaking" opening sequence of the live show.

Arguably as iconic as the orange Supra is Dom's Charger. The car that – in the films – was built by his late father, the one that scares him the most and the one that features so much torque the chassis has a habit of, um, twisting. This is the very first car you'll see in the show.

Advertisement - Page continues below

FF car coordinator Dennis McCarthy's prized creation is the little monster you saw in Fast & Furious 6.

Custom built, rear-wheel steering, a 500bhp V8 on board and the capacity to turn oncoming traffic into free-form rollercoasters. Marvellous.

The car that drew shrieks of approval from a fictional crowd when the bonnet was opened to reveal a world of horsepower and chrome. It's Brian's Very First Car. The one in which the passenger footwell inexplicably made a break for freedom during a drag race. Don't ask.

Roman's motor from Fast 8: a modified, orange (of course it's orange) Murcielago.

Another entry from Fast & Furious 8 (the one in the middle of the pic) is a very different take on Dom's original wheels. And by different, we mean armoured, jet-powered, and four-wheel-drive. It's practically a Bond car.

This one was built by the same team behind the films, and will appear in a live recreation of the submarine chase from Fast 8. Yowser.

Advertisement - Page continues below

There are plenty more machines on offer. Here's a rehearsal of four of them merrily drifting about. Looks good.

Advertisement - Page continues below

You'll spot the R34 GT-R, another Supra, an S2000 and the glorious Mazda RX-7, here resplendent in LED lighting. Maybe bring some sunglasses to the show.

And here are two more that pay homage to the third entry in the franchise – Tokyo Drift. A modified 350Z battling a souped-up Nissan Silvia S15.

The show will kick off on 19 January at London's O2 arena, before jetting off to Belgium, Italy, Austria, Germany, Netherlands, France, Portugal, Spain, Switzerland, Sweden, Norway, Finland and Denmark.

Just remember: no crust...