Motorsport
10 things you need to know about the Nürburgring 24 hours
This little-known German racetrack has flown under the radar for far too long. Get up to speed here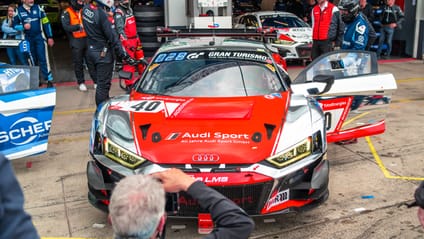 You'll use a little-known bit of the German motorway

Apparently, the German motorway system is called 'Autobahn'. In some parts of this so-called 'Autobahn', there are no speed limits. Which means it'll definitely not be laden with traffic and congestion.

Advertisement - Page continues below

Prepare your senses, for this is a race like no other

If this is your first time, prepare to be blown away. Twenty-four hours of flat out racing? Madness. Though, a single driver doesn't race for 24hrs on their own, of course, the stints are split between a team of drivers.

Nothing else quite like it. Except the 24hrs of Le Mans. And Spa. And Daytona.

Prepare for a lot of partying

The fans here take this stuff seriously. Some are so dedicated they start the party up to a week before the event and camp out to get the best spots over the 24 hour race weekend.

Advertisement - Page continues below

Get your walking shoes ready

The Nürburgring circuit is a whopping 15.5 miles long. Like many circuits, there are straight bits, twisty bits, and downright terrifying bits. In order to get the most out of this track, you're going to want to try see it all. You may be lucky enough to have transport around the event, but you're still going to be doing a fair bit of walking to reach the iconic parts of the track.

There's a chance to ogle the race cars on the grid walk

Before the race kicks off at 4pm, you have the opportunity to take a walk through the pit area and start line. This gives you the chance to get up close to the cars and drivers in each team before they head off hitting high speeds for the next 24hrs. It's a great buzz to be in and around. You can see all the fan favourites from the factory-backed efforts right down to the humble E30 BMW. The Nürburgring 24hrs really does have it all.

You can get stuck into the action in the pits and paddock

The pits are full of wonderful and random things from concept cars like the Hyundai N Vision 74 to people rolling used tyres to take home as souvenirs. There are fan experiences from brands, while you'll likely spot drivers and familiar faces milling about. Have a wander and try not to get too lost in the midst of it all.

There are a couple of viewpoints you'll want to get to

The carousel is about an hour walk but the view at the top is worth it. You've also got the iconic 'YouTube corner' which you may know from compilations online which have caught out drivers in the past on the 'Ring. Additionally, if you've got the time and you're a die hard fan eager to get a good viewpoint, get your scaffolding at the ready and build a viewing platform yourself. No, this is not a joke, we've seen things.

Advertisement - Page continues below

You'll want to keep your energy up for the amazing night racing

Whether you choose to stay up the whole 24 hours or take a short nap, you're not going to want to miss the night time racing, because cars going flat out around a scary track in the dark is astonishing to behold. Some fans choose to party through the night to keep their spirits high, utilising disco lights, LEDs and fireworks. One helluva show.

Get some rest, stay hydrated, eat your greens

Contrary to popular belief, you're going to need some sleep to function, as it'll be very tiring hiking through the woods of Nürburg to cheer on your race favourites. Stay hydrated too, as while there are some food facilities dotted about, they likely won't be deep in the woods at 4am when you're listening to the distant sound of an Audi R8 at full chat. Also, eat your vegetables and be nice to your neighbour.

Advertisement - Page continues below

Start prepping for the Le Mans 24hrs!

After multiple battles and shocking overtakes, all good things must come to an end. A winner is crowned and having had your first taste of a full day of racing, you're left wanting more. Good thing the 24hrs of Le Mans is just around the corner...