Motorsport
12 things we learned on the Mexico 1000
As our internal organs recover, some thoughts from possibly the world's greatest race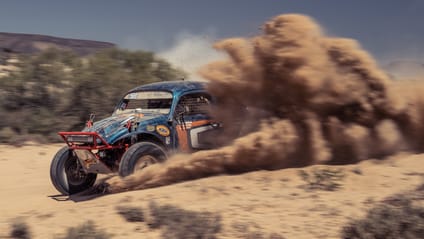 For the last week, Top Gear has been south of the border in Mexico. We've been taking part in the Norra Mexico 1000, co-driving the gruelling 1,400-mile off-road race from Ensenada at the top of the Baja peninsula, down to holiday hotspot San Jose Del Cabo at the southern-most tip. That makes it sound horrendously simple and easy. We can now safely say it's not.

Having finally crossed the finish line, we thought it'd be good to quickly jot down some things we learned on the way. But this is only a brief outline of the trip. It's been such a wild, wonderful and at times scary slog, there are enough anecdotes, hi-jinx, racing, mechanical failures and memories to fill a book.

So we need a few days to decompress, let our internal organs return to their appropriate positions and collect our thoughts. But we'll give you the full story in Top Gear magazine and here on the website in a few weeks time. Trust us, it's worth sticking around for.

Until then, we've put together a gallery to whet your appetite. So flick through and keep your eyes out for the whole shebang in the near future. 

Photography: Rowan Horncastle, Ernesto Araiza, Brian Binkert

Advertisement - Page continues below

It's dangerous

Nothing quite focuses the mind like strapping a passport to your sternum. It's recommended while racing just in case you happen to have a big enough shunt you're bent so far out of shape you need to be helicoptered back over into the US for treatment.

Worrying details like this are ten-a-penny in Baja. It's a notoriously dangerous place to race where fatalities are common. But this jeopardy is a thick thread of the unique fabric that makes its off-road events so special. With civilisation sometimes hours away, no phone signal and savage conditions, it's a place to respect. Otherwise it can go very wrong, very quickly. Over the course of the week cars fell off cliffs into the ocean, many rolled and even the famous Terrible Herbst Truggy burned to the ground.

It has history

The Mexico 1000 was actually the original race down Baja. Conceived by a chap named Ed Pearlman back in the late Sixties, he wanted to show that four wheels were better than two at smashing it from the tip to the toe of this estranged finger of land.

It all started back in 1967 when Ed set up the National Off-Road Racing Association (NORRA). It was formed in order to sanction a race that allowed him and 60 of his mates to race from Ensenada to La Paz.  There was one stipulation: each entrant had to throw one hundred bucks into a pot to be spent on the mother of all parties at the finish.

This happened annually for a few years, until SCORE (another race organiser), took control of the event in 1973 and made it into what we now call the Baja 1000.

Advertisement - Page continues below

The cars are awesome

If we're honest, the magnetising factor that brought us out to Mexico was the metal that gets bashed around the landscape. It's not everyday that you get to see Fifties Chevy Bell Airs, Novas, Ford Broncos and other cars fit for Mad Max smash through the same trails as modern trophy trucks. 

NORRA prides itself on celebrating all off-roader race cars from different ages. This lends itself to one the most mind-blowing and diverse selections of cars/buggies/trucks/bikes to go racing on the planet.

The different eras are restricted by period correct technology, then refined even further into classes to even out the playing field. This is to avoid the temptation of competitors to update their trucks to the highest, fastest and most modern specification possible.

So you have everything from early cars with an inch of suspension travel, to modern trophy trucks upwards of 34-inches of travel. But they all have one thing in common: they're all nuke-proof. 

It's doesn't take itself too seriously

Where the Baja 1000 is a non-stop cutthroat race over a maximum of 44-hours, the NORRA 1000 has taken a chill pill.

The organizers are aware that racing is sometimes tied up to tight, so they've loosened the belt buckle a notch by splitting the mileage up into four stages. That doesn't mean it's a doddle. Given the cars aren't fitted with all the latest modern technology, and you can be behind the wheel for over 14-hours, it can be physically harder work than the Baja 1000.

There's also a more relaxed vibe around everyone involved. Big name competitors like Robby Gordon see it as a bit of a break and something to embrace and enjoy. Others, like the husband and wife riding pillion on a motorbike, see it as a high-risk holiday. And unlike other off-road events where faster cars tap, then ram you if you don't get out the way, there's a no nerfing rule in place to help protect the irreplaceable vintage cars.

Also, at the end of each day, there's a community atmosphere of mucking in to get everyone to the finish. If people need parts, someone finds or fabricates them. While others, like the Gentleman's Guide to Racing, just make sure everyone is fed watered and happy by cooking 200 sausages, supplying a keg of beer outside their rock 'n' roll tour bus and pumping out Prince from a massive speaker.

Navigation is quite a serious job

Our primary job while out here was to ride shotgun and navigate. Unlike the Dakar where sat navs are banned, GPS systems are allowed at NORRA and are the main instrument to know which way to go.

When we were told that, we thought it'd be a breeze. 'Turn left, turn right, look at the amazing scenery, oops, make a legal U-turn,' etc. That all changed at the driver's briefing when the road books were finally handed out.

What the GPS didn't show were the bumps, jumps, severity of corners, dips and potential death. "You know what that means, right?" a competitor said as he pointed to three exclamation marks. I shook my head slowly. "Death!". Ahh, at this point I took the book and flicked through to see how many potentially deathy situations there were. It turned out to be six on the first three pages. Gulp. 

Knowing if my driver misheard a mumbled note in the barren desert that we could both be booked in for a dinner date with the Grim Reaper, I grabbed a fistful of highlighters and had an intensive co-driving course from six-time Baja 1000 and two-time Dakar Class winner Darren Skilton. Still papping my pants, I had a quick refresher from Team O'Neil Rally School chief instructor and rally ace Wyatt Knox.

After rewiring my brain to work off a north-facing orientation GPS, rather than my prefered direction of travel, once in the truck I got in the flow of it and we made up many places. But I can honestly say I've never concentrated so hard in my life. 

Stomping across the desert at silly speeds is fun

The ability and competence that off-road trucks have while marauding across a ruffled, pitted and boulderous landscape is mind-frazzling. I found the only way to attack rocks the size of fridge-freezers at over 100mph was to detach brain, grit teeth and have faith in the truck's ability. Most of the time it worked.

You have to retrain your brain as to what's possible. When you do, there's no denying making progress in places no cars should rightly go is fun. Until you get to a horrendously rough section that clatters your innards together like a Newton's cradle. It's mighty uncomfortable and at points you worry your lungs will detach from their fittings. It's not until the next morning that you see your kidneys have already cried mercy by filling your urine with blood. 

Advertisement - Page continues below

Mexican dust is incredibly dusty dust

At the Dakar, there's a type of terrain know as 'fesh-fesh'. It's a fine, powdery dust that helps creates epic pictures of cars drifting, jumping and bursting through silt beds. 

There's a very similar dust in the Baja, but it's even more dangerous. It's an odd substance that when driven through, feels like water. Yet it looks like flour and has the consistency of thick chocolate milkshake. The key to get through it is momentum, with light cars benefitting from being able to skip over the top.

But when you mix the dust with water, the powdery sand gets all claggy and finds its way into the small gaps and openings of the vehicle's components, causing breakdowns when the mixture hardens. Also, without a breeze, it hangs in the air ominously, restricting people's vision making people crash into each other.

With most cars running without a windscreen (they'll be smashed within minutes if they did), after just a quick stint in a car the dust is in your teeth and ears, while your lungs look and feel like a six-month old hoover bag. 

Robby Gordon is very quick

One night, after a frivolous remark in the bar – which quickly snowballed into a strange series of events – I ended up in the position of navigating Robby Gordon on day three of the race.

Yes, that Robby Gordon. Off-road legend, creator of the awesome Stadium Super Trucks series, and someone who's raced pretty much every form of four-wheeled vehicle possible.

Instead of racing his modern 'Gordini' Dakar truck, he brought along one of his 2003 Class 1 buggies. With a six-speed sequential 'box from an Indy car, 24-inches of suspension travel at the front, 20 at the back and a 600hp pump-gas Corvette engine, it's quite a different setup to a trophy truck. But, crucially, it only weighs 1,270kg – less than half of those top-tier lolloping beasts - making it incredibly nimble and good at scuttling over rock and silt beds.

Having broken a front axle on the first day, Robby was very relaxed and even offered me a drive as he wasn't in a position to win. That changed as soon as we started picking off competitors one-by-one in the first few miles.

Being a Baja veteran, he'd done parts of the 232-mile stage from Loretto to La Paz before. This made my navigation – which had been reduced to flappy hand signals due to a comms failure – meaningless to begin with.

Instead of following the meandering GPS, Robby basically went as the crow flies regardless of what was in the way. The punishment the buggy could take was incredible. With 30,000 off-road miles on the clock, it's an amazingly robust bit of kit.

And boy can Robby drive. His commitment and millimetric precision allowed him to wield the wobbly buggy and place it in positions I didn't think possible. And with the ability to lock either side via a hydraulic diff, the thing turned on a dime – allowing us to make up time in the tight stuff while being able to max out at 120mph elsewhere. Remarkable for something that's 14 years old.

With an average speed nudging 80mph, we won the first stage and were runners-up in the second. This resulted in an overall day win, and an experience I'll never forget. 

Advertisement - Page continues below

The scenery is stunning

The Baja peninsula is an odd slither of land. It's torn away from a continent and orphaned from both the USA above it, and the mainland Mexico a hop over the Sea of Cortez to the east. For the last 17 million years it's been beaten by water on both sides then baked in searing temperatures to create a formidable but beautiful landscape.

Starting in Ensenada, the northern section of the race is twisty and green but opens up onto the Pacific coastline where we ran down the beach until waves lapped over the bonnet and into the cab. But as we zig-zagged from the west on one side to the sea of Cortez on the other, then back again, before finishing in the south, the views just kept getting better and better and better.

Through vast cactus forests, to massive boulder fields, costal drop-offs, tiny villages, rivers, across rocky, churned-up desert and wide-open sections that have the right pedal pinned for miles and miles, the fabulous colours and textures of Mexico are a true feast for the eyes... Until you turn a corner to find the road doesn't exists and you're tip-toeing along a sketchy coastline. 

It's a route that you don't think is passable until you've done it. Which even if you had a Range Rover or Merc G-Wagen, would never be possible. It's hardcore territory for big boys' toys only.

Mexican mechanics are insanely talented

Given that the majority of cars competing are old and being relentlessly battered for 1,400 miles straight, it may come as no surprise that there's a fair amount of mechanical failures during the race.

For most, the aim isn't to win but to get the car across the finish line. That's a massive achievement in itself. So after each day, hotel car parks – or wherever there's light pollution – are fashioned into makeshift pits for mechanically minded people to burn the midnight oil and get things working again.

From replacement suspension, to full engine swaps, no task is too big and the tenacity of those involved is huge. But no matter how good your mechanical knowledge is, from my experience it pales into insignificance compate to those of Mexican fans and 'Yonke' – scrapyard – owners.

Over the course of the week, the GGTR Nissan we were following had a few issues. The first was one of the wheel hub bearings needing to be replaced. Normally it's a simple fix. But as this was a bespoke race car, it required some incredibly intricate stick welding to fix it.

Knowing the historical significance of the truck, everyone in the pits chipped in. Some of the best welders in the game were practicing the one-shot-or-bust weld but no one could nail it.

Until 4am, when the security guard saw the suffering and came over to announce in broken English that his cousin could do it. Eyebrows were raised. But 40 minutes later, an incredibly drunk man stumbled in, slurred some words in Spanish and plugged a sketchy stick welder into our generator. He then proceeded to tack the most beautiful bead of welding anyone had ever seen. Baja magic distilled. 

Stickers are currency

'Stick-ah! Stick-ah!' That's a phrase that reverberates around the Baja peninsula whenever a race is on. And even though the Mexico 1000 is relatively unknown, it still brings locals out in hoards to get their hands on some adhesive labels. 

Seriously, the main concern for everyone from kids to armed guards at military checkpoints was to thicken up their sticker book. It got to the point where we're pretty sure you could bribe your way out of a war crime in Mexico if you've got a wad of adhesive-backed Bilstein logos and a couple of cans of Monster.   

It's a goldmine for good pub stories

To remain loyal to the Mexico 1000, its modern day reinterpretation ends with a substantial soiree at the finish line. This is basically just a giant 'you'll-never-believe-what-happened!' fest over a seemingly endless vat of tequila.

Some of the tales were genuinely so unbelievable it was like their race took place in Photoshop. Like the poor sod who broke down on a 1966 Triumph and was never picked up by the support sweeper crew, so spent 24-hours in a tiny Mexican village with no phone signal, to be found the next day giving an English lesson to the local kids. Or the impromptu cockfights people were roped into watch while locals fix their car.

We even had our own when the Nissan's steering box failed for the second time. After an all-night rebuild by Dakar and Nissan factory mechanics, the car gave up just a few miles from the start line on day four. The boys called it game over and radioed the chase truck to put the car on a trailer.

Luckily, they got lost. Which allowed a miracle to happen as the faint sounds of Pink Floyd's 'Dark Side of the Moon' came over the horizon. A Mexican was at the wheel of a pick-up full of subwoofers and pulled over to help. Wanting to know what was wrong, we showed them the failed hoses, leaking fluids and broken box and told him it was a goner. Not in Mexico.

The miracle worker drove us to what looked like a shack, but was actually a fully-fitted out tractor workshop and fabricated new parts. They only bloody worked! So instead of being towed across the line, the car arrived six hours late, but made the finish under its own steam. An incredible end to an incredible week.