Motorsport
This car graveyard is where rare gems go to die
On this All Hallows' Eve, we step into a ghoulish motoring graveyard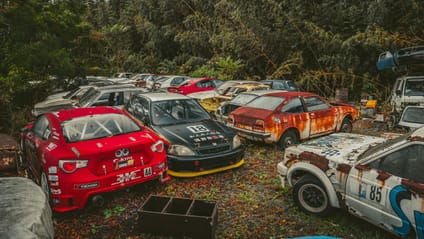 You may have seen our recent article on the abandoned Toyota Supra race car. To the surprise of many, that legendary racer had been left to rot for over 15 years. Unsurprisingly, a lot you were sad about that – especially the generation that had a misspent youth getting pale and angry while endlessly playing Gran Turismo. Well, we'd hate to rub it in, but we kept something from you, as that was only the tip of the iceberg. Salt, meet wounds.

Words: Rowan Horncastle // Photos: Mark Riccioni

Advertisement - Page continues below

Look, you can see the sad-looking Supra slumped on its suspension in the background. That's because it's just one of over 200 incredible old racers and rarities that have been left for dead in the Japanese countryside. They're all used stock, donor vehicles, parts bins, on the 'to-do list', or simply forgotten about projects of a car restorer and race shop that's been operating for the last 50 years. An incredibly enthusiastic and successful race shop that also knocks out exquisite restorations. So don't for a second think that these are left for dead through lack of love. They're just busy. But the owner does have a habit of collecting some humdingers; American muscle cars, JDM race cars, countless Alpina specials, kei supercars and everything in between. They all have fascinating stories, too. 

Take the NASCAR that's perched on the roof for example (once you've drunk in the gorgeous Hakosuka GT-R, obvs). That's not just some silhouette shell bought off eBay to be the automotive star at the top of the Christmas tree. Nope. It's an actual bona fide NASCAR.

It came from America thanks to a NASCAR obsessed chap in South Japan. He wanted one to drive on the street. So bought one and shipped one over – as you do. He got it street registered, tooled around in it before selling it to someone to be a display in a shop. Then the current owner bought it, where it's sat for around 10 years. And this is just one of literally hundreds of cars, so click on for some of our Halloween highlights. 

Advertisement - Page continues below

If you have an off on a track day in Japan and insufficient funds to get the car fixed, there's a high chance that it'll end up here. Also, how cool does a GT86 look with a race car fueling rig out back? 

Need a distressed drift car? Look no further.

Amazing! Here's an R31 Skyline that managed to escape the clutches of that crazy R31 Skyline graveyard... to end up in another graveyard. Doh.

Advertisement - Page continues below

Ah, an early Honda NSX Superleggera. Simply rip off all the body panels and allow it to waste away naturally to save weight. 

Colin Chapman's mantra was to 'simplify and add lightness'. This is that taken to the extreme. See, the Lotus Europa is so light you can simply lob them on a shipping container to save space.

Advertisement - Page continues below

If there's one car we wanted to take home it was this 190E Cosworth. Just give Barry Scott an oil drum of Cillit Bang and a weekend and he'll have it gleaming in no time.

The Japanese Mustang – the '70s Toyota Celica 2000 GT – has more in common with its American cousin than you'd think. Mainly because it also rusts. Badly.

If you thought your car interior was a mess with sweet wrappers and Coke bottles everywhere, you've got nothing on this. This could double-up as an apocalyptic exhibit at the Chelsea Flower Show.

"VTEC JUST KICKED IN YO." Oh no. No it didn't. They're all dead.

What does a BMW E9 3.0CS look like with a severe chainsaw haircut? This. On a serious note, if anyone can identify the car on the right, you win a million Internet Points.

In some parts of the world this is known as 'stance'. We call it... something else.

These would fetch a fair whack on eBay. Unfortunately, this dealership isn't in the market of selling. Just hoarding.

Have you ever seen a bonnet like that? It looks like Godzilla has taken a bite out of a prawn cracker.

Plastic can't rust. But that 2JZ engine underneath can. Come back in six years time to see this Supra covered in a jungle.

Here's proof that the shop doesn't just have rusty Alpinas. Here's a wonderfully restored E9. *Bites knuckles*

It's not just European jewels and JDM nuggets, here's some good ol' Americana a long, long way from home.

"And the winner of the 2019 Turner Prize is... 'PLANT IN KIDNEY GRILLE'"

Apparently, if you line these up and play them like a set of Peruvian panpipes, you get a note-perfect rendition of Spanish vocal duo Baccara's "Yes Sir, I Can Boogie".

You know your interior is in need of a spring clean when you have to attack it with a strimmer then a Dust Buster.

People in SoCal spend a fortune to get this Rat Rod look. Suckers. All you've got to do is leave it outside for – we don't know – roughly twenty consecutive winters.

Is there a more depressing sight than a winking pop-up headlamp? Yes, yes there is. A winking pop-up headlamp next to this lot.

OK, who has seen the nose trimmer? Grandpa Alpina needs some TLC.

After that morbid ghoullery – we mean gallery – here's something cute to cheer you up: an Autozam AZ-1. Everyone say 'ahhh'.