Motorsport
This Toyota Supra has been abandoned for over 15 years
This iconic Nineties racer became the world's fastest and most expensive flowerbed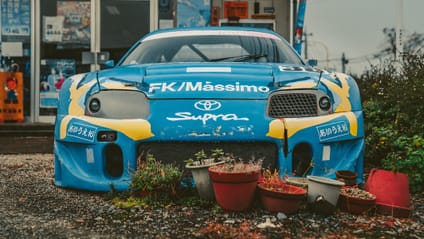 Second-hand car dealers use all kind of zany bait to try and lure potential buyers in. In the US, those giant inflatable men that look like they're having a disco seizure are common. While over here in the UK, we tend to park an old Freelander haphazardly on some rockery. In Japan, they go the extra mile – using a rotting (and completely genuine) 1999 Toyota Supra GT500 JGTC race car as a sort of marketing magnet.

As you can imagine, this kind of thing is car-y catnip to us. So we had to check it out for ourselves. Click on for the low-down on this zombie racer's slightly unbelievable – but very Japanese – story.

Words: Rowan Horncastle // Photography: Mark Riccioni

Advertisement - Page continues below

First things first. We're not going to tell you where it is, apart from that it's in Japan. Not because we're selfish, but because we want to protect the shop where it resides from being harassed by an army of attention-seeking selfieists looking for shameless content for the 'gram. The garage is run by a very humble and unassuming family who – luckily – aren't corrupted by social media or the internet. It hasn't really reached this inconspicuous part of Japan. And that's largely how the car has managed to remain dormant for over 15 years. So we're going to respect their wishes to keep it fairly low-key. While also plastering it over the internet. Yes, we know it's a slightly conflicted situation. But it's all been agreed.

Anyway, how does an old, awesome race car end up as the world's fastest and most expensive flowerbed? Well, because nobody else wanted it. Which, considering it was relatively successful (finishing 14th overall in its final season, but also on the podium at Fuji Speedway) is quite remarkable. 

Now, we're not surprised if you haven't got an encyclopedic knowledge of Nineties JDM touring cars. So what you're looking at is the 1999 Toyota Supra #38 Cerumo FK/Massimo JGTC car that was driven by Yuji Tachikawa and Hironori Takeuchi. Not some half-arsed marketing buck, either, but the actual car that raced, complete with all its mechanical bits intact, apart from the transmission.

Advertisement - Page continues below

It raced in the All Japan Grand Touring Car Championship. Which, if you're a bit older, may only ring a bell when we refer to it as the Zen Nihon GT Senshuken. Or Super GT, if you're a little younger. Either way, it's the top-flight of Japanese touring cars and in the Nineties it was properly epic. 

The series is split into two categories: GT500 and GT300. The names of the categories derive from their traditional maximum horsepower limit - in the early years of the series, GT500 cars would have no more than 500 horsepower, GT300 cars would max out at around 300bhp. Nowadays it's a bit more complex than that but just as awesome. 

However, when the Spice Girls were ruling the world, the spread of cars duking it out on Japanese tracks was proper. All of them were poster cars; just stripped out, wide-arched and bewinged. We're talking Lamborghini Diablos, Dodge Vipers, Porsche GT1s, Honda NSXs, McLaren GTRs, Nissan 300 ZXs and GT-Rs. But when the Mk IV Supra arrived in 1995, it properly shook the championship up.

Anyone who grew up on a diet of Gran Turismo will know the ultimate JGTC Supra was the white, green and red icon from the Castrol TOM's team. But there was a whole fleet of Supras competing back then, with this blue and yellow car championed by the Cerumo FK/Massimo team being one of them. As a whole, the Supras helped to firmly establish the new GT500 class, a category that would turn into the fastest GT racing category on the planet. Partly through snuffing out the supremacy of the mighty Nissan GT-R. Or 'Godzilla', as it was famously known back then.

The reason the Supra was so successful was largely thanks to Toyota's ingenious lateral thinking. Its loophole savvy engineers were the first to read between the lines of the engine regulations which stated that cars were allowed to run any engine they liked as long as it was in the original manufacturer's range. So instead of copying Nissan's approach and using a 'roided up version of the famous 3.0-litre, straight-six 2JZ engine from the road-going Supra, Toyota decided to pinch the turbocharged 2.0-litre, four-cylinder from its rally cars and drop it in the front. An act of genius for many reasons. 

Firstly, this engine was specifically tuned for motorsport and had been proven to have mega tolerances. But it was also lighter and more efficient than the steel 2JZ, and still produced a whopping 493 horsepower and over 442lb ft of torque – more than enough to match the Skylines and their mighty RB engines.

How did the #38 car come to rest here? Well, after the 1999 season there was a sponsorship change within the race team, so the main sponsor wanted to get rid of the car. But no one wanted it; it was too complex to run, too expensive. So the owners of the shop where it lives now managed to bag it for free and use it as an eye-catching momento outside the office. It's been sat in the same spot for the last 15 years. So long in fact, they can't actually remember exactly how long it's been there. But long enough for the paint to fade and crack, tyres to deflate and for the rust to set in and turn the motorsport parts a nice shade of sad, neglected brown.

Advertisement - Page continues below

As you can imagine, over the years they've been approached multiple times by people (from all around the world) wanting to buy it. Some have even offered heinous amounts of money. But they will never sell it. No matter how bad its increasingly decrepit condition gets, it's got tremendous sentimental value and drums up attention in a way a giant inflatable man or Freelander parked on some rockery simply can't. But will they ever restore it? Well, it's always been on their to-do list but they've never got round to it. And if you tune in tomorrow, you'll find out why...