Motorsport
F1 2022: 10 things we're looking forward to
Recovered from THAT controversial showdown in Abu Dhabi? Good, here's what F1 can deliver this season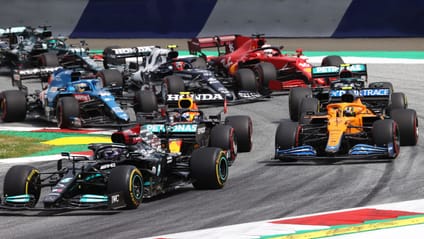 Hamilton vs Russell

Two Brits in the same team? We haven't had that since Jenson Button and Lewis Hamilton joined forces at McLaren, and we know how that worked out. There's so much hype around George Russell and him being a champion in waiting, but now is the time for him to prove it. His stellar job covering for Lewis in Bahrain in 2020 proved he's up to the challenge, but can he take the fight to the seven-time champ (and now actual knight of the realm) over a full season? Dear Mercedes, please let them race. Yours, everyone.

Advertisement - Page continues below

The new cars

Delayed by a year due to the pandemic, the theoretically more racy cars are here at last. F1 has released a mock-up of their version but it's been fascinating to see how each team has interpreted the latest regulations. Is there scope for a Brawn-style blown diffuser to knock the competition out of the park? Adrian Newey and his counterparts will surely be hunting a similar innovation again…

Overtaking

Yep, the sole purpose of the new rules is to make sure overtaking and close racing is easier than ever before. The new cars should be less affected by the turbulent air, so there should be vastly more wheel to wheel action. More downforce will be generated by air running underneath the car, as famously exploited by the Lotus 79 and then (briefly) the Brabham 'fan car'. Bring it on.

Advertisement - Page continues below

Bottas in an Alfa

No matter which way you cut it, Valtteri Bottas did occasionally manage to beat the best driver on the grid in the same machinery. That's not to be sniffed at but, can he shine at a smaller team now that he's moved to Alfa Romeo in place of the retired chatterbox that was Kimi Raikkonen? His new teammate will be rookie Guanyu Zhou, China's first F1 driver.

Also, the driver market has re-opened the door for former Red Bull youngster Alex Albon, who returns to F1 with Williams. Hooray!

Norris winning in a McLaren

Brutally unlucky in Russia last year, Lando Norris had looked on course for his maiden win until rain and the wrong strategy lost him the race. He drove superbly all season and with better consistency than Daniel Riccardo, even if the Aussie scored that victory out of the blue in Monza. But that's experience for you. Surely victory is on the cards for Norris in 2022?

More Toto memes

Last year gave us lots of slow motion shots of Mercedes team boss Toto Wolff exacting his fury within the garage, and of course the internet had a field day. If there's as much controversy in 2022 then Merc will need plenty of replacement kit on standby this season. Pray for those headphones.

Max still being Max

He's a bit Marmite isn't he? But the first Dutch world champ is a racer through and through and, apart from Rosberg, is the only other driver to beat Lewis in the new hybrid era. Still only 24 years of age, no doubt he'll learn from 2021 and become even faster. Perhaps we'll even see a more considered Max on track. Maybe.

Advertisement - Page continues below

A faster Ferrari

New rules come with great opportunities, and it's seasons like these that a midfield team can leap up to the front. Don't believe us? Just look at Brawn in 2009. Now is Ferrari's chance to jump straight to the front of the queue. The Tifosi need the Scuderia at the top and they've got arguably the best driver pairing on the grid in Charles Leclerc and Carlos Sainz. Cooler than Kool-Aid Leclerc and smoother than Cadbury's smooth chocolate spread Sainz were basically inseparable in '21, and could be again this year.

Consistent rules (hopefully...)

2021 had it all, but the stewards weren't always consistent with their decisions. The need to let the drivers race hard (but within the rules) is a tough one to judge, and given that last season was the most exciting for years, perhaps, maybe, they don't deserve such a bad rap. Although it would help if there were more talking points on track than off it this season.

Advertisement - Page continues below

A full season at all the tracks

Since 2020 we haven't had a full calendar at all the usual tracks because of Covid-19. That's two seasons in a row that we've missed out on epic circuits like Montreal and Suzuka. Here's to hoping we get back to normality, and that the new addition of Miami is a roaring success.