Motorsport
Five reasons to watch DTM 2015
As 2015's DTM season kicks off, here's why you should care about the 500bhp, hyper-tech touring cars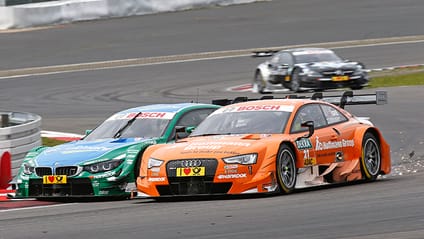 They're not just touring cars

We'd forgive you for feeling misled. When a race series' name translates as 'German Touring Car Masters' and the three competing cars all have a rather saloon car silhouette, it's easy to assume this is a European equivalent to the BTCC.

"Touring car is the wrong word for it," says Gary Paffett, a Mercedes DTM driver and former champion. "It's more like a prototype or a GT car. These are purpose-built racecars with carbon fibre chassis."

A VW with a former Fifth Gear presenter as driver can't hold a candle to a DTM-spec M4 or C63: just look at their width, and how obscene their aero addenda.

Peel off the (carbon fibre) panels that are vaguely familiar and you'll find a driving position that's far more rearward than in any production saloon, the engine brought back and dropped right down to the floor, too. They're intimidating things just to be around, and with tyre degradation on the agenda, they'll slide, too.

Advertisement - Page continues below

And that engine? It's a 500bhp V8

Yup. BTCC-spec touring cars pump out around 300bhp from a 2.0-litre turbo engine. Reasonable, given the cars are Civics, Focuses et al, so having an engine owners of those cars can relate to is something we sympathise with.

DTM, though, isn't based on BIK-friendly company cars. The Audi RS5, BMW M4 and Mercedes C63 AMG that are cartoonishly riffed off in lovely carbon are all pumped-up performance coupes that can show a Porsche a thing or two.

For the sake of parity, their increasingly varied road-going engines are binned, with all three racers using a gloriously old-school 4.0-litre naturally aspirated V8, making around 500bhp.

Audi has to fling its front driveshafts in the nearest wheelie bin too, as everything's rear driven. As we said, they'll slide.

"The cars are very fun to drive," Mercedes driver Paul di Resta tells us, "and they require a bit of finesse as well." This from the man who until recently raced a circa-750bhp F1 car every other weekend...

The grid is madly competitive

Formula 1 qualifying has become a bit of a vapid affair of late, unless you're a sponsor of Mercedes. The battle for pole is typically a two-horse race between its drivers, with only a tiny handful of others presenting any real chance of getting involved in the scrap.

DTM is quite the opposite. Di Resta left the sport as champion in 2010 to race in F1; he finished 15th overall upon his return in 2014. "If you make a small mistake in qualifying it's going to cost you three or four rows on the grid," he tells us. "It's not a case of if you're in the best car, with the best manufacturer, you can go out and give it a balls-out lap, and in the worst case qualify second on the grid."

Seven of the drivers on 2015's 24-strong grid have previously won the DTM championship, the cars all carry the same spec, and the modifications allowed are slight. You want racing rather than pit strategies, it's here.

Advertisement - Page continues below

Each round has two races

Tune into F1 and there's plenty of action to see across the weekend if you include various practice sessions and qualifying. But there's just one race, with hours of waiting filled with TV montages and pundit patter.

DTM's remedy to this? An extra race, so there's proper wheel-to-wheel action on both the Saturday and Sunday of race weekend. It's an introduction for 2015, a welcome reaction to falling spectator numbers and a realisation that those paying to go through the turnstiles aren't there to slalom through vastly overpriced merch stands. They want to see cars racing each other on circuit.

You get far better access to drivers than you'll find in F1, too. Over to Paffett: "DTM is effectively an open paddock, and accessible. Drivers walk out the hospitality area and are fighting their way through thousands of people!"

Not so great for drivers wanting to have a chinwag with their mates, ideal for the paying public who want to fill their autograph books.

There's international appeal

The 2015 DTM grid is split across three manufacturers. If you want lots of different body shapes or wish to support a team that doesn't crank out premium German cars, you're out of luck. If you want to see drivers from many corners of the planet compete, though, you're in luck. The 24 drivers on this year's grid comprise 12 nationalities, with everywhere from Brazil to Sweden represented.

And if you're a patriotic Brit you're in luck, too. We have four drivers competing: Merc's representatives, Di Resta and Paffett, are both former champions.

Both are keen to ensure DTM makes a return to Great Britain too, the Brands Hatch round absent since 2013. "As long as we're in the series we won't stop trying to get DTM cars back to the UK," says Paffett. "Great Britain is the home of motorsport."