Motorsport
If Lewis Hamilton left F1, who could replace him?
Rumours are swirling about Hamilton's future in F1. Here's who Mercedes could turn to if he waved goodbye…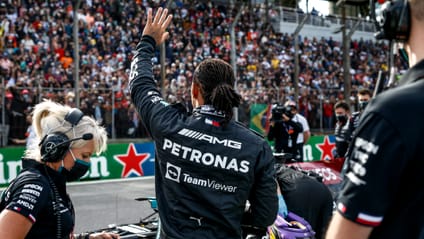 A month on from that crazy F1 finale - in which Max Verstappen was crowned world champion in Abu Dhabi - the dust has settled, everyone is enjoying the winter break and the sport is at peace with itself.

Of course, none of that is true. With no racing until March we're well into silly season now, and the latest product fresh out of the rumour mill is that Lewis Hamilton is considering his future after missing out on a record eighth F1 title after that titanic battle with his Red Bull rival.

We've not actually heard from or seen Hamilton (other than collecting his knighthood) at all since the last race, but reports suggest the Briton has lost faith in the FIA after the controversial events at the Yas Marina circuit.

Key to the issue is the decision making of race director Michael Masi, who appeared to apply the rules incorrectly during a late safety car period. He allowed the five backmarkers between Hamilton and Verstappen to unlap themselves as the other lapped cars were told to stay put, and the race restarted a lap earlier than is outlined in the regulations. 

That was the final lap of the race, and with Hamilton on old tyres the Dutchman charged through on fresh rubber to claim his maiden title. Mercedes protested the result, but didn't follow through with a full appeal.

Hamilton has a contract until the end of 2023, and while the likelihood is that he'll return alongside new teammate George Russell, it raises an intriguing question: who would Mercedes turn to if Lewis did choose to retire?

TG has odds on the likeliest (and unlikeliest) candidates. Place yer bets…

Advertisement - Page continues below

Daniel Ricciardo (6-1 fav)

McLaren's Daniel Ricciardo has been in F1 for a decade now, and despite earning a reputation as one of its best drivers he's yet to find his way into a title-winning car. The Aussie reiterated his status with a surprise win in Monza last year, but was comprehensively outperformed by teammate Lando Norris over the course of the season. He fits the bill as a proven race winner and after last year's drubbing you could see why he'd be tempted away.

Valtteri Bottas (6-1 fav)

Hamilton's wingman of five years, Valtteri Bottas announced he was off to Alfa Romeo back in September. Collecting just 10 victories in the time that Lewis picked up 50, he's clearly not on the same level, but he's always there or thereabouts in qualifying and after such a long stay with the team, he'd be a safe fallback option. If Mercedes sorted out enough compensation for Alfa, the Swiss team (they're based in Hinwil, Zurich) could then re-employ Antonio Giovinazzi.

Advertisement - Page continues below

Esteban Ocon (10-1)

F1's other surprise race winner in 2021, Alpine's Esteban Ocon could be the dark horse of the hypothetical-Hamilton-replacement stakes. A former Mercedes junior and reserve driver, Ocon might be another star of the future and he held his own against teammate and known career-destroyer Fernando Alonso last season. He'd slot in well alongside George Russell, and Alpine also have the option of bringing in junior driver and reigning F2 champion Oscar Piastri. Stranger things have happened.

Nico Hulkenberg (12-1)

Nico Hulkenberg holds the unwanted record of the most appearances in F1 without a podium finish, although his legendary cameos for Force India (now Aston Martin) in the Covid-hit 2020 season at least show that he's capable of doing a stellar job at short notice. He also ticks the box of, er, not being very busy.

Lando Norris (15-1)

2021 was Lando Norris's breakout season in F1, frequently beating the vastly more experienced Daniel Ricciardo and demonstrating his world championship potential with a series of spectacular drives. He put his McLaren on pole for the Russian Grand Prix, and would've won the race but for a late rain shower and bad strategy call. There's almost no way the team would let him leave, but if it was a straight choice between him or Ricciardo, most would go for the youngster right now.

Nick de Vries or Stoffel Vandoorne (20-1)

Nick de Vries and Stoffel Vandoorne were both registered as Mercedes reserve drivers in 2021, and each contested the most recent Formula E championship for the German brand with the former winning the title. If all else fails either driver could do a decent job, although the pressure would be on George Russell to step up as outright team leader.

Advertisement - Page continues below

Sebastian Vettel (50-1)

The four-time champion and now part-time eco warrior didn't quite live up to expectations at Ferrari, and a move to Aston Martin last season hasn't seen him rediscover his best form. Highlights included a second place finish in Baku (another P2 was snatched away in Hungary after his car was disqualified), but his performance relative to teammate Lance Stroll over the course of the season was unspectacular. At the very least he'd encourage more recycling in the Mercedes garage.

Fernando Alonso (100-1)

At the age of 40 Fernando Alonso continues to do incredible things in F1: he helped teammate Esteban Ocon claim his first win in Hungary last season by incredibly holding off Lewis Hamilton for several laps, and he got his reward later in the season with a podium finish in Qatar. However, the Spaniard has fallen out with almost every team he's ever raced in, and it's unlikely Mercedes would take the risk.

Advertisement - Page continues below

Nico Rosberg (500-1)

One-time world champ Nico Rosberg did the mother of all mic drops by retiring just days after winning the drivers' championship in 2016, in part because the focus needed to beat Hamilton was almost too much to bear. So would he consider a return with Lewis out of the picture? Probably not: he has his own Extreme E racing team now, and those YouTube videos won't like themselves.

Lance Stroll or Nikita Mazepin (1,000-1)

It's no secret that money talks in F1, so why not bite the bullet and hire someone backed by a billionaire parent? Sadly for the ultra rich F1 works under a cost cap now, so spending hundreds of millions to get to the front isn't as easy as it used to be. Sorry lads.

Toto Wolff (5,000-1)

If you need a job done, do it yourself. Toto was a class winner at the Nurburgring 24 Hours in 1994, so he's not entirely without pedigree. Mind you, if he goes through carbon fibre like he does headphones, Merc's budget might be blown by June.

Kimi Raikkonen (5,000-1)

Kimi hung up his helmet last month and wouldn't pick up the phone even if Toto Wolff called him. In fact, he's probably already changed his number. Bwoah.

Michael Masi (10,000-1)

Now wouldn't this be the power play of the century? Scuppering Hamilton's title chances and then swooping in to claim his seat… it'd be like a plot line from House of Cards.