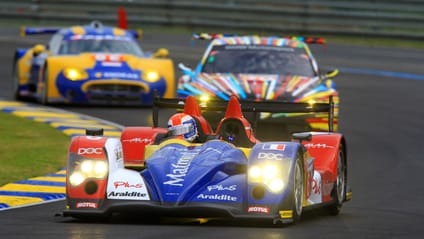 Welcome, everyone, to the greatest and, some say, cruellest motor race... in the world. The 79th 24 hours of Le Mans, which kicks off this weekend at the famous Circuit de la Sarthe. That's in France.

An eight-and-a-half mile circuit will host around 50 cars clocking up more than 3,000 miles from Saturday afternoon to Sunday afternoon. Straight.

For the uninitiated, there are four classes to this gruelling, accident-prone and rather fabulous endurance race taking part, and they are thus: LMP1, LMP2, GTE Pro and GTE Am. If you don't know what they mean, click through for a brief rundown. If you do know what they mean, what are you doing reading this? Get on the Euro Tunnel and down to Le Mans, now!

Which is what we'll all be doing in less than 12 hours, by the way, in some rather nice metal. Look out for TopGear.com's live blog of all things Le Mans in the coming days...

Advertisement - Page continues below

LMP1

The top-tier of Le Mans. Open or closed cockpit racers compete with a maximum of 3.4-litre naturally aspirated engines, 2.0-litre supercharged petrols or 3.7-litre supercharged diesel powerplants. Safety concerns about lap times falling below 3m 30secs means power is restricted to around 520bhp, while weight is restricted to 900kg.

Big battle this year is between Audi and Peugeot.

LMP2

This class is aimed at privateer racers so budgets are capped to just under £310,000 per team, and entrants can reuse their 2010 LMP2s. Power output must not exceed 450bhp, a 5.0-litre V8 is the max capacity for naturally aspirated engines and 3.2-litre sixers for supercharged petrols, while diesels are banned.

In fact, the engines must have a production run of at least 1,000 examples in the preceding 12 months. Weight is limited to 900kg and cockpits can be of closed or open-topped variety.

Advertisement - Page continues below

GTE Pro

A change for the two GT classes for 2011: 95 per cent of the LM GTE regulations are based on the former GT2 class, with 'Pro' short for professional. Lots of BMW M3 GTs, 458 Italias and 911 RSRs on the grid this year, so expect some fiery inter-factory battles.

The LM GTE Pro category is reserved for professionals, with a 5.5-litre engine capacity for naturally aspirated motors, or 4.0-litre for supercharged engines. Weight sits between 1,145kg and 1,245kg, and a minimum of 100 units must have been built in order to compete.

GTE Am

Same rules as GTE Pro, except this class is reserved for amateurs with only one single professional driver allowed for each team. This year's grid sees Corvettes, Ferrari F430s, a few 911s and even an Aston Martin Vantage. It's war!

No seriously, there will be fireworks. Not least because some rain might occur...