Motorsport
Mercedes-AMG GT4 racer: ten things you need to know
Got a €200,000 wad in your pocket and a burning desire to go racing? Step this way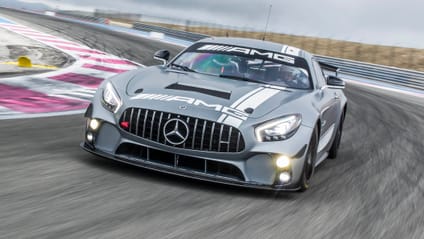 It's a *customer* racing car

That's people like you and I. Hamilton, Bottas and the likes wouldn't be bothered messing about at this level, but for those of us wanting to go racing, on a sensible budget (relatively speaking here) the Mercedes-AMG GT4 is the perfect solution. Just buy a fireproof romper suit. Hire a hot-shoe pro to share driving duties with. Get a team to help you out. Um, simple, right?

Just remember to stick your company's stickers all over it and write all your weekend door-banging off as a 'business expense'. Oh, and work off that belly. Nobody looks good in a racing suit with a paunch, even if you're signing the cheques.

Advertisement - Page continues below

It taps into the Next Big Thing in motor racing

That's after GT3, of course, which has gotten a little bit expensive, even in the moneyed world of motorsport. The GT4 category fixes that, with the promise of production-based race cars that cost a few hundred thousand Dollars, Euros, Pounds or whatever other currency you work in.

Along with this Mercedes-AMG GT4 - Affalterbach's take on the genre - McLaren, Porsche, BMW, Audi and many more will sell you a competitive GT4 car should you knock on their door with a suitably sized brick of cash.

You might have to wait a bit if you want one

Buying a Mercedes-AMG GT4 couldn't be simpler. There's even a brochure. So while you can't just stroll into a Mercedes-Benz dealership and buy one, nor find one on AMG's online configurator, it's as easy as filling out a form, then mentally practising your apex entry/exit points.

Expect a bit of a wait, mind, as Thomas Jäger, one of AMG's test and development drivers, admits that they'll be a little bit busy fulfilling demand for its newest race car.

Advertisement - Page continues below

Like AMG's DTM and GT3 cars, it's built by HWA

HW-eh? Ah, the intricate and incestuous nature of car firms. When AMG was incorporated into Mercedes-Benz back in 1998, HWA was formed. That's Hans Werner Aufrecht (the A in AMG), Hans tapping off the racing and customisation options and forming HWA.

It's built AMG's DTM and GT3 cars since, and also builds the GT4. Usefully, it's in Affalterbach, which means Hans and his team can pop across the road to their chums at AMG to pick up the correct badges.

It is designed to be easy to drive

Pity poor Thomas Jäger, Bernd Schneider and Jan Seyffrath, AMG's test drivers. They've selflessly hacked around various circuits spanning the globe doing 30,000+km to make sure the Mercedes-AMG is, in Jäger's words, "easy and forgiving to drive". That's for us, so-called 'gentlemen drivers' (ie, amateurs). Not that we're excluding ladies, of course.

It should be reliable, too, because the old racing mantra goes, to finish races first, first you have to finish. It's based on the mad, 577bhp AMG GT R, so most of the bits can be had from your Mercedes-Benz dealer, keeping costs sensible if you bin it.

It features some proper race car tech

Yes it's closely related to that GT R, but the electronics, safety kit, brakes and some aero elements differ - no active gubbins here, nor the GT R's trick rear-wheel steering.

Inside it's pure racer, with a pistol-grip steering wheel that's a dead-ringer for one from a Mercedes-AMG F1 racing car and a cage that'd keep King Kong at bay. To that there's a five-point harness that straps you into a tight, body-moulded seat, nets surrounding you to stop limbs flailing around if you get it very wrong and a big digital dashboard which indicates your gear and more besides.

There are switches and dials for various drive elements, a bank of which look like they've been liberated from the parts bin labelled Unimog. Evidently, giant push-buttons are easier to operate when you're wearing gloves, bouncing over painted kerbs and fending off a field of determined Nomex wearing and helmeted CEOs.

It's not crazy quick in a straight line, but the brakes are mighty

In the true spirit of the amateur racers it's aimed at, Mercedes-AMG let us have a go. Playing race driver for the day is fantastic, even if we've ascertained that only proper race drivers pull of racing suits with any credibility. Still, with Paul Ricard at our disposal, warm tyres and ten laps to experience it all we gave it our best.

Yes, it is, as Jäger suggests, relatively easy to drive. Not crazy quick compared to fast supercars in a straight line, even though here it is running at 503bhp and at its 1,390kg kerb weight. The pneumatically actuated paddle-shift blows its six gears up and down as you need them, and it does that magic racing car thing of stopping and turning like little else. Indeed, the brakes are mighty, so much so we were always a little bit early on them.

Advertisement - Page continues below

It's also a bit Spinal Tap...

That's to say the two dials for the ABS and traction control go up to eleven. Twelve, really, if you're counting the off setting, but that's insanity. Jäger said about 7 for the ABS, and to start at 3 with the traction control. 6 or 7 were only advised once we got used to the thing.

We went for that and, um, spun. Racing Driver Excuse #1: we just needed a little bit more seat time to get properly dialled in with it, that's all. Honest...

It'll be restricted in the interests of close racing

While the 4.0-litre twin-turbo V8 can produce as much as 577bhp in the GT R, here it's pegged back to 503bhp. That'll come down significantly: part of the GT4 regulations means all GT4 cars tested by the FIA have a 'Balance of Performance' factor applied to them. Jäger reckons that'll bring the output down to closer to 395bhp. There's always the potential to wind it back up for the odd track day outing though.

Advertisement - Page continues below

You need one in your life

Yes, predictably we're rather taken by it, and the idea of buying one of these rather than a road car makes a lot of sense. After all, you can use it as intended. It is only right and proper to look to sell the house and go racing, right? Right?