Motorsport
Opinion: Valentino Rossi's retirement could be fine news for car folk
The biggest character in modern motorbike racing is free from next year. The car world needs a Doctor...
The news was inevitable, but no less shocking for it. Valentino Rossi is 42 and has raced in motorcycling's premier class for a quarter of a century. He has nine world titles to his name though hasn't won a MotoGP race since 2017. Retirement had been in the post for a while.
Yet anyone who could make it through the press conference where VR46 made it a formality without needing to pause the video for a little sob is more emotionally resilient than me. It was a huge day in motorsport history.
Advertisement - Page continues below
Motorcycling's loss could be the car world's gain, though; Rossi has tantalised and teased a four-wheeled racing career for two decades now and maybe it's about to become a reality. He tested a Ferrari F1 car and came within half a second of Michael Schumacher, with teasing quotes from both parties in the following years to suggest Rossi may dismount his Yamaha and clamber into a Scuderia car for real one season.
Dalliances with rallying and later GT3 cars have also occurred, and Vale left things wide open as his momentous press conference approached its conclusion. "During this career I always tried to improve my skills with cars… to be ready for this moment.
"You never race just for fun. If you are a real rider or driver you race to be strong and to win. At the moment I don't know which cars, or races [I will compete in]."
Well, let's hope he works something out. As many alluded to on his announcement, 'Rossi' is a name that transcends race circuits and unites people with little interest in apices or braking zones. Even Vale's former foe, Jorge Lorenzo, put aside any lingering differences to endorse a legend in little need of it. "In terms of charisma and transcendence, Rossi is at the level of Jordan, Woods, Ali or Senna," Jorge classily posted.
Advertisement - Page continues below
While Rossi's record of wins, poles and podiums is fairly spectacular, a grid of every race result across his career perhaps doesn't look as dominating as Schumacher's or Hamilton's. But I'm not sure it ever mattered – it's all about the way Rossi defied all odds with improbably quick comebacks from injury or issue; the way he personified a whole sport and made everyone in the crowd feel that little bit more Italian; the way he clawed results out of nowhere or carried himself with decorum in the sport's darker moments.
I was lucky enough to witness a moment that encapsulated the whole lot. I've found myself close to some brilliant motorsport moments over the years, usually with a Media lanyard around my neck and some feverish keyboard hammering to do afterwards. But the most magical of all was as a holidaying fan in Italy.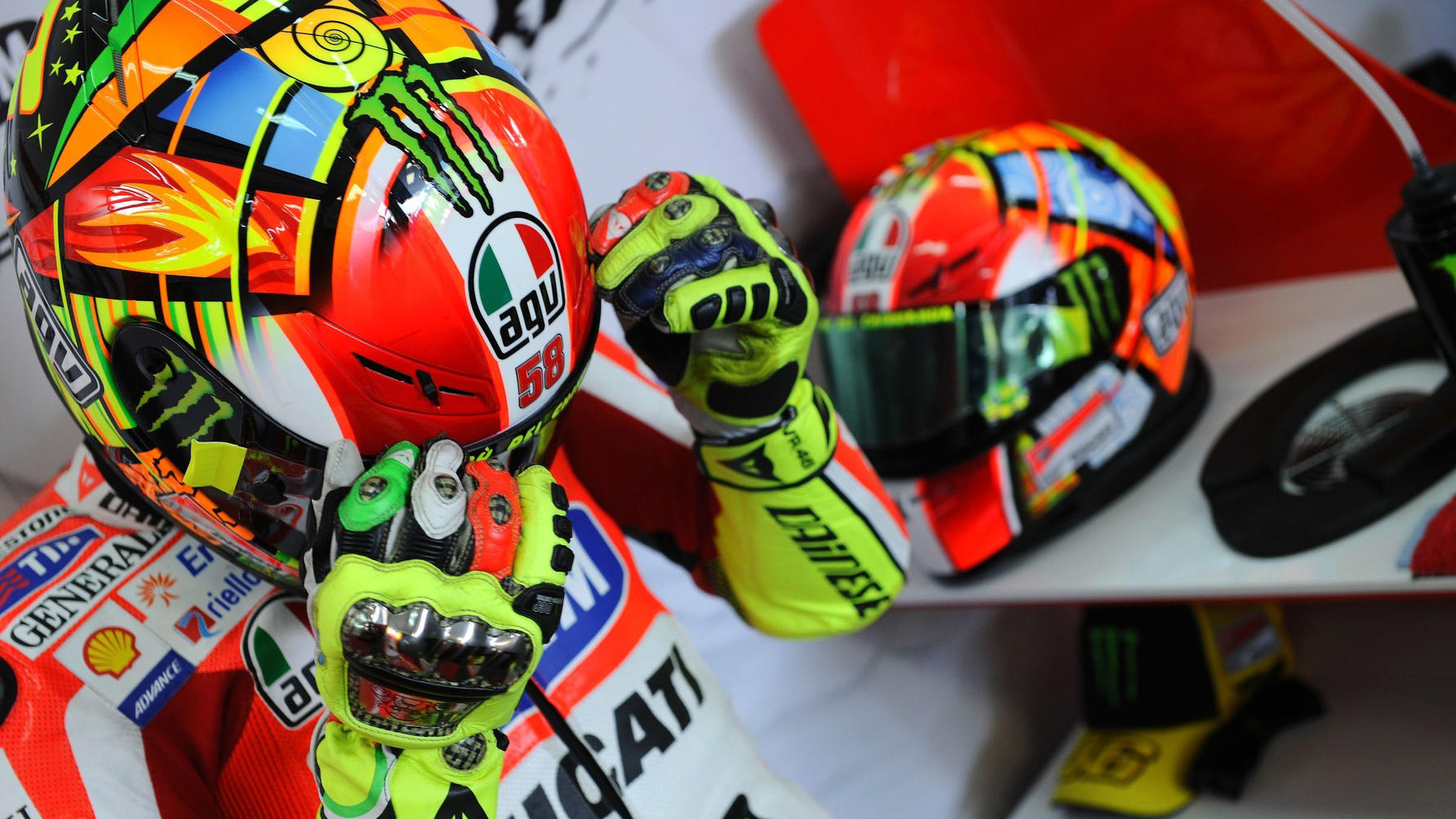 It's September 2012, and the first San Marino Grand Prix since Marco Simoncelli – like Rossi, born local to the circuit – lost his life in a MotoGP race, a bright young flame extinguished shockingly early. 'Misano World Circuit Marco Simoncelli' has been renamed in his honour and the crowd are holding '58' signs aloft where they'd normally be clutching the '46' of Valentino.
Rossi's amidst the second of two relatively disastrous seasons with Ducati, and has achieved just two podium finishes in the last 30 races. He's qualified sixth in front of the emotionally charged Misano crowd, in which I'm perched on a grass bank burning like a typically hapless Brit abroad.
Top Gear
Newsletter
Thank you for subscribing to our newsletter. Look out for your regular round-up of news, reviews and offers in your inbox.
Get all the latest news, reviews and exclusives, direct to your inbox.
Rossi is on it and pushes through the grid to finish in second place behind Lorenzo. After a drought of podiums and the desperate air of a little corner of Italy still grieving, though, this feels like a championship win. Before the bikes have even finished their in-lap the crowd surges onto the circuit (hapless Brits in tow) to spend the rest of the afternoon lapping Misano on foot, drunk on life itself.
Every hair of my body is stood on end recalling it. It's closer access to the action than I ever achieved wearing a lanyard, all thanks to the unstoppable boisterousness of a crowd of Rossi die-hards letting off steam. If he brings even an ounce of that jubilance to the world of car racing, we'll be beyond lucky to have him.