Motorsport
TG's guide to motorsport: the Dakar Rally
Everything you ever wanted to know about the absolute daddy of desert races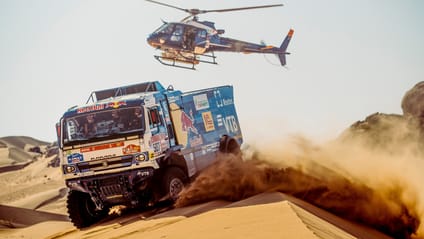 What is it?

Torture, for both oily car parts and fleshy human ones. Put simply, the Dakar is the daddy of desert races – an annual 6,000-mile off-road race and the ultimate test of how much abuse a car and the human body can take.

With an abstract mix of machinery competing, incredible scenery and unbelievable driving talent, it's a proper feast for petrolheads as competitors race across oceans of sand and fire themselves off the planet's dusty furniture at ridiculous speeds.

Unsurprisingly, the attrition rate is monstrous – so to finish the Dakar is a huge achievement. To win it is a queue jump to legendary status and a lifetime of paid-for pints down the pub.

Advertisement - Page continues below

How did it start?

Through someone getting really rather lost. The Dakar was born when a bloke called Thierry Sabine got lost in the Libyan desert on his motorbike during the Abidjan-Nice rally. This significant navigational pickle didn't just leave him stranded, but also inspired. As when he eventually returned to France, he did so with a new route for an even more extreme rally-raid event complete with exhaustingly long stages through some fearsomely inhospitable terrain.

When was the first race?

The first Paris-Dakar was in 1978. However, confusingly, the Dakar Rally doesn't actually take place anywhere near Dakar anymore. Terrorist attacks in Mauritania caused the cancellation of the 2008 African rally, so it was renamed the Dakar Rally and took place in South America. However, the rally packed its bags two years ago and moved again to continue its legacy, this time to Saudi Arabia.

Advertisement - Page continues below

How does it work?

The Dakar runs like any other rally, just further and on far more extreme terrain. The stages include some road sections, but the emphasis is firmly on escaping the tarmac and punishing everyone involved on a massive scale. How big? Well, it's the equivalent of competing in 13 Daytona 500s or Indianapolis 500s on consecutive days, but you have to rebuild your car each night. It runs non-stop for two weeks with one rest day thrown in. But it's not really a rest day.

On Saturday's so-called 'rest day', the whole car is stripped down and rebuilt. That includes engine, gearbox, dampers... the works. What you're left with at the end is, basically, a new car. It needs to be as the drivers then go into one of the events called Marathon Stages. These Marathon Stage stages last for two consecutive days during which time assistance vehicles are banned. The aim is to bridge the gap between the bigger well-funded manufacturer-backed teams and the private competitors.

The Dakar isn't just a test of driving skill, but also navigation. A Dakar driver is utterly reliant on his co-pilot. An error of a couple of degrees will mean, in a trackless desert, they could miss the next GPS beacon by whole kilometres. And that's GPS beacon, not GPS. There's no soothing voice to tell you to make a legal U-turn if you take a left into the dried riverbed instead of a right. The only route information is provided in the road book with small directions to the destination and the distance to it. Drivers have someone to shout these at them, the bikers have to do it all themselves.

What takes part?

This year, a total of 310 vehicles (108 bikes, 67 cars, 58 UTVs, 42 trucks, 26 classics and 21 quads) lined up on the start line in Jeddah for the 43rd Dakar. Only 206 vehicles came back and crossed the finish line 15 days and 12 stages later. The rules get a bit complex between the different classes, but here's a rough guide. Cars are separated into different categories with the top T1 class forming two- or four-wheel drive machines equipped with petrol or diesel-powered engines. They're based on tubuluar chassis and they balance the benefit of 4WD or powerful V8 engines out with limiting the suspension travel, engine power and toys like onboard tyre pressurisation systems. But in recent years, the 2WD buggies have been the fastest and, often, the most successful cars in the field.

The trucks are the most visually impressive with 1,150bhp courtesy of huge 13-litre six-cylinder turbocharged engines to shift 9.5 tonnes and their driver, navigator and engineer aboard across the landscape. Bikes are basically super enduros limited to 450cc while quads have a maximum engine capacity of 750 cc for two-wheel drive machines and 900 cc for four-wheel drives. However there are two new classes. One is for lightweight side-by-side buggies fitted with fuel tanks no larger than 130 litres and a range of 250 kilometres, so they stop at the same refuelling stations as the motorbikes. The second is a new 'Classic' class featuring a host of wicked vintage cars and trucks that were able to compete in the Paris-Dakar, as it was previously known, or comparable events during the 1980s and 90s.

Who's the most famous driver?

Being the most arduous test a rally driver can do, a load of household names have taken part in the Dakar – often failing. People like Colin McRae, Carlos Sainz (the old one) and the WRC's most successful rallyist ever, Sebastien Loeb. But there's only one King of Dakar: Stephane Peterhansel. He's won the crazy event 14 times, including this year in his X-raid Mini (that looks nothing like the Mini your local estate agent drives). It also marked 30 years after his first victory on a bike. Yes, a bike. Peterhansel has now won eight Dakars behind the wheel of a car and six holding on to handlebars. He's also now the only driver to have won on all three continents where the race has taken place. He's the unequivocal G.O.A.T.

Name one of its finest hours

Well, it's quite hard to get it down to sixty minutes, so we're going to widen that question out to some of its finest cars. See, there have, though the years, been more than a few interesting entrants in the Dakar. Like the Rolls-Royce of Thierry de Montcorgé, who made a bet with friends that he could race a Corniche in the Paris-Dakar. We suspect his friends may have guffawed at the suggestion, but Thierry had the last laugh: he actually finished the rally.

Or when Porsche decided to take its blistering 959 supercar racing, to develop four-wheel drive tech for the road car, and randomly thought the Dakar would be the best option. It wasn't a terribly good plan. At first. Porsche entered three development 959s in 1985 but, instead of the twin-turbo engine, fitted them with the 911 Carrera's 3.2-litre 230bhp lump. All three cars retired through mechanical problems. The following year Porsche returned with three cars that that were close to production-spec - they took first, second and fifth place. Much better. It also looked excellent.

Finally, there was the Jules Proto 6x4 racer; a meeting point for lots of weirdness. It was sponsored by the eponymous Jules fragrance from Christian Dior (just like the off-road Rolls-Royce), had six wheels, a Chevy 350 V8, Porsche gearbox, four-wheel drive and six wheels. It raced in the 1984 event but retired after the chassis snapped. Doh.

Advertisement - Page continues below

And now one of its worst

Being such a long, daring and dangerous event, the Dakar is also unfortunately shrouded in great tragedy. Since 1979, 76 people are known to have died as a result of the Dakar rally. Among the 31 competitor fatalities, 23 were motorcycle related, 6 car, 1 truck, and 2 competitors died as a result of local rebel conflict. We hope they all rest in peace.

Where can I watch it?

Fans based in the UK need to tune into Eurosport to get their fill of daily highlights. But if you don't want to pay for a satellite subscription, the Dakar team are incredibly quick – given the distances involved – at making daily video packages for all categories of race and behind the scenes action on their YouTube channel. We'd also recommend following a few racers on social media and their fizzy caffeinated energy drink sponsors as they also give a great insight as to what's going on. But if you want to take it really seriously, you can go out to the race. Visas for Saudi can be tricky, but if you get one we'd also recommend taking a helicopter as it's the only way to keep up with the action. 

Advertisement - Page continues below

Can I get involved?

If you've got enough money and strong enough organs, sure! What's fantastic is that anyone can enter the Dakar; the only condition is to be at least 18-years of age. Unlike F1, you do not need to be a rally-raid champion or have a crazy Super Licence to take part. Refreshingly, the organiser goal of the Dakar is to have both professionals and amateurs participating in the same rally and on the same route. Only Bikes and Quads are subject to a selection. There, candidates must be able to justify successful experience in Rally Raid. So what are you waiting for? Heck, this Porsche 959 recently went up for sale – take that!