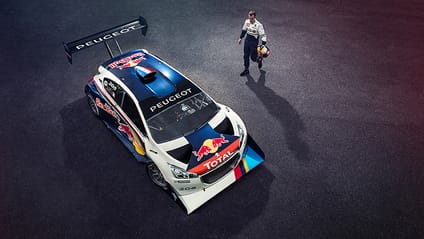 The first six months of 2013 were not good for Peugeot. The announcement of the planned closure of its Aulnay factory, the resultant cull of 8,000 jobs, the termination of its prestigious endurance racing programme. In terms of good-news stories for the PR department to share, the cupboard was bare. But, thankfully, off in a small corner of the company, a man called Bruno had a plan.

"We needed a project that was cheap, fast to implement, and would maximise media coverage to show that we were still in motorsport," explains Peugeot Sport boss Bruno Famin. "Maxime Picat took over as the new MD of the brand in late 2012, and I told him it'd be good to do Pikes Peak."

Pictures: Richard Pardon

Advertisement - Page continues below

Ah, yes. The Peak. For the uninitiated, Pikes Peak is an annual hill climb up a public road that scales the side of a mountain in Colorado. And Peugeot already had history with the race: Ari Vatanen and Robby Unser won back-to-back titles in 1988 and '89 in the bewinged Peugeot 405 T16 GR. The feat documented in the famous film Climb Dance, where Vatanen scythed through hairpins, skimmed sheer cliffs and nonchalantly blocked the sun from his eyes while sideways on dirt.

Eager for a rematch, Famin approached Gilles Vidal, Peugeot's style director, who got one of his designers to sketch a 208 - the company's contemporary product - morphed into a car that could take on such a specific race. He showed Monsieur Picat, who green-lit the operation. There was one slight hitch: they only had a few months to cook up a one-off racer from scratch.

So, in the space of four months, with just 12 people, Bruno's team designed and built a car specifically for the Pikes Peak Unlimited class,and the 208 T16 was born. An 875bhp, 875kg, super-specialist, hill-climb weapon. A supermini shape fitted with modified versions of the turbocharged 3.2-litre V6, steering components, brakes, suspension and massive two-metre-wide rear wing/diffuser from Peugeot's 908 Le Mans programme. One of the most inspired examples of inter-brand piracy ever demonstrated. But that wasn't all. In order to maximise the much-needed publicity, Peugeot struck a deal with Red Bull: the French manufacturer would supply the car, while the energy-drink company would use its PR nous to excite the world. But there was a catch. Red Bull had a designated driver. His name was Sébastien Loeb, nine-time WRC champion. Peugeot, presumably, hesitated for milliseconds.

Advertisement - Page continues below

The result was as expected; the margin of victory, unprecedented. The little Pug was so fast that Red Bull's helicopter couldn't keep up. Loeb didn't break the Pikes Peak record, he unequivocally obliterated it, turning in a time of 8:13.878, which equated to an average 90.53mph on the 12.42-mile, 156-turn, 4,720-foot ascent to the clouds. He shaved ninety-two seconds off Rhys Millen's record. A whole 16 per cent faster. It sent the motoring world into a bit of a frenzy.

"The media coverage that we got at Pikes Peak was bigger than our win at Le Mans in 2009," Bruno admits with a smile. "With such a car, such a race and such a driver, we discovered many were interested in Pikes Peak - even people who knew nothing about motorsport." The whole project had a tiny budget, costing less than a gentleman racer's rally programme, but the return on investment was huge. Job done.

The only way to find out what the T16 is really like is to drive it. Which is why it is now sitting in a sparse pit garage at Circuit La Ferté Gaucher, just outside Paris, with the same small team from Pikes Peak fussing gently around it. TG has it exclusively for the day, just before it gets mothballed and put in a museum. Problem is, we need a driver.

Not anyone can get into a four-wheeled bomb like this and test it to the limit. Luckily, we knew someone who could: TopGear's favourite rallyist, Kris Meeke. He enters the garage suited and booted, and immediately has a quick scan of the car. Round and round, shaking his head constantly as he feels the tyre compound, eyes up the aerodynamics and takes in the finer details. "This. Is. Insane," he spurts in his Northern Irish accent. "You can't imagine what a car like this is going to feel like, I'm going to have to rely on my instincts."

At exactly 9.30am, the near-deafening sound of an engine bred from an anarchical, no-rules policy reverberates off the garage's cold, breeze-block walls. The car tentatively rolls out of the garage with Peugeot's development driver Grégory Guilvert at the wheel. It's in the configuration for testing at Mont Ventoux - subtly different from the Pikes Peak set-up, as we're at a much lower altitude, so the turbo is in a different state of tune and we don't have the trick post-combustion system. The ground is also wet, so grooved tyres sit at all four corners - something they didn't need in the States. But, even with a damp track, it's just a case of a quick slalom to get some heat in the tyres then Grégory engages full warhead mode. The combination of crisp, relentless revs from the engine, punctuated by instant gearchanges, plus the sheer rate that the Pug gets from one part of the track to another, requires a complete recalibration of the senses. Kris has a hungry look in his eye. Soon enough, it's his turn.

Advertisement - Page continues below

Using the bespoke tubular spaceframe chassis as a set of monkey bars, Kris hoists himself into the off-centre seating position. He doesn't look nervous, more intrigued. He pulls the carbon prong for first gear, and it engages with the sound of a nail gun. A few blips of the throttle, and he heads down the slick pit lane, almost gingerly.

At this point, most of us would crawl around the first lap, petrified that we'd get the priceless, one-off, now-legendary car a little bit written off. Not Kris. He checks the vitals work - steering, pedals, gears - and guns it to the first complex. Coming into view, he pans across the horizon giving a visual demonstration of aerodynamics: that massive venturi underneath the car sucks water from the tarmac and throws it out behind the car in a fountain-sized rooster tail. Carving round one of the flat circuit's long, long corners, Kris eyes the exit, prods his right foot and 875bhp is fed to all four wheels so efficiently that the car appears at the next corner as if by video glitch.

"Ah... ei... ow... h..." Letters stutter out of Kris's mouth when he returns to the pits. "It's f*****g fast!" He shakes his head in disbelief. "Mind-blowing, it's absolutely mind-blowing. So capable. The power delivery is completely smooth - the smoothest thing I've ever driven. You're fired back into your seat, so your eyes have to poke out to try to read the road ahead. It's not familiar at all."

Speaking to the car's creator, Kris expresses his shock at how quickly it takes gears: "You don't appreciate, even when you're in it, how quickly it gathers speed. You have to have your wits about you to anticipate everything and just keep firing gears at it. I'm still nowhere near the potential, even in a straight line. I'm not even using the rev lights at the moment, just doing it through feel."

Advertisement - Page continues below

After a quick look at the telemetry, Kris opens the wafer-thin carbon door and hops back in for another session. The track's getting drier, and Kris is pushing harder. Through the fast chicane the car changes direction instantly, doesn't flinch when the calipers grab the carbon-ceramic discs. Light whistling from the turbo flutters on half throttle, and around slower corners, fiery flatulence is discharged from the T16's side-exit exhausts. On the main straight, the car ejects our man from the last corner then chews through a handful of ratios until it hits its limiter in sixth: 151mph.

Removing his helmet, Kris is drenched in sweat. "I've driven Group B rally cars, and you could say this is a state-of-the-art Group B car," he confesses while sponging his brow with his balaclava. "But to have the Holy Grail of a one-to-one power-to-weight ratio, in a car of this spec is pretty special. It constantly blows your mind in terms of what it's capable of. The car is not the limiting factor... it's the driver.

"In this environment, it makes a WRC car feel like a toy - another level. I was trying to explore a bit more of the brakes, and I stopped 60 metres before the corner." But is he getting near the limit? "Not yet. The problem is trying to figure out how it reacts in a corner. You keep on probing a little bit, a little bit more, but you're so afraid that as soon as you go at it, you're gone. It takes every sinew in your body to not let yourself go too far."

After a break for lunch, the track is dry. Time for slick rubber. And everything gets really serious. Taking chunks of kerb, and braking later, the Irishman is flowing round the technical circuit faster than ever before. "I just got in and tried to drive it as fast as possible," he explains later. "At first, it felt like the car was a bit on edge, but as I got more relaxed, I pushed it more and more. I learnt that it's not a wild horse trying to buck you off. It's actually more rewarding the more you push it." This becomes obvious when we see Kris correcting the first signs of oversteer. He begins walking the tightrope of grip, constantly correcting and managing a slide to then catapult out of the corner, up the gears and into the limiter. Lap after lap, he gets quicker and quicker, until he's ushered in for the last time.

"It's another level completely when it's on slicks. It's nuts, absolutely nuts," Kris says shocked, eyes alight. "It's fascinating. I couldn't breathe in certain corners because of the g-forces. As you get more ground effect, you rely on your inputs to see how much grip is available, so you can push harder in faster corners. There are some long, long corners here, and I couldn't get a breath mid-corner. That's the first time I've experienced that. In rallying, I'm used to short changes of direction, but this car quite literally takes your breath away."

So what might it be like to pilot this car against the clock, up a tight mountain road, with boulder fields to the left and mile-high drops to the right?"It's only now, from a driver's point of view, that I can see how much of an accomplishment it was for Sébastien to have done what he did," Kris says in admiration. "I knew it was a fascinating achievement to drive something with so much performance in such a confined environment, where you can't make a mistake. But it's only when you sit behind the wheel and experiencethe potential that it really sinks in how big an achievement it was."

The thing is, this car is so capable it could go on a crusade - destroying legendary lap times around timed stretches of tarmac the world over. After a bit of quick TopGear maths, we reckon that the T16 could smash the Isle of Man car lap record by an even bigger margin than Séb achieved at Pikes Peak. Even quicker than the bikes, perhaps. Kris Meeke's eyes light up again.

"The gearing would have to be right, but I think there's something there," he says with a huge grin. "And, if you need a driver, my hand is up."

Now, that would be better than seeing the T16 in a museum, wouldn't it?