Movies
Fast and Furious 9: the secrets behind the cars
TG gets the inside line on the biggest car movie of the year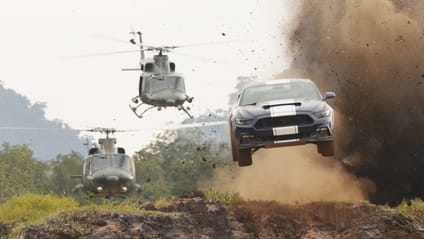 A new movie about explosions and family and the sheer slack-jawed class of the E38 BMW 7 Series is out now. It is called Fast and Furious 9, and… actually, sorry, the E38 is only in it for a minute or so.

But still. Fast and Furious 9. A fireball wrapped in an explosion packaged in solemn declarations of family ties decorated with, yep that's right, a jet-engined Pontiac Fiero. You'll be pleased to know it boldly goes… where a Pontiac Fiero should have always gone.

But still. There are cars. Lots and lots of cars. You'd be forgiven for thinking this was a series specifically centred around the world of motoring. Believe it or not, Fast and Furious 9 is the ninth instalment in a series that – almost to the day – began exactly 20 years ago with 2001's The Fast and the Furious; a film that opened the door to the lives of Dominic Toretto and his loveable gang of automobile enthusiasts with a penchant for theft/wanton destruction.

Yet for all the series' good-natured and goofy high jinks and cartoon stunts and cars being parachuted out of aeroplanes and into the outer realms, the cars are crafted with the same passion and skill as proper, bona fide race cars. And thus, at the heart of this multi-billion-dollar franchise – this movie juggernaut with literal juggernauts – sits Dennis McCarthy: the Fast series' car co-ordinator, and the man responsible for building the machines you see on the big screen.

We sat down with him for a brief insight into the secrets behind the star cars…

Advertisement - Page continues below

Like most Fast films, all the stunt cars used a uniform drivetrain

"We do a lot of uniform power with an LS3 [V8]," McCarthy explains about the cars' powertrains. "In terms of standardising everything, that's our general MO on these things.

"They had 525bhp each. It's a great package," he adds of each cars' power. "They work great."

But the team built two extra special cars: mid-engined, Hellcat-powered Dodge Chargers

"I was out in Vegas at the SEMA show, and I saw some good friends at SpeedKore," says McCarthy. "They were in the process of building a wide-body, Coke bottle-style Charger. They showed me what they had in the works. And we're always looking for something different. After this many films, you've got to change it up.

"And the mid-engined thing is just something I've always wanted to do. I'll give the nod to that concept to the Ford GT40. I really like that Sixties feel, the Le Mans feel," he adds. "There's always a car I feel we put the most effort into, and that's the Charger. It's actually a Hellcat motor with a Demon tune."

Advertisement - Page continues below

McCarthy actually wanted to build all the cars as Hellcats

"When we need the big horsepower, we have the Hellcat cars. Believe me, I would have loved to have built them all that way, but those cars are probably some of the most labour-intensive cars we've ever built for the film.

"We intended on building three, initially, but there was just no way. We got the two done, loaded them onto a trailer and sent them out of the country," he said.

Each one is packing over 800 horsepower

That massive Hellcat V8 stuffed in the middle is matched to a Lamborghini Gallardo six-speed manual gearbox. "Everything underneath the car is custom fabricated," McCarthy says, "there's very little of the original Charger left – only the roof. SpeedKore built all the panels out of carbon fibre. The wheelbase is stretched, and obviously it's quite a bit wider.

"This was my favourite Charger," he adds.

He reckons the Charger is a proper race car

"I want to do a track day with that car," McCarthy says with a smile, "play with the suspension, play with the sway bars, and see what it can really do, because it's such an awesome platform.

"It is a true race car. It just needs a day of dialling it in. I guess that car is the number one unknown because we didn't push it that hard. I didn't want to damage it! I told my guys that those two cars [the two Hellcat Chargers] had to come back alive," he adds.

There's a Jaguar Project 8 in Fast and Furious 9!

"I read about that car a while back, and I just really loved it," McCarthy says of the V8 Jaaaag. "I thought it was one of the coolest Jaguars ever, and I just had to get it in there. A lot of people don't know what it is or are familiar with it, so hopefully now they will be."

Advertisement - Page continues below

There's a Noble M600 in Fast and Furious 9!

"Same story as the Project 8," he says, noting how the car's rarity and unfamiliarity earned it a place on the big screen. "That's what we like to do, pull in cars that are a little off the beaten path. Also it's a British car which is really the key, because it's for Shaw's [Jason Statham's character] mother [Helen Mirren, who drives it]. 

"And my good friend Alex King has a great contact at Noble," he adds.

His Good Friend Alex King also built monsters out of Mercedes Unimogs

Two main 'villain' cars crop up in Fast and Furious 9: something called the 'Armory Truck', and something else called the 'Armadillo'. The former = huge. The latter = YUGE. "That thing is insane," McCarthy says of the Armadillo (pictured). "It was built out of a Unimog, all factory Unimog powertrain.

"I think that will definitely go down as the largest Fast and Furious vehicle to date."

Advertisement - Page continues below

McCarthy would have built these out of big US trucks if he had to do it

King built both the Armadillo and Armory Truck (pictured) in the UK. "Unimogs are apparently very common in London!" he laughs, noting how London is indeed known the world-over for... breeding enormous Mercedes trucks on its streets. 

"If we built them here in the States, it wouldn't have been the Unimog, it would have been based on a Freightliner or a Peterbilt or something along those lines. But… London. You go to the trusty Unimog."

Many things have been inextricably linked to London, none as vast, though.

There are loads of E60 BMW 5 Series police cars

Why, TG asks, was the E60 5er so prevalent in Fast 9? "Because they were available, and affordable. They're just cool cars, and they fit. The stunt guys just love them. That's a car you can pretty much run as is, you don't have to do much: a little bit of computer hacking to get rid of the ABS and traction control, put in a slide brake and you're good to go.

"It's got great handling, a great platform," he adds. "And my wife drives a brand new M5. So, y'know."

There's also a cameo from a mint E38 7 Series

McCarthy just smiles at the mention of it. "It's a gorgeous, gorgeous car. That'd be a fun one to have for a month or so."

Same, Dennis. Same.

They went through countless wheels and tyres

At the risk of sounding sensible, much thought went into the tyre bill.

"It's tremendous!" he laughs, when asked on how many wheels and tyres F9 churned through. "I haven't done the math on that. But, for example, if we send out the Supra, we'll send out three times the amount of wheels and tyres.

"It's really the rears. They just get burned off nightly. Continental have been a huge supporter of the franchise – and General Tire. If not, that tyre budget would be a big portion of the overall budget! Tyre help is always appreciated," he chuckles.

They destroyed over 350 cars during the filming of Fast and Furious 9

"I think with all of these films, you read the script and go 'wow'," McCarthy says. "It seems like it just gets so much more extreme with every new one. So you're always thinking 'man, how am I going to pull this off?' Somehow it always works out."

It does, but not before an army of disposable metal is trashed for valuable minutes of screentime. How many cars, TG asks, did F9 go through? "Somewhere in the neighbourhood of 350 cars," McCarthy responds, very, very matter-of-factly. "It's never a small amount."

But Fast Five destroyed more

"This one [Fast 9] wasn't as bad as others," McCarthy concedes, "primarily because the sequences were a little more isolated. The Act One sequence was out in the jungle, so it wasn't like Fast Five, tearing through the city and ripping everything apart.

"But the environment made it more exciting. In Act Three, we get into destroying a lot more, kind of the usual destruction-fest. Probably not a record-setter, but something different," he adds.

Pictured: Fast Five

They employed a lot of stunt drivers

"It's always a great team," McCarthy said. The stellar list of drivers reads: Pikes Peak hero Rhys Millen, Jay Lynch, Steve Kelso, Mike Ryan, Kyle Padelford, Henry Kingi, Henry Kingi Jr, Bobby Talbert, Crystal Hooks (motorbike stunts) and Rich Rutherford.

"Always the best in the business, otherwise we'd be wasting our time."

He still wants a Hennessey to appear in a Fast and Furious movie

TG reminds Dennis that the last time we spoke, he really wanted to get a Hennessey car into a Fast film. "That's true! We almost pulled it off at one point. I forget which movie, but we were in discussions, and we wanted to get the car and it was so close.

"I would love to reach out to those guys again. Everything they build is obviously ridiculously fast. Maybe for Fast 10 we'll get that car. I'm glad you reminded me about that."

Pictured: Dennis McCarthy

There's a Pontiac Fiero. That performs… let's say exactly what you expect from the ninth Fast and Furious movie

"I think it's just funny," McCarthy laughs on the Fiero's inclusion. He stresses it wasn't his idea to feature a Fiero, but director Justin Lin's. "From a comedy element, it's hard to beat a Pontiac Fiero.

"It is an odd choice, but great entertainment," he adds.