New York Motor Show
This is a Nissan Rogue with TRACKS
Nissan fits tracks to American X-Trail. Because reasons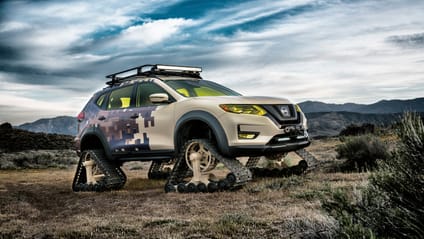 That's what's been stopping me from buying a Rogue. A lack of tracks.

Indeed, The problem with the Nissan Rogue (X-Trail over here) has long been that it doesn't come with snow and sand tracks. In its infinite wisdom, Nissan has solved the problem with this: the Rogue Trail Warrior Project. Never let it be said it doesn't listen to its customers.

Advertisement - Page continues below

Tell me more.

Based off the US-market Rogue, the RTWP will be on display at this week's New York Motor Show. As you can see, it has tracks. Four of them, to be precise. One in place of each wheel. They're called 'Dominator' Tracks, and they're four-foot long, 30 inches high and 15 inches wide.

Please tell me it has some kind of V8…

Sorry. Besides modifications to the Rogue's suspension and wheel wells (to make the tracks fit, more than anything else), it remains mechanically stock. This means a 2.5-litre four-cylinder engine and CVT transmission, 170bhp and 175lb ft of torque.

Advertisement - Page continues below

Looks interesting though.

Aesthetic mods include tinted headlights, fender-flares (British translation: wheel-arch extensions), LED lights and a winch. There's also a camo wrap, and all the glass has been tinted yellow for, so far as we can see, no reason whatsoever.

Can I buy one?

Nissan says the RTWP is a one-off (don't expect to see tracks on the options list anytime soon), and one of "several unique takes" on the crossover it'll be displaying at the NY show. It also says "If you want to stand out from the crowd during a day on the slopes or the beach, this is the vehicle to take." 
Indeed.