Retro
Aston Martin V8 Vantage V550: 10 quickfire stats as 550bhp brute turns 30
Time to step back into the Nineties and the heady days of the supercharged V8 Vantage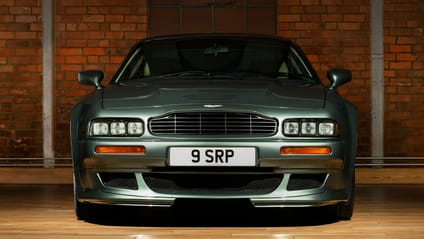 In the eight years of production, only 239 V550s were made. Though we should add, they were built slowly, very slowly…

 

Advertisement - Page continues below

It took 1,200 hours to build

At a time when the Ford Fiesta took around eight hours to build, production of a single Vantage was much slower. At its peak production was just two cars every week, but we're reckoning no one took lunch, ever.

That glacial rate reportedly dropped to half a car per week at the slowest point. Only 239, remember – now we know why.

The Vantage originally had a £177,600 price tag

The inflation calculator tells us £177,600 in the early '90s converts to approximately £453,000 in new money. Today half a mill buys you not one, but two Bentley Continental GTs heavily customised by its bespoke coachbuilding team at Mulliner. Or a home. (Maybe two of them, if you went far enough into mid-Wales).

Advertisement - Page continues below

Unsurprisingly, the Vantage V550 had... 550bhp as standard

The world's most powerful Aston had a monster 5.3-litre V8 engine, boosted by a pair of M90 Eaton superchargers. The package pumped out 550bhp and 553lb ft of torque, able to shift the two-tonne Vantage along at a fair old lick.

It had almost 220bhp more than the Virage

The real headline of the day was the in-house climb that the engineering team had made developing the quad-cam V8. It wasn't that dissimilar to the 32-valve 5.3-litre in the Virage that preceded it, with that engine rated for 'just' 330bhp. Superchargers, huh.

It did 0-60mph in 4.6 seconds

The V550's 4.6-second 0-60mph dash might seem pedestrian today, but in the Nineties that was enough to keep pace with a mid-engined Ferrari F355 (0-60mph in around 4.5s).

It had a top speed of 186mph

The V550 topped out at 186mph, which was apparently described as 'adequate' by its then-sales staff. Quite.

Advertisement - Page continues below

It had a massive 110-litre fuel tank

Massive, right? So massive, Aston fitted filling ports either side of the boot. For some context, Aston's 630bhp DB12 has a 78-litre capacity.

The 362mm brakes were the largest available at the time

The V550 is credited with a few production car 'firsts' and 'mosts', including the brakes. Aston tells us the 362mm front/310mm rear ventilated discs - saddled with with four-piston AP calipers - were the largest for any production car at the time. Probably get those on a Fiesta nowadays.

Advertisement - Page continues below

The Le Mans version increased power to 600bhp

The V600 Le Mans version could be retrospectively applied to the V550 for a mere £43,000, and brought with it - that's right! - 50 more ponies to hit a nice, round 600bhp. It involved a complete strip down and rebuild from scratch, mind...