Retro
Gallery: TG's favourite cars from the 2023 Pebble Beach Concours D'Elegance
Best in show went to a 1937 Mercedes, but what else was parked on the golf course in Monterey?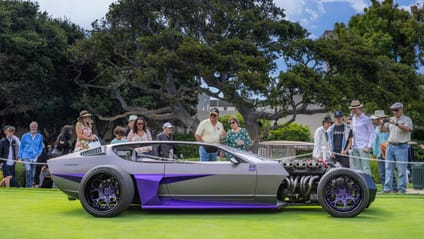 Mercedes-Benz 540K Special Roadster

We may as well start with the best in show. This lovely 1930s Merc won its owner Jim Patterson a Rolex, magnums of both wine and champagne, and a solid gold diamond encrusted model of the 540K. Pays to be rich, doesn't it?

Advertisement - Page continues below

Talbot-Lago T150C SS Figoni et Falaschi Teardrop Coupe

The Pebble Beach Concours D'Elegance absolutely loves a Talbot-Lago, and you can see why. This ultra-swoopy 1939 T150C SS has bodywork by fellow French coachbuilder Figoni et Falaschi.

Delahaye 165 Figoni et Falaschi Cabriolet

Another French firm loved by the concours community is Delahaye. This is also a 1939 car and was also designed by Figoni et Falaschi. Certainly knew how to make something look dramatic, didn't they?

Advertisement - Page continues below

Personally designed by Jean Bugatti, the Type 57 Atalante is a bit of a masterpiece. Somehow this 1937 car only came third in its class, but we love it so it makes our list of favourites.

Stepping out of the 1930s and into the 60s, this GT40 won Pebble's 'Postwar Sports Racing' class this year. It's rather easy to see why.

Aston Martin DB2/4 Bertone Coupe

Winner of the 'Postwar Touring' class was this exceptionally lovely DB2/4 Bertone Coupe. It's the only one of its kind ever built and looks right at home in California.

Lamborghini Espada Series 2

Another car that didn't win its class but that we couldn't leave out is this Series 2 Espada. Four seats, Gandini styling and a 3.9-litre V12 – what's not to love?

Advertisement - Page continues below

Lamborghini Espada Rat Rod

Haunting that previous concours spec Espada out on the Concept Lawn was this: a bonkers Lambo rat rod originally built by Danton Arts Kustoms.

Finishing second in the McLaren 60th anniversary class was this MP4/4 from 1988. The 1.5-litre turbocharged V6-engined MP4/4 gave Ayrton Senna his very first F1 world championship, and this particular car was driven to victory by Senna in Japan and by Alain Prost in Brazil.

Advertisement - Page continues below

Porsche 901 Prototype 'Quickblau'

Now owned by Alois Ruf, this pre-911 prototype previously belonged to Ferdinand Piech and Hans Mezger. Quite the history. It was also the very first 911 prototype to be fitted with the now famous five dials on the dash.

Kurtis Sorrell SR-100 Roadster

The 'American Dream Cars of the 1950s' class brought out some excellent Jet Age creations at Pebble this year, with this aluminium-bodied Kurtis Sorrell SR-100 Roadster making its first public appearance in 70 years.