Retro
Join us for a snap tour of the Peugeot Museum
Of course 'Museum of the Peugeot Adventure' contains hot hatches. But there's so much more too…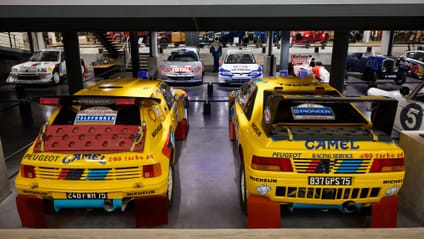 You've not stumbled into a time machine and whooshed back to the beginnings of 20th century Paris, rather the next best thing. Musée de l'Aventure Peugeot – or Museum of the Peugeot Adventure – in Sochaux is the place to be whisked through the history not just of cars with lions lobbed on their grille, but the automobile as a whole.

Advertisement - Page continues below

See, Peugeot can claim to be among the very first carmakers in the world. Armand Peugeot met with Gottlieb Daimler in the 1880s to kick off the car industry as we know it. The company first tried steam power, in 1889, before switching to petroleum for the Type 2 a year later. This is a four-seater Type 3, produced in 1891.

Peugeot 302 Sport Roadster

Dozens of iterations of automobile followed, but we've skipped forward to 1937 and this beautifully sculpted sports car. It saw the more prosaic Peugeot 302 rebodied by coachbuilder Marcel Pourtout (what a surname that translates into…) into a shape that wouldn't look out of place with a Bugatti badge. A 70bhp engine propels its curves to a 87mph top speed.

Advertisement - Page continues below

It doesn't take much translation to work out what that name denotes. Yep, this contraption was made with the sole purpose of carrying around Popes. Pope Jean-Paul II on his visits to French cities in the Eighties, to be more precise. It was given armoured panels after an assassination attempt on pontifex maximus in 1981.

Tucked beside the Papamobile at the back of the museum is the French G-Wagen you've never heard of. Quite literally: the P4 was part of a tie-up with Mercedes and is essentially a G with lion badges. Designed to replace the French army's aging Jeeps, Peugeot was wise enough to realise the buying public would want a slice too, hence this 'Civil' version.

But these are the Peugeot off-roaders you're likely more familiar with. The French firm lifted the Dakar Rally trophy four times in a row between 1987 and 1990, the wins split evenly between the 205 T16 (left) and 405 T16 (right) in their memorable Camel livery.

Not content with lifting three of Peugeot's Dakar trophies (from its total of seven thus far), Ari Vatanen aimed for something even loftier – a win and record time at the Pikes Peak International Hill Climb. His 10m 47s run in 1988 was immortalised in the film Climb Dance, making this perhaps the most famous car in the whole museum.

Advertisement - Page continues below

Nothing lasts forever, of course, and by 2013 Peugeot was more than ready to reclaim Pikes Peak honours. The worlds of rally and endurance racing combined, resulting in the most wonderful of Frankencars – this 875kg, 875bhp 208 T16. And who else but WRC's winningest driver, Seb Loeb, to whisk it up the Colorado mountain? Peugeot sliced more than 90 seconds from Rhys Millen's record with a scintillating 8m 13s run.

From the feistiest Peugeot ever to – perhaps – the flimsiest. But for all Peugeot (and everyone else) is aiming for EV-only showrooms over the next decade, this Véhicule Léger de Ville represents fully electric two-seat urban transport with a princely 3.3 horsepower and up to 50 miles of range. Or about the same as the current Citroen Ami, despite the VLV now being eighty years old. Peugeot sold 377 examples between 1941 and '43, mostly to doctors and postmen.

Advertisement - Page continues below

Peugeot 402 B Gasogene Limousine

If the 'Gasogene Limousine' sounds like it belongs in Wacky Races, wait until you hear how it works…

Before Peugeot had dabbled with the electric VLV, it was trying to solve the potential fuel shortages of war with a car that turned charcoal into gas. Between its firebox and rear-mounted generator this modified Peugeot 402 could produce enough carbon monoxide for a 40bhp output and 40mph top speed. Over 2,500 cars gained this somewhat perilous sounding propulsion method between 1940 and '44.

Let's fast forward several decades and deep into Peugeot's rich concept car back catalogue. While a charcoal-powered limo did make production, this Group B rally-propelled supercar sadly didn't. Perhaps the most prophetic thing about the 1984 Quasar is its reliance on a screen in the middle of the dashboard for in-car entertainment…

Yep, Peugeot developed a knack of whimsically offering us supercars we'll never get to buy. After the V12-powered 907 of the mid-Noughties came the Onyx of 2012. It took the 680bhp V8 diesel-hybrid powertrain that never quite made the Le Mans grid and snuck it under a beautifully crafted carbon and copper body. It'd do 220mph, hypothetically.

Peugeot Hoggar and Quartz

We didn't get a production version of the Onyx, but we do get cars heavily inspired by these. Perhaps we'd get more on board with crossovers if they better resembled the Hoggar buggy, though let's be thankful that elements of the not-too-shabby Quartz continue to drip down to the 3008 we actually can buy.

Just to prove Peugeot's incessant 'forward thinking', here's a folding hard-top cabrio from 1934. Sure, it's no car-park-scarred 206 CC, but its transformation from the much boxier 601 saloon was at least done by good ol' Monsieur Pourtout. Quite elegant, non?

First time we've heard of this one. Was it popular? Did it handle well? Who can say.

We do know about the blue car in the background, though – it's a Pininfarina-penned concept for the 'M24' project that saw Peugeot aiming to create a chic hatchback to sit between its 104 and 305 models. Wonder how it got on?

We jest, of course. We stumbled into the Museum of the Peugeot Adventure during the 205's fortieth birthday celebrations and sat proudly among all manner of examples – including the lesser-spotted 205 Nepala estate – was this delectable Turbo 16 road car, the hench homologation special from the Group B glory days. Magnifique.