Retro
Progress report: 2022 VW Golf Alltrack vs 1990 VW Golf Country
Two rounds of Golf designed to get you out of the rough. Does either one make par?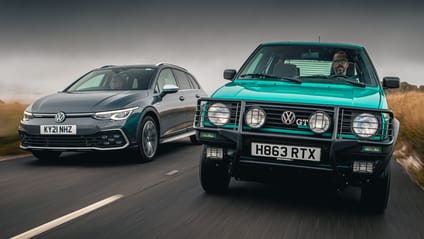 Is something wrong with that MkII Golf?

Does look a bit funny, doesn't it? Can't quite put our finger on it... This second-gen Golf was the car that cemented the concept of a solidly built, smooth-talking family hatch. It was built from 1986 to 1992 with around 6.3m trundling out the factory. The company's engineers liked to show off and amuse themselves occasionally. The GTI proved the Golf could perform on the road, and this model, the Country, was an outlandish 4x4 spun off the first AWD-equipped Golf (the Syncro) that could do the business off-road. 

Photography: Jonny Fleetwood

Advertisement - Page continues below

How did Volkswagen make it?

VW actually let the clever folks at Puch in Austria have their wicked way with the MkII Golf – the company that built the Mercedes-Benz G-Wagen and came up with the muddy bits for the MkI Panda 4x4 way back when. Less than 8,000 were made, mostly popular in the Alpine reaches of central Europe. This one is rare, and mostly original, apart from the bits that aren't. The 97bhp 1.8-litre engine's cylinders were bored out for some extra performance when the current owner rebuilt the engine, the rear drums swapped for disc brakes (sensible move) and there's a better radio.

It's so tall, must be a crazy drive right?

To our great surprise, it's actually a solid drive. You'd expect the Country to lean over like a half-inflated bouncy castle through corners, but it's planted and assured. Don't get us wrong, it feels like 1990, but it'd be easy to live with day to day. You lost a bit of boot from the standard Golf and the beefed up subframe means there's not actually any more ground clearance, but otherwise this is a premonition of everything people would come to enjoy about SUVs. It's apparently decent off-road, but we didn't try it out. Like most 4x4 drivers then.

Advertisement - Page continues below

What's that sensible looking thing next to it?

Almost missed the MkVIII Golf range's "charismatic all-rounder" over there. It's got electronic AWD to help with dodgy conditions, 15mm extra ride height and fancy bodywork to make it look cooler. Can't hold a candle to the Country, which has a similar effect to a supercar rumbling down the road. We quite like the latest Golf estate, though, visually the most successful version yet. 

Has Volkswagen lost some of its fun?

The Alltrack doesn't have the same Frankenstein's runabout feel as the Country, but it does have heated seats and Apple CarPlay. We won't revisit VW's touchscreen woes here, but being inside a Golf feels very different today. You can't even imagine the company squirrelling a cheeky little game away somewhere in the infotainment, let alone allowing engineers to go crazy with a limited run skunkworks-style model. Shame, really.