Retro
This £6m collection of Lancias is actually a steal
Possibly the six best cars ever average out a mere million quid each. Do it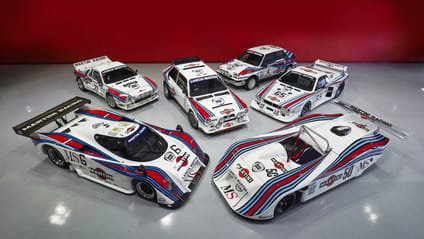 Got around six million knocking around? Well, you need to spend it on the greatest multipack of cars ever. The picture above shows the six-strong 'Campion Collection', a group of Martini-striped Lancias up for sale now via London's Girardo & Co.

Priced at $7.5 million – or a smidge under £6 million – it averages out at around £1m per car. Now, excuse us while we do our best Martin Lewis impression and explain, car by car, exactly why that all works out at staggeringly good value for money. Seriously…

Advertisement - Page continues below

Lancia Beta Montecarlo Turbo GR V

This was the first works Lancia to race at Le Mans since the 1950s. It didn't win, but Lancia did take the overall trophy at the end of the 1980 and 1981 World Endurance Championship seasons.

It uses a Dallara chassis, a Pininfarina body and an Abarth engine, which is close to the royal flush of excellent Italian racecar things.

Its engine is a 1.4-litre turbo four producing 460 bhp, surely more than enough with just 780kg to shift. It also utilises a Magneti Marelli Racing electronic ignition, proving that even the most mundane of components just sound better in Italy.

Advertisement - Page continues below

This car, girls and boys, won the 1982 Nürburgring 1000km. Y'know, the one before the 1983 Nürburgring 1000km which makes motorsport nerds go slightly weak at the knees. If you know, you know.

Here is one of only four examples built, and it's claimed to be Italy's first ground-effect sports car.

Power once again comes from a 1.4-litre Abarth engine, here providing 430bhp with a skinnier 665kg to shift.

Yep, another early Eighties Lancia endurance racer. This one was driven by four-times Le Mans winner Henri Pescarolo, among others.

It uses a 3.0-litre V8 sourced from Ferrari, with two turbos strapped to it. Result? A more than healthy 720bhp with a mere 850kg to move. Hold on tight.

Advertisement - Page continues below

Lancia Delta 037 Rallye Evo 2 Group B

Not just the zenith of Lancias, but arguably the zenith of cars full stop. One of just twenty Evo 2-spec 037s – the ultimate spec of 037 – this is surely as desirable as Martini-coloured things gets. And that's not a bad gene pool it sits atop.

Its 2.1-litre supercharged Abarth engine sends 325 bhp through a five-speed manual gearbox. This is when World Rally winning cars were still rear-wheel drive, too. In fact, an 037 was the last RWD car to win a world title.

Advertisement - Page continues below

The 037 you see here was the factory test car for Markku Alen at the WRC Rally of the 1000 Lakes in Finland, and in 1985 it took victory at Italy's Rally Citta di Mantova with Graziano Rossi at the real. That's Valentino's dad, to you and I.

Lancia Delta S4 Corsa Group B

Another Group B rally car, and nominee for the award of coolest object ever made. We'd happily buy it just to look at, but as one of the last of the Group B monsters, it'd be churlish not to give the S4 the odd run, too.

This one won the 1986 Rally 1000 Miglia and lists World Rally Champions Markku Alen and Miki Biasion on its driver list.

Its 1.8-litre engine is both turbocharged and supercharged, producing 550bhp, which is enough – with the help of four-wheel drive – to hit 60mph in 2.5secs. On gravel. Yikes.

Lancia Delta HF Integrale 8v Group A

The Integrale 8v won the 1988 Rallye de Portugal. Notable because that was also the Integrale 8v's debut event. The 8v went on to record 36 World Rally stage victories as a works Lancia Martini Racing entrant. Oh, and then it won the 1988 championship with Miki Biasion at the wheel.

Its 2.0-litre turbo four produced 275bhp and put it through all four wheels via a six-speed manual gearbox. Yep, the least powerful car in the collection, but then it has the best lamp pod. Which is at least as cool as another 250bhp anyway.

Who wants to join our crowd-funder to buy the whole lot? Our office whip-round currently stands at £13.76...