Review
The big test: Alfa Romeo Giulia QV takes on the UK
TG magazine's Best Cars of 2016: Alfa's M3-rivalling super saloon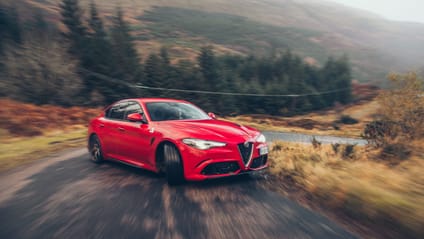 Is there no limit to the tortures to which our testing would subject a car?

Over the past few months we've hammered the Giulia Quadrifoglio till its tyres combusted, and – all in the name of rigorous enquiry, y'know – repeated the process at Alfa's track, and Red Bull's and finally our own. We've pasted it up and down an Italian mountain pass. And then, to be quite sure we had judged it absolutely correctly the first time, an Austrian one too.

It covered itself in glory. You knew that. 

Images: Mark Riccioni

This feature was originally published in issue 290 of Top Gear magazine

Advertisement - Page continues below

But, my friends, we must together face a sad truth. Life for a £59,000 fast luxury saloon can't all be track days and high mountain passes. People buy them for the everyday too, to use as any normal high-quality saloon. What if the Quadrifoglio turned out to have lousy comfort, grumpy urban habits, unrefined motorway manners or shonky ergonomics? It couldn't just shrug its pretty shoulders and plead divine handling and epic power.

So the test tortures of tracks and mountain passes aren't enough. It must face the torture of actual life. Which is why the Giulia finds itself jammed among the buses along Oxford Street on a wet winter's London night. I'm using it as, y'know, a car. To get about. Errands around the capital first. Some suburban schlepping. Then a slog up the motorway.

Although I happen to rather enjoy motorway driving. Some of it. Especially since I'm including the length of the wonderful bleak northern section of the M6 and M74 across the Borders. Destination some awesome Scottish B-roads. Because, well, divine handling and epic power.

Part of what makes the Giulia so fascinating is that it's a car-industry rarity: a totally new car. We all know we love Alfa, and we've rehearsed why on these pages often enough, so I have major emotional investment in this drive. But I also have genuine curiosity because the Giulia is an Alfa done by a new group of people using all-new parts. They holed themselves away from the rest of the Fiat Chrysler Group and went to extraordinary lengths to do their own pure thing. OK, they used the industry-standard ZF eight-speed auto, but the engine, platform, bodyshell, interior, those are all spanking fresh.

Advertisement - Page continues below

Not even the infotainment system is borrowed. They could have done a reskin of the top Chrysler one. That's what Maserati did, and it's good actually. If there's one thing Americans do well – better than Germans, certainly better than Japanese – it's doing graphics and menus that make intuitive sense to the Anglo-Saxon brain. But, because team Alfa was obsessed with genetic purity, it has produced its own, a potent full-time reminder right before your eyes that nothing in the Giulia can be assumed in advance. So I drive down the West End's streets under the Christmas lights completely incurious as to what's in the shops, much more interested in what bounty this car has in store for me.

Oh, and even if you know the Quadrifoglio's rivals well, you can't extrapolate the Alfa's nature and character. As the first miles through London traffic prove. The Giulia actually has suspension. It glides over cracked and broken surfaces, bearing the body, and you inside it, with a gentleness that contrasts remarkably with the brutality of the Germans. Of course it's basically firm, but Alfa seems to have found adaptive dampers with an unusually wide band of operation, and calibrated them very cleverly. By the end of my trip, after some of Britain's best and worst roads, that opinion doesn't change.

The semi-race Sparco carbon-fibre-shelled seat looks a bit of an imposition on your skeleton, but it's so well-positioned in the car that it works for languid highways even when you don't need its hot-lap lateral support. You can't just imagine that because old Alfas had silly driving positions this one will.

Are we insulting this 503bhp powertrain by asking it to grease gently through London's traffic thrombosis? No, because that's what posh saloons do. Coming very gently to rest and tiptoeing off again, your attempts to be smooth are thwarted by a lack of top-of-pedal brake feel, a jolting electric park brake release and sticky transmission creep. OK, I'm being picky here, but if you're stuck in a city, a car's behaviour below 10mph matters.

Above the speed of an ambling bicycle, the news is far better. The engine is happy to be gentle, the transmission shifts smoothly at wafting speeds. Suddenly the combination of smooth ride and quick steering makes the Quadrifoglio amazingly relaxing in this constrained environment. If people want to stare at its lovely carrozzeria they're most welcome. But the exhaust doesn't shout and pop and bang for attention. In this, as in so many of its characteristics, this super-saloon can be surprisingly and endearingly subtle.

Advertisement - Page continues below

Let's see what happens when the engine is asked to be not-subtle. Stretching it out of an empty motorway slip road, or nailing it away from the M6 toll gate, this V6 is truly a serious thing. It ceaselessly gains power to the top of its revs like the needle is magnetised to its red line. On cold, dry tarmac, full throttle presses the summer tyres to the very edge of coping, and a patch that's even mildly moist can demolish the traction entirely. The exhaust, even on its loud setting… isn't. It swells to a tenor climax, definitely worth hearing. But it doesn't labour the point with false histrionics. Its timbre is of two triples, but the 90-degree block's firing intervals add a seasoning of American sonics beneath. 

The engine isn't all top-end, though. Even from 2,000rpm or so, it hardly lags, and from there upwards the momentum gains vehemence like a stone under gravity. Such progressive, predictable delivery is a huge asset on the road. You can send yourself exactly as far forward as you want with no delays or overruns. You can take it easy, or you can seize a chance.

Gradually the motorway traffic evaporates. The Giulia settles nicely into a brisk cruise and I've got the space to follow my thoughts as I follow the xenon rails into the night. The steering is direct, but it doesn't have that annoying initial nerviness that's often the downside. The on-centre weighting is just-so, so you can hold lane for hours without fatigue, or pour it accurately into a fast curve. Tyre noise, bane of sportified autobahn saloons, is well subdued too. There's a bit of exhaust drone as the V6 snores away in eighth gear, but it's mild. You hear it only when you're not listening to anything else. Mostly I'm still amazed that this is such a refined car.

Advertisement - Page continues below

Next morning I get cracking early. Should have checked the traffic feeds: a truck has fallen over on the M6 in Cheshire – no one seriously hurt, glad to say – and it takes two and a half hours to cover one junction. More than enough time to scan this cabin and to play with every menu and control. It's a space of fresh design and good materials, the main wing of the dash flying neatly over the instrument pod and main screen. That screen is borderless, part of a curved glazed surface that sweeps its way above the vents and into the speedo's porthole. The whole effect is simple and sophisticated. The climate controls are straightforward, the instruments too.

This is a car that puts the driver front and centre. The gadgetry is pretty secondary. You're not expected to spend ages configuring the screen OS. What's there is straightforward and works well without being distracting: it's not a connected car, it's a driver's car. (OK, I wish the map stayed north-up when you zoom to street level, but I know I'm in the minority so it's my eccentricity not the Alfa's). Nor will you be making choices about activating and adjusting driver assistance, because there isn't much. Last week I drove a new Nissan Micra with more driver assist than a fully loaded Giulia. It has safety aids, but not the gewgaws of assistance that seldom work properly anyway. And if I'm honest with you, I'm cool with that. A protocol of buying an Alfa is that you will fully engage with driving it. 

That doesn't mean it's difficult or flighty. I'm not about to trot out one of those time-worn lines from folk who call themselves Alfisti about it having character, where "character" is a euphemism for "litany of annoying failings". It's not perfect (see the light-application braking business), but the Quadrifoglio, Alfa's first effort in this class, irritates me no more than do rivals that have been developed by steely-thorough engineers over generations. Yes, there are annoyances in AMGs and M cars and RSs too, you know.

So there you are: TopGear consumer information. It has passed the daily-use torture test. Now let's go north and have some fun.

Cumbria is at its enthralling best, made more intense by the cycling of the weather today. As the M6 ascends Shap, the hills of the eastern Lakes and western Pennines rise amid dark clouds, flashes of low-angle sun saturating their wetted radiance. Then it grades down towards Carlisle and the Solway and we're in Scotland. The M74's curves are more significant, its gradients steeper. You can look down that broad highway's black surface and ordered dotted lines and think we've conquered nature. Or defiled it. But the overwhelming feeling is that the hills will always win. They seem to stretch away in every direction beyond imagination's horizon.

And then they don't. Because I'm into a sea of roadworks in Glasgow, beyond which it's time for a brief pause. The car needs fuel, and I'm detecting blood in my caffeine stream. With those things put in order, the Giulia's carbon-fibre bonnet aims toward the brooding crumpled landscape of the western lochs, and its equally brooding roads.

The Quadrifoglio's powertrain has an answer to every question. The lower gears are close together, so you never fall into a torque hole, and it'll always dig you out of a corner. Then as the road straightens, you hit the upper register of the revs and career away like a mad thing. But if it's slippery, you can always use a gear or two higher and temper the force without losing response. The big metal paddles on the steering column act with solid clicks and summon immediate shifts.

The steering too works with solid, quick and accurate temperament. The whole car pivots as you turn the wheel, without any sensation of the front tyres having to shoulder the work. In the middle of the corner, you're feeling that same balance. Really feeling it, working with reassuring signals of the grip running out. Or indeed the traction, and everything that entails. The supple ride gives you a steady platform to work from. Oh, and those brakes are terrific in big stops. It's all so controllable and, yes, engaging. 

Mind you, these specially concocted Pirelli Corsa tyres don't care for a cold-and-wet life. That's fine – you can switch the DNA selector to the A setting, and it'll keep the traction control on high alert. Cycle through N for normal to D for dynamic, though, and the Giulia emphatically tosses its tail at the slightest invitation from the throttle. Yes the control system is still there in extremis, but, in the wet on these tyres, it wants you to be part of the action.

And then rain turns to brutal hail. I creep along in my rear-driven super-saloon, its 503bhp comically superfluous. This very day, half a world away in sunbaked Los Angeles, Alfa is unveiling something better suited for my conditions, a four-wheel-drive SUV called Stelvio.

But as the hail eases again to torrential rain, in the other corner of the sky the cloud breaks and a shaft of sunlight scythes through. That is how refreshing the Giulia is. It's modern and high-tech but the proposition is simple: engine, handling, beauty. Those are things we want from Alfa. The Giulia over-delivers. And in all these long miles I was reminded how easy it is to manage without the peripheral diversions of connectivity or gadgetry or the idiotic decadence of self-opening bootlids. Shut up, drive, enjoy. A rainbow appears, tantalisingly close. I feel like I could reach out and touch its foot. Never mind me – how about the Giulia? It must be four decades since Alfa Romeo was this close to the pot of gold.