Review
Big test: VW Golf Mk8 vs Seat Leon vs BMW 1 Series
The new Golf 1.5 eTSI battles its Seat cousin and the BMW 118i for ultimate hatchback supremacy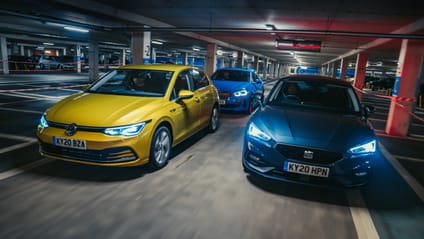 Polite chit-chat could be about to get awkward. Sorry. Because for at least 15 years, 'just buy a Golf' has been the standard-issue, locked'n'loaded response to anyone who asks you – a Car Person – what car they should buy. 

On autopilot, you recite to the Non Car Person that Golfs are comfy, practical, easy-going and quite smartly put together. Seeing signs your new friend knows their onions? You change tack, and mention a GTI or a Golf R Estate DSG. Recommending a Golf is like picking white kitchen units, or choosing Michael Bublé background music. Spectacularly inoffensive. You pretty much can't go wrong. 

Advertisement - Page continues below

Or you couldn't, until Volkswagen made some out-of-character own goals with this new Golf Mk8. It's not that VW got cocky and phoned it in. It seems more that Wolfsburg didn't have a clear idea of what needed to change for the new Golf, so it fiddled with bits that weren't exactly broke. The old Mk7 was, after all, one of those rare cars (like an E39 BMW 5 Series or a Ferrari 458), that shot to the top of its class when it arrived, saw off all claims to its throne, and was still at the top of the game when it retired. The new Golf 8 takes more risks. You may like them… or it might wind you up.

Take the styling. The headlights have slid down the front, leaving a furrowed bonnet above and a rather frowny expression. There's Amy Winehouse eyeliner at each corner, and the 'frills' at the extremes of the lower grille look like active aero gills, but they're just a flourish. It's still recognisably and assuredly a Golf – why it's got that insecure text stamped across the boot proclaiming it as such is anyone's guess – but it's fussier. Frumpier.

Advertisement - Page continues below

I'm still pondering this as the new BMW 1 Series barges its nostrils into view, and immediately forgive the Volkswagen. The new 1er seems to have a lot to prove. It's carrying a massive chip on its shoulder about being the entry-level Beemer, and overcompensating in the grille department. 

Finally, the latest Seat Leon pulls up and even in Resale Safe Bet grey, it looks the sharpest and most handsome, with its finely creased haunches and slender LED stretched tight across the sculpted tail. Cleverly, it manages to look more of a 'new car' than the Golf, even though they're basically identical under the skin.

The third BMW 1 Series proves the Golf is the influencer among hatchbacks. After two generations of stubbornly going its own way with north-south engines under the bonnet, rear wheel drive and less space than a London studio flat inbetween, BMW realised most buyers couldn't give a monkey's where the engine sends its power, and extinguished its lonely 50:50 weight-distribution crusade. Transverse engines, front wheel drive, and a bulbous silhouette results. Oddly, it's still by no means cavernous in the back, but it's at least competitive space-wise and boasts a big boot – a credible family hatch, rather than an oddball breadvan. 

Happily, BMW stuck to its guns when drawing the dashboard. The 1 Series driver still feels low-slung and cocooned in their seat, facing a cockpit that's copy-pasted from a 3 Series. 

The iDrive system is now touchscreen-equipped, but BMW's kept the rotary selector dial and shortcut buttons for a perfect compromise. For typing postcodes before you set off, say, you tap on the display. For zipping through lists, scrolling between talk-radio phone-in rants, and zooming into the map, there's the tactile control next to the gear selector. Meanwhile, a slim strip of tactile buttons runs the climate control. Fiddlier than the twiddly knobs from the old 1 Series, but hold that thought…

There are problems. BMW's digital instrument screen is fussier than Mary Poppins. The afterthought half-hexagon speedo and rev counter are a mess. But overall, this is a coherent, modern-feeling place to be that respects you've got a lot on your plate and doesn't overdo the tech.

Advertisement - Page continues below

Now, compare that shot of the 1's interior to the Golf's, and cousin Leon's. Both have dispelled buttons in the name of clean, unfussy surfaces. Who's signing this off, Kevin McCloud? 

The heater, for instance, is now operated by a glossy, unilluminated touch-sensitive slider. It's unintuitive in daylight hours, then rendered invisible after dark. These touchpad zones sit on a slight shelf – the natural place to brace your hand when prodding at the Golf and Leon's 10-inch touchscreens. So, aim for a playlist and suddenly the blower is set to Arctic storm. 

Shivering, you'll attempt to activate the heated seat. Used to be one push of a physical button. Now it's a minimum of two jabs at the monitor. After several aborted attempts, a couple of missed junctions and inventing nine new swearwords, you'll get the nav, radio and ambience of the Golf or Leon set just so – and discover the effect of clinical simplicity is lost, because everything's smeared by fingerprints. 

Just because humans can grow accustomed to a new normal, like losing the headphone socket in our smartphones, or the phrase 'President Trump', it's not necessarily a better normal. This isn't just technological preference – it's not iPhone vs Android. It's a safety SNAFU. In the new VW Golf and the new Seat Leon, your eyes are off the road more of the time than they were in the last-gen cars, because the cabins are trickier to operate. 

Sure, there's voice control, but try that with the family on board and see how quickly the novelty evaporates. Swapping straight back into the more traditional 1 Series immediately shows up just how much easier simple commands are in the BMW. 

Advertisement - Page continues below

Maybe the Golf isn't The Influencer any more. Now, it's Tesla. And we've got a generation of new cars arriving with cabins designed for machines that can drive themselves, before they're able.

Since driving is the responsibility of us over-evolved bags of flesh and water, you're best off in the 118i. Sure, it's not the purist rear-drive upstart it used to be, but it's still unashamedly targeting the sporty sort. It turns in keenly with a roll of the wrists, the steering meaty in weight but lacking the gloopy stiction that dogged the predecessor. 

It feels grippy, alert and enjoyably aggressive – in fact it's more alert than the latest M135i, freed from the weight of the flagship's four-wheel drive. On its stiffer M Sport suspension (and here, optional 19-inch rims), it's certainly the firmest of the three, but a world away from the bad old days of BMW ride quality in association with Castle Cement, with a side helping of runflat tyres. 

What's clever about the 1 Series is it still feels like the keen driver, Car Person's choice, but it's also grown up. It's easily as hushed inside as the Golf, which both smother wind and tyre noise more effectively than the Leon. This 118i is hauled along by a gem of a 1.5-litre three-cylinder turbo engine from the Mini. It doesn't thrum with character like it does in the Cooper – it's too refined for that – but it's the most responsive, free-revving motor here, and a fantastic playmate with the £1,350 twin-clutch automatic. No paddles, but the DCT is so attuned, you won't miss them.

The Leon's the only manual contender, and it's a good'un. It's a good drive all over, really. In this spec, the 1.5-litre turbo four-pot engine does without any hybrid assistance, but it matched the Golf's on-test economy, both trouncing the downsized BMW, which averaged just 38mpg. The Seat, like the VW, suits someone being weaned off diesel diet, both cars sauntering to 450 miles on a tank.

And because the Seat is a relation by blood, you can mix'n'match the variants we've lined up here. The 48-volt mild-hybrid version of the 1.5-litre engine, which will switch off when you're coasting and use battery charge to power the electricals, is also available in the Seat – like the VW, it adds the seven-speed DSG gearbox as standard. 

If you want a plug-in hybrid flavour of either car, you'll need to wait for the Leon Cupra eHybrid or new Golf GTE, both coming later this year with 242bhp of petrol-electric power and 37 miles of battery-powered running. BMW's e-strategy is muddier – there's no hybrid version of the 1 (plug-in or otherwise), but the X1 and 2 Series Gran Tourer MPV (yuk) are both sold with a plug. Since the 118i doesn't have a starter-generator motor, it'll cost you an extra £150 annually as your company wheels, vs the VW.

The Leon's straight-line punch is reedier than the 48-volt hybrid-assisted Golf's, being 40lb ft and 20bhp worse off, but the Seat counters with a touch more poise and a smidge more agility. As usual, the differences between the VW Empire's badge-engineered families are subtle, but detectable. You don't need the Seat's risible "Hola!" greeting in the puddle light to know it's the perkier machine. 

This Leon FR is £7,000 cheaper as tested than the hi-vis Golf, and the gap between them isn't seven grand these days. Sure, the Seat's trim is a bit ropier, and it's somewhat noisier inside. But when the Spaniard can counter with smarter looks, keener handling, roomier rear seats, identical on-board tech, boot space and running costs, you have to ask if VW hasn't nobbled itself by sharing everything it's learned making Golfs 1-7 with its foster kids. 

The Golf has no vices about its drive. Like the Mk7, it feels sure-footed and drama-free, if a bit stodgy. It's utterly planted on the motorway, serenely polite and comfortable. It's so 'right', VW's not bothered with multiple driving modes. 

The control weights are as slick and consistent as the thunk when you close the door. It's a quality item, and obviously a very well-engineered product. But when you can get hold of a better-looking, keener-steering alternative with the same fundamentals and save seven grand in the process – or opt into a less vanilla rival with a corking drive and a logical cockpit – the Golf suddenly isn't the default choice any more. 

"What car should I buy?" "Erm, pity that new BMW 1 Series is so flipping ugly, because actually…" doesn't quite have the same ring to it.