Review
TG's Toyota Supra mega-test pt2: Supra vs Porsche Cayman
Part 2 of 4 sees Supra take on one of the very best
Something unusual happened on the launch of the Toyota Supra in Spain a few weeks back. Tetsuya Tada, the Supra's chief engineer, openly expressed his admiration for Porsche. This doesn't happen. Representatives from one company scrupulously avoid talking about another's product, let alone praise it. Yet here was Tada-san saying he admired Porsche's attention to detail, citing an instance where he knows they made a minute adjustment to the brake software, and openly saying he was disappointed Porsche had moved away from the flat six to the turbo four, but that the Cayman was still the only rival that mattered, the car they had benchmarked.
He was pricking the balloon. Until he mentioned it, the Cayman was the tensioned elephant in the room. Of course it was. The Cayman is the default answer to every "I want a proper sports car" question (at least it was until they threw out the flat six and replaced it with a turbo four). Did he believe, I asked him, that he had built a better sports car than the Cayman? The usual pragmatic answers: it's nice to be considered alongside it, it's a shame they've lost the six cylinder, we have done our best. But behind it, a quiet confidence.
Advertisement - Page continues below
Now we find out if it was misplaced. Here we have the top Cayman, the GTS. It's not the most direct rival – that'll be the £53,030, 345bhp Cayman S – instead this is the ultimate: £59,866, 360bhp version, complete with an alphabeti-spaghetti of acronyms: PASM adaptive dampers, PTV torque vectoring, DFI, VTG, PSM (not the same as PASM), PCM, PVTS Plus. You get the picture. All the letters have been thrown at the GTS, plus 10mm lower springs, dynamic transmission mounts, a driving mode dial and Sport Chrono with launch control. You'd imagine that would be it for options. But no, as tested this is a £76,000 car. Ouch.
The £54,000 Supra Pro's paint costs £620. That's it. No other options, but it gets heated and cooled seats, rear camera, wireless charging and a kick-arse JBL sound system. It's not lacking for stuff. It gives away power to the Cayman, but fights back with vastly more torque – 369lb ft plays 310. But then it has an extra 120kg to get moving compared to the 1,375kg Porsche.
Enough stats – they tell so little of this story. We're at Llandow, a small track in South Wales. I doubt very much whether the average Supra owner will ever take their car on track, but they should because the Supra likes tracks. The rear end is well supported, so it doesn't sag, squat or squirm when you're hard on the power out of tight corners. And the rear works harmoniously with the precise, confidence-inspiring front. It's not the last word in steering feel, but you know where you are with it because the chassis communicates. It's biddable, rarely understeers, readily oversteers, but after a few laps the brakes start to go and you realise the gearbox and engine aren't the sharpest. It's what you might call an 'old-school entertainer', i.e. you sit a long way back, closer physically and mechanically to the rear axle than the front, in a car that likes it best when it's pitched into a corner then driven through on the throttle.
Advertisement - Page continues below
The Porsche is mid-engined. You knew that already but it's worth repeating, because the car's whole pivot point and balance is different. Pitch this one in hard and you'll be lucky not to spin. There's less roll, you seem to sit lower, closer to the nose of the car which enhances the sensations and immediacy, and the Cayman is more adjustable through a long corner. There's a bit more to the experience, you have to dig a bit deeper, spend a bit longer with it. Want accessible fun and a yee-ha powerslide? Have the Supra. Want a car that takes more unearthing, a comet with a longer tail? That's the Porsche.
We head into the hills after Llandow and I'm in the Porsche. Chiefly because on my 120 mile drive to the circuit that morning, the Supra's refinement and comfort had impressed me and I want to see how the Cayman compares. There's more road noise – a surprising amount of intrusion in fact – but the suspension is compliant, the steering undistracted. Yes, the manual gearbox keeps you busier, but after no more than a few minutes it becomes part of the routine, as simple to integrate into the driving as a glance in the mirror, and far more satisfying.
I'm sorry, but I still can't forgive Porsche this four cylinder
What I love about the Cayman is just using it. There's an oily precision to every control, where everything operates so harmoniously that you're not sure where gearbox ends and clutch begins, where suspension ends and steering begins. This sense of oneness, of mechanical completeness, sets the Cayman apart. It's tactile and engaging at any speed, and on the busy valley roads south of the Brecon Beacons it's a content companion.
Top Gear
Newsletter
Thank you for subscribing to our newsletter. Look out for your regular round-up of news, reviews and offers in your inbox.
Get all the latest news, reviews and exclusives, direct to your inbox.
But then we climb and the engines are put to work and, I'm sorry, but I still can't forgive Porsche this four cylinder. It sounds thrummy and coarse, a square peg to the Cayman's round hole mechanical make-up. I switch back to the Supra. It plays a hearty, lusty tune. Better definitely, but I still have issues with it because that noise, right at the heart of the car, is pure BMW. And it sounds wrong somehow.
As with the Cayman I try to ignore it, even though it plays a much richer tune. Will it bother owners? Only if they a) currently drive a six cylinder BMW or b) have intimate knowledge of the old Supra's 2JZ engine. The floating voter, the buyer who just wants a good, swift coupe and doesn't care about the background, is going to enjoy the Supra. Are there many of them out there, though? The early adopters want this car because of its heritage. But by sharing the project with BMW and using so many BMW parts, Toyota has comprehensively undermined that.
Once again, it's a smooth car to operate. It's best in Sport mode which sharpens the throttle for pulling away, and with torque peaking at only 1,600rpm, it's effortlessly rapid. The Cayman has to work harder for its speed – not that it's any slower. I timed both to 100mph in 9.6secs, the Toyota quicker off the mark (0.4secs faster to 60mph at 4.0secs), the Porsche quicker north of that. Both fast cars with more than enough speed to whip past slower traffic. Not much to separate them on economy, either. We got 27.4mpg from the Cayman, with the Supra recording 26.8mpg.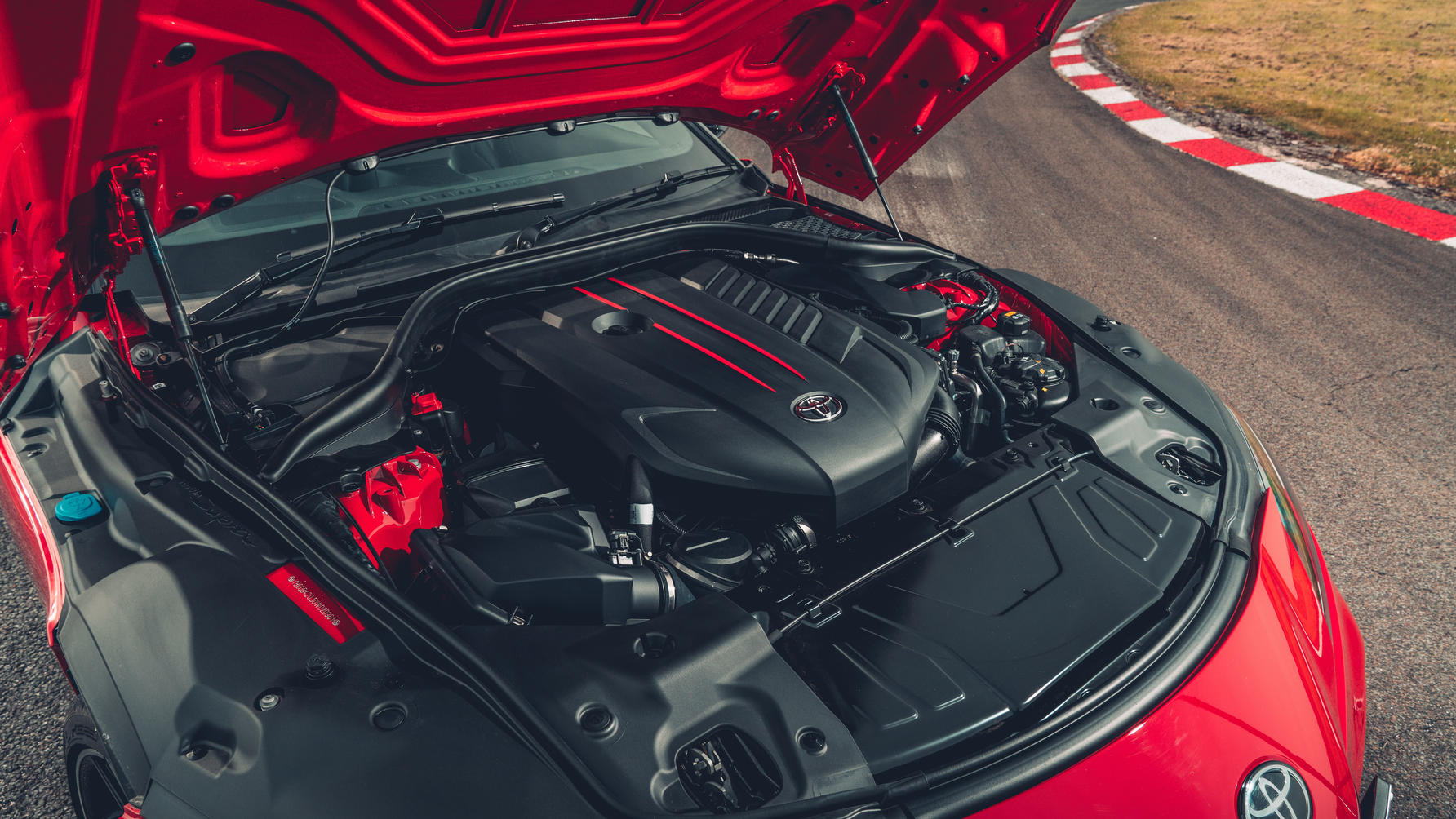 If the Supra had a Toyota interior we'd be giving it a shoeing. Instead it's easy to get on with and nicely made from quality materials. An interior that's commensurate with its cost. It's a more practical car than the Cayman too – one big, hatchback-accessed boot instead of a smaller one at either end.
There are no jarring edges to the Supra experience – Toyota has rounded them off. It does very little wrong indeed: it's better to drive than the Z4 on which it's based, it's fast, punchy and if you like the long bonnet, short tail layout - so the nose swivels in to corners a long way ahead and you're following behind, sat atop the rear axle like a charioteer - you'll love the Supra. It's good-looking, it chomps through distance happily, you know it won't miss a beat and I reckon it'll be even easier than the Porsche to live with.
As a daily sports car that makes it pretty compelling. I wouldn't have a go at you at all, if, having weighed them up, you came down Supra-side. But we really care about driving, don't we? Not just handling, but mechanical interaction, and it's that nuance and depth, the long-term satisfaction of owning such a beautifully honed car, the engineering expertise (excuse the engine) that shines through every time you start moving in it, that gives the Cayman the edge.
TG's Toyota Supra mega-test pt1: Supra vs BMW Z4
Photography: Mark Riccioni