SEMA
The best bits of the 2022 SEMA show: part two
Includes a Porsche bought by a 14 year old from money earned by selling grapefruits and vegetables...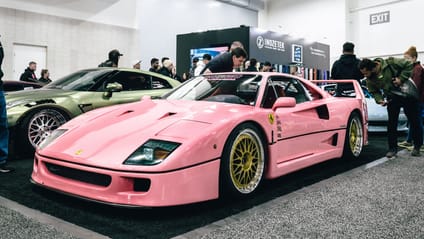 Lungs coated with burnt rubber, eyes dazed by the abundance of chrome and garish paint jobs and our feet having seen better days, we're back with the second part of our SEMA 2022 round up of the best - and most bizarre - cars of this year's show.

Photography: Huckleberry Mountain

Advertisement - Page continues below

Drift is king at SEMA and as one of the fastest growing motorsports in the US, it's no surprise this year's show featured an abundance. And this Porsche Cayenne stands above the rest. Owned by Ukraine-born pro drifter Andrey Musienko, the monster SUV boasts a 530bhp LS2 and 22in wheels. The interior remains relatively standard, however the rear seats have been removed - a shame as it could have made for an interesting school run.

This wide body Ferrari 328 has had a rather unconventional engine swap: half the original cylinders but with a higher RPM and a lot more power. Stanceworks founder Mike Burrough stripped out the original and comparatively underpowered V8 and replaced it with a turbocharged K24 Honda engine, capable of making over 1,000bhp.

Advertisement - Page continues below

Yes, it's just as cute in person and yes, it may not be as big as most conventional tractors, but it packs a serious punch. A kerbweight of just over 900kg has to contend with... 2,800bhp. Yikes.

Bisimoto revealed another bespoke build at this year's show - an all-electric love letter to the legendary Porsche 935 Moby Dick. No surprise that this speedtailed Porsche was a very popular attraction.

This project car, a 1976 Porsche 914, belongs to one Frances Pearl Farnam... who is 14 years old. By picking and selling grapefruits and vegetables in her garden, Frances saved enough to buy this car aged just 11. The enterprising youngster then learnt to weld within months of purchasing the car, and is now converting it to be electric with the aim to be road-ready by the time she's 16. Good luck, Frances!

A funkier F40 you won't find, though one suspects Enzo might have had something to say, considering each F40 left the factory in the same shade of rosso corsa.

Advertisement - Page continues below

Surely there's space in the lineup for a BMYute?

Must be a nightmare to find parking, though you could of course just park over another in this Very Lifted Truck.

Advertisement - Page continues below

Surf's up... or perhaps down considering how slammed this classic VW van is.

Certainly the coolest Smart car out there, though a short wheelbase and tall height doesn't feel like a 'smart' off-road choice...

This year's winner of the infamous 'Battle of the Builders' is the Enyo by Wisconsin-based builders Ringbrothers. It started life as a humble 1940s farm truck, and has been fully transformed into a low slung, open-wheeled 1,000bhp Chevy race truck. A worthy winner.

A car in which potholes and kerbs fear you. This Baja 911 started life as a 1991 Porsche Carrera 4 Cabriolet before it fell into the hands of TJ Russel. Now boasting a Baja race prepared chassis, AWD drivetrain and a modern, lux interior, it may be the one of the most capable 911s out there.

Standard SEMA fare, with Denim Cox and his old van acting as a smoke machine. Fun fact: he's actually sat on the wheel well itself, not a seat, a matter of inches away from the engine... which sits right next to him in the front. Do Not Try This At Home, etc etc.

A mismatch of themes that makes you feel as though you haven't slept properly. What do you think?

No better way to sign off this year's SEMA 2022 than with a modified Challenger SRT in a delightful shade of pink.