SEMA
Check out this bonkers retro-inspired 1950s Baja race truck
Line-X has unveiled its SEMA offerings. We like.
A 1957 Chevrolet Cameo pick up truck isn't exactly the first donor car that'd spring to mind when building a Baja-style desert basher, but a collaboration between customiser Jesse James and Line-X has brought that very thing to life.
Bit of a Frankenstein's monster isn't it? That's no bad thing, though, particularly because there's a tuned LS7 small-block V8 under the bonnet. For those that need a reminder – that was the 7.0-litre monster that we first saw in the Chevrolet Corvette C6. We don't have any official power figures – but it'll likely be enough to shift a few sand dunes.
Advertisement - Page continues below
James has experience of Baja, having completed the famous 1000 back in 2011. That means, despite the 50s body, this is a seriously modern bit of kit underneath. There's a new custom exhaust system, a new suspension setup and new engine management system from some big-name American tuners. Plus, the Cameo gets a high performance gearbox, radiator, brakes and off-road tyres.
There's also Momo seats and harnesses as well as those fantastic, teeth-like spotlights in the grille. The whole body is then coated in Line-X's protective coating – whether that can save the state of some Baja trucks at the finishing line we're unsure.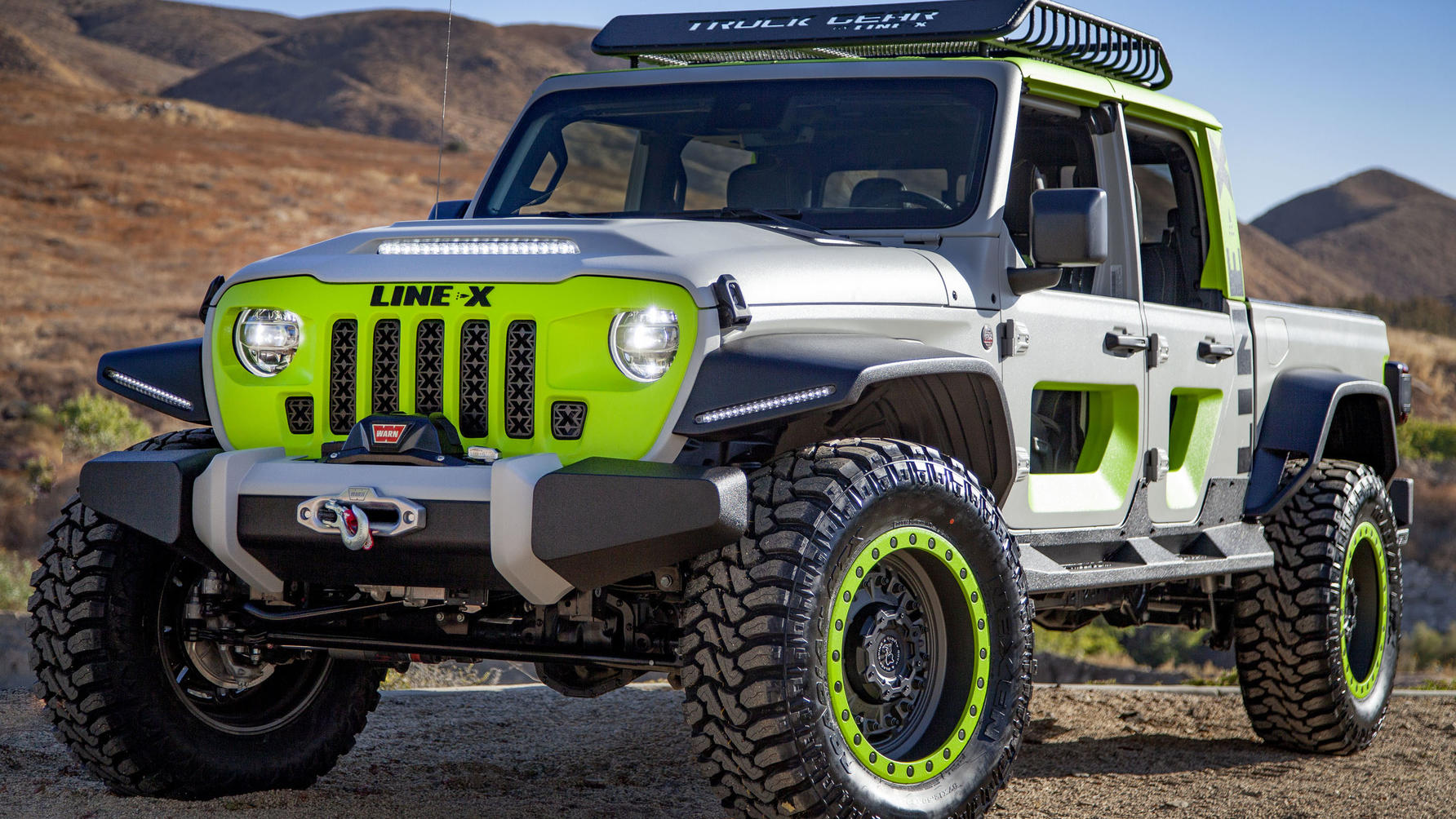 Also on Line-X's stand at SEMA will be the Jeep Gladiator you see above.
Advertisement - Page continues below
This is another Line-X collaboration, this time with Kenny Pfitzer of Zero to 60 Designs. The Gladiator features a number of Line-X prototype parts, including the angular front and rear bumpers, the wicked cutaway doors and the all-out lifestyle roof rack.
The body is a Zero to 60 creation, with a newly designed bonnet, grille, side panels and wheel arches. Reckon it's an improvement on Jeep's effort?
The engine is standard, but Pfitzer has fitted hardcore Fox shocks, off-road tyres and a MagnaFlow exhaust. Crikey.
Aside from the Supra, we reckon the Gladiator might just be one of the most-fettled cars at this year's SEMA show. What do you think, Internet?
Top Gear
Newsletter
Thank you for subscribing to our newsletter. Look out for your regular round-up of news, reviews and offers in your inbox.
Get all the latest news, reviews and exclusives, direct to your inbox.