Supercars
Bugatti Veyron on Route 66: Day Three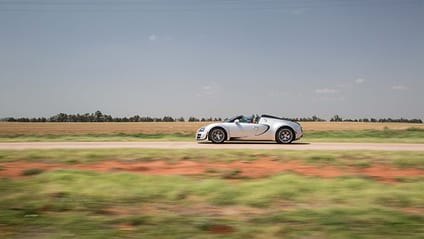 It's the third day of our giant Route 66 road trip: 2400 miles from Chicago to Los Angeles in the astonishing Bugatti Veyron Grand Sport Vitesse, all 1200bhp and 260mph of it.

Is this the way to Amarillo? Damn right it is. Day three sees us spiriting west from Tulsa, Oklahoma to Amarillo, out onto the great open Texas plains, a land of big skies and even bigger waistlines.

Check out our Day One diary here - which also explains exactly why we're undertaking this grand, daft mission - and catch up on Day Two here.

We're counting down to Wednesday's release of Top Gear magazine's shiny new 'Adventures' issue, which will reveal the full story of the biggest Veyron road trip ever, along with a whole bunch more fast-car escapades.

In the meantime, check out our Day Three photo-diary... and check back tomorrow for another instalment. And fear not, wallpapers are coming in due course...

Advertisement - Page continues below

This nice lady invited us back to her ranch to view her frisky mules. This was not a euphemism.

Main road is closed. Detour is a single-track road, winding and empty. Not so much of a chore.

Advertisement - Page continues below

This originally read:

PRAY

FOR DELICIOUS

BRAIN

But sadly a few letters fell off.

The brilliant Seaba Station motorbike museum, just outside Chandler, OK. Photographer Justin attempted to trade the Veyron for a beautiful 1920s Harley. And very nearly succeeded.

"Hey, do you guys sell super-unleaded?"

Over the years, these glasses have seen many, many things. But they ain't never seen nothing like that before.

Advertisement - Page continues below

Say what you like about America, it does do a fine line in organ-rearranging rollercoasters.

The Veyron in reflective mood.

Advertisement - Page continues below

Land of hope, glory, comically low speed limits and the occasional two-million-quid hypercar.

Drive it east to west, it's Route 66. Drive it west to east, it's 99 3TNOR. Or something like that.

Straight, straight, straight, straight, left a bit, straight, straight straight...

A classy key fob for a classy car.

In the broiling afternoon sun near the Texas border. If you crash out here, no one will hear you slowly sizzling to death.

Cruising through Erick, OK, once home to America's most notorious traffic cop, Officer Elmer and his 1938 Ford. Elmer's long gone, but we still took it slow.

I'd love to tell you this didn't feel as utterly epochal and extraordinary as it might look in pictures. But really, it did. Sorry.

The Texas border. Many bullet-holes in the state line sign. A friendly welcome.

Shamrock, TX, is packed with gorgeous art deco architecture. The restored Conoco station is the best of the lot, arguably the best on the whole of 66. If heaven exists, it definitely looks a bit like this.

If you live in rural Texas, you gotta own a 4x4. Veyron blends right in.

Sundown in Amarillo. Three days down, four to go...