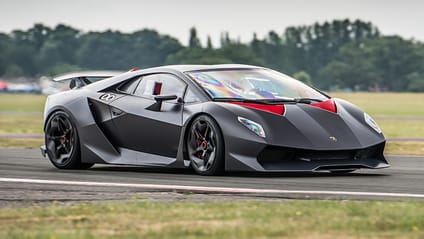 In Lamborghini's 50 years of existence, it has built around 30,000 cars. Of these 30,000 cars, nearly half of them - half - were Gallardos.

Which, quite literally, speaks volumes about the importance of the 'baby' Lamborghini. Let's break it down: between the company's inception in 1963 and 2003, just before the Gallardo came storming onto the scene, Lambo knocked out an average of around 250 cars per year. From 2003 to 2013, that figure rocketed to 2,000 cars per year.

In total, 14,022 Gallardos found homes across the globe. And now, after a mammoth ten-year production run, Lamborghini has called time on its most successful model in history. Though don't cry yourself to sleep: it's because the Gallardo has been replaced by the brand new Huracan.

And it really is a brand new car: a new chassis, new suspension, new steering, new electronics and a heavily revised version of that lovely, raucous 5.2-litre V10 delivering a mammoth 602bhp to all four-wheels through a new double-clutch gearbox.

It'll go from 0-62mph in 3.2 seconds, hit 124mph in 9.9 seconds and rock on to a top speed in excess of 200mph. And as Top Gear's Charlie Turner found out during our very first drive of the new car, it sounds utterly, utterly amazing.

You can read that first drive here. But before we move on too quickly, we must first honour the V10 icon with a big Top Gear Guide To The Lamborghini Gallardo. Here, we have attempted to round up every single model of Gallardo in a very ambitious gallery*. Have a click through and let us know your favourite. Warning: there are quite a few...

*Note, there were a few more country-specific models we didn't include, but these were simply paint and trim specials. Things like the LP560-4 Noctis (China), the, erm, Malaysia limited edition, the Oro Elios, the Japanese-only BiancoRosso, the Hong Kong-bound HK20, and the India Serie Speciale.

Advertisement - Page continues below

Announced in 2003 - and with Lambo under new Audi ownership - the new Gallardo came with a 520bhp 5.0-litre V10 engine, four-wheel-drive, 376 torques, a 0-62mph time of four seconds and a top speed of 195mph. Oh, and it looked quite delicious, too, named after a famous breed of fighting bull, as is the Lamborghini modus operandi. A fine start.

Lamborghini Gallardo Spyder

Just two years later came the drop-top Lamborghini, complete with a fully-automatic folding roof and carbon fibre engine cover. Thanks to some extra chassis strengthening - required when you dismember the roof - the 0-62mph sprint slowed a tad from four seconds to 4.3, but top speed, with the roof down was a hair raising 190mph. Plenty fast, if you're asking.

Advertisement - Page continues below

Lamborghini Gallardo Superleggera

Now we're talking. Lamborghini stripped the standard Gallardo's weight by a full 100kg, replacing many important bits with carbon fibre, as well as extracting a few more horses from that 5.0-litre V10. The 0-62mph dropped to 3.9 seconds while the top speed remained at 195mph. Lamborghini became quite enamoured with carbon fibre, as we'll find out later down the line...

Lamborghini Gallardo LP560-4

More power, and more pointiness, came in 2008, as Lamborghini introduced a massive upgrade for its bestseller. That V10 was enlarged to 5.2 litres and got direct injection, with power rising to 552bhp, together with new suspension kinematics, tighter springs and shocks and an additional track rod on the rear axle for better handling.

The figures you'll be concerned with read as follows: 0-62mph in 3.7 seconds, 0-124mph in 11.8 seconds and a top speed of 202mph. The Spyder was a touch slower: 0-62mph in four seconds, 0-124mph in 13.1.

Lamborghini Gallardo LP570-4 Superleggera

The second SuperGallardo was a serious bit of kit. It was also very green*. Lamborghini took 70kg worth of heft from the Gallardo for a 1340kg kerbweight, while adding an adjustable intake manifold and continuous cam control to that V10 to make a rather lovely 562bhp.

Then you got firmer suspension mounts, shocks and anti-roll bars that made it nice and sharp. All these changes meant the obligatory 0-62mph sprint took just 3.4 seconds, 0-124mph was dispatched in 10.2s, and it'd top out at 202mph. All in a big blur of green.

*This Superleggera also came in yellow, actually. We drove it.

Lamborghini Gallardo LP570-4 Spyder Performante

Advertisement - Page continues below

Lamborghini Gallardo LP550-2 Valentino Balboni

Notice the '-2' in the nomenclature? Yes, this was a Lamborghini Gallardo worthy of its oversteery heirs. It's the lighter, 552bhp rear-wheel-drive only Gallardo, named after chief test driver Valentino Balboni; a man hired by Ferrucio Lamborghini himself and one familiar with every Lamborghini ever built. He's also an absolute gentleman, as TG.com found out earlier this year.

It also came in Spyder flavour, too. Both were excellent, and they'd later form the basis for the standard LP550-2 coupe and Spyder editions.

Lamborghini Gallardo LP560-4 Polizia

Guess what? It's a Lamborghini Gallardo built and liveried up for the Italian rozzers. If you see one in your rear view mirror, you're in trouble.

Advertisement - Page continues below

Lamborghini Gallardo LP570-4 Blancpain Edition

Taking elements from the Super Trofeo racer, this Gallardo featured carbon seats, sills, diffuser, mirror casing and assorted trim pieces, along with matte black paint, a new set of wheels, yellow calipers and that lovely rear wing.

Lamborghini Gallardo LP560-4 Bicolore

Quite simple really: a standard-issue 552bhp Gallardo built especially for Europe and Asia with a two-tone paintjob. Next.

Lamborghini Sesto Elemento

Lamborghini Gallardo LP550-2 Tricolore

Unveiled at the Shanghai Motor Show in 2011, this was simply a rear-drive, 552bhp Lamborghini Gallardo with the colours of the Italian flag draped over it. That's it.

Lamborghini Gallardo LP570-4 Super Trofeo Stradale

The STS takes its name from Lamborghini's one-make racing series - which gives you some idea as to how bonkers this thing is - and gets a manually adjustable carbon fibre rear wing and carbon fibre quick release engine cover, lightweight forged alloys, red paint, and a 562bhp V10. 0-62mph takes 3.4 seconds, 0-124mph takes 13.8s and it'll top out at a shade under 200mph. It's also lighter than standard, too.

Lamborghini Gallardo LP570-4 Edizione Tecnica

Lamborghini Gallardo LP570-4 Squadra Corse

A fitting end for its most successful product, this little Lambo takes its name from the company's new motorsport department; the same department that looks after everything from GT3 to the Super Trofeo championship. It also becomes the most hardcore model in the line-up.

Underneath sits the standard LP570-4 chassis, with the same 70kg weight loss as the Superleggera, meaning it'll hit 0-62mph in 3.4 seconds, 0-124mph in 10.4s and a top speed of 200mph. Then there are the racing flourishes: the huge rear wing that develops three times the load of the LP560-4, a removable engine cover with a quick release system, Alcantara on the dash and seats, carbon fibre door panels, and a tricolore stripe running along the side.