Supercars
TG's big road test: Merc AMG GT-S
How will the AMG handle the real test of a car - the knackered tarmac of Blighty? Tom Ford finds out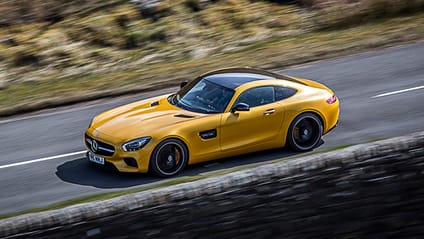 It was in the village of Haltwhistle where an otherwise unremarkable drive took a turn for the surreal. Now, I'm not saying that there's anything inherently bizarre about small villages in the northern reaches of Northumberland, but as we cruised through in a new Mercedes-AMG GT S, it all got a little unsettling. First, a small troop of patently feral children stopped doing whatever it was they were doing, lined up and saluted, as if on a parade of paramilitary street urchins. Immediately afterwards, a man - who, thanks to a mane and beard of implausibly glossy white hair resembled a geriatric lion or possibly some sort of off-duty wizard- appeared at the front door of an otherwise nondescript grey terraced house and roared something approving and yet entirely unintelligible, his tracksuit trousers vibrating with the effort. We were also being aerially stalked by a small murder of crows, were running out of fuel and had unwittingly parked outside the launderette at the exact centre of Britain. I know, it sounds like a Douglas Adams novel, but this is what actually happened.

Pictures: Justin Leighton

This feature was originally published in the June 2015 issue of Top Gear magazine

Advertisement - Page continues below

Yes, the AMG is painted in what appears to be liquid sunshine (actually a £10.5k paint option called, appropriately enough, Solarbeam, and capable, when the sun hits it, of burning important layers of your eyes off), and yes, the car has the kind of panting, off-kilter chunter that speaks of lavish engine capacity, but that doesn't explain the crows. Photographer Leighton decided immediately that "this'll make a nice bit for the story", though for the life of me I couldn't think how appearing at a wash house in the epicentre of Britain being shouted at by a job-seeking Gandalf could possibly be of any relevance, unless we wanted everyone to think we'd completely lost it. Fortified by an entire packet of calming Jammie Dodgers and arguing furiously about how exactly you measure the middle of Britain, we set out to figure out why we ended up here.

The answer, as it turns out, was roads. Some of the best undiscovered roads in the UK. Deserted minor routes with the sort of warp and weft that race-track designers can only dream of. But also, as it turns out, the kind of bumps that race-track designers tend to iron out with a vengeance, lest precious racing cars become carbon-fibre fog. This is not easy country for anything without a bit of subtlety to the suspension, more the kind of UK-specific B that suits something small, chuckable and forgiving. Nirvana for a decent hot hatch, for example. The Merc fits the bill: it's a surprisingly practical hatchback and equipped with a 510bhp bi-turbo 4.0-litre V8 driving the rear wheels with enough belligerence to get to 62mph from rest in under four seconds - not so much hot as searing. It's also just over two metres wide between the mirrors, snake-belly slung and more than a little stingy with its sightlines. Not sure the 193mph top speed will be entirely relevant here, either. Ah.

Advertisement - Page continues below

What it is, is pretty. Once you've got past the visual nuke of the paintwork, there's a really rather good-looking car here. There's something innately classic about that long bonnet and bobbed rear end, and who cares that it's actually a complete terror to parallel park? To rely on an appropriate cliché, it looks fast. There are hints of influences - at least to my eyes - all over it. A touch of Porsche 911 at the back, shades of Jaguar F-Type Coupe in some of the surfaces, at least a nodding relationship to the older Merc SLS. But that's not to be disparaging: you get the feeling that it won't date quickly - much like the SLS - and that in a more sober colour it might well be something quite stealthy. It certainly gets plenty of attention.It isn't quite the pure high-dollar aggression of a supercar but defiantly something special.

It certainly made an impression on the regular patrons of the A1 Northbound, which means I'm now an expert in lip-reading various forms of astonished swearing. But despite the sensual aesthetic, it doesn't bode particularly well that, on the drive up, the ride has been the firm side of restless. The GT S, despite having a setting marked Comfort, hasn't really got any, and still manages to be quite insistent on sniffing out lumps and bumps and making friends with as many as it can find. It doesn't help that this car is fitted with the AMG Dynamic Plus package, which provides firmer suspension and dynamic engine and transmission mounts (as well as a specific engine application in Race mode), but it's certainly not going to trouble an S-Class in terms of distance cruising ability, even in its most benign settings. The AMG Speedshift DCT seven-speed 'box also requires a solid press of the throttle to engage the clutch and gain any initial forward momentum - leading to slightly irritating bungee-style start-stop behaviour in town - and quickly selecting reverse from first, three-point-turn style, can be irritatingly clunky.

In fact, my abiding initial impression is that it feels a lot like that gull-winged SLS of five years ago - with steering ever-so-slightly dead in the very middle, then quite a speedy rack from then on. Chuck in the cab-rearward profile - there really is an acre of sunshiney bonnet ahead of you - and the pivot point of the car feels slightly odd: like you steer the front wheels and then follow them a microsecond later, rather than moving as one. Still, there are worse places to be, what with that V8 gargling away up front and the sun blaring down. We were getting high 20s mpg (from a quoted 30.1mpg on the combined cycle) on the quiet, multiple-hour run up to the town of Barnard Castle at the bottom of the Pennines. That lasted about seven minutes. Seven minutes, because that's about as long as it took to clear the immediate signs of human occupation, hit Sport+ mode and punch the throttle. Up the B6278 towards Stanhope, and we were looking at a faintly scary 9mpg, but by this point, I didn't really care. Because the GT S had become a sonic avalanche, and my ears were on fire.

Not literally, obviously, but the AMG GT makes the kind of noise that I thought we might be losing from modern cars. It's not subtle or clever (it might have valves in the exhaust, but they flop open in anything other than Comfort, or if you press the 'noisy' button on the centre console), but it does sound hair-raisingly righteous on hard throttle. As in old-school V8 chewing air and fuel like it means it. Back off and it sneezes through the turbo wastegates (which is a little unexpected, given the traditional audio file) and chuckles like a drunk Father Christmas - ahur-ahur-ahur - before spitting a huge whipcrack of a backfire. Then it's back to that Spitfire soundtrack all the way up through the gears. The gearbox suddenly comes to life, punching the changes with grace and fluency and not upsetting the car one iota.

Advertisement - Page continues below

The suspension gets even firmer in the various ever-more-aggressive modes, but even though it's too solid for these kind of incessant tarmac hiccups, it's worth it to feel those dynamic engine and suspension mounts tighten the car up generally. They essentially lock the engine and transmission hard to the chassis (bad for comfortable cruising, good for preventing polar inertia in big, heavy driveline components), removing the dead spot from the steering and making it feel not unlike a proper racecar in its reactions: too hypersensitive for the road but decisive and immediate. Bluntly, this feels like it might be killer on a track. Trouble is, we're not on a track, and the GT S feels too lively to be unthinkingly fun. Interesting, yes. Exciting, undoubtedly. But real confidence takes a little while to accumulate.

Saying that, raw grip is immense. In fact, given that the car stayed true to its line on some weirdly cambered, tightening Cumbrian corners, I was surprised it hadn't actually grown roots. But push past that comfort zone, which is much higher than yours will probably be on a public road, and the GT S becomes a proper handful. Without the physical or intellectual comfort of run-off - something these moorland roads are famously ungenerous with - the GT gets snatchy and raucous.

Advertisement - Page continues below

If you're being tidy, you'll as likely unwittingly unsettle it as accidentally push over a tree stump. But intentionally brutalise it and that 500+bhp and 480lb ft will unglue the rear tyres pronto and provide you with a touch of understeer and a quick swipe of oversteer. Couple that with the now switchblade sensitivity of the wheel, and the significant sensations are that this intensely yellow coupe feels darty and aggressive: it's not the kind of progressive transition to oversteer that you get from some cars, the ability to place them even when the rear tyres are trying to overtake the fronts. I'm sure with a bit of space, time and tyre budget you'd get more used to it, but this is not a car I felt comfortable sliding about in without some serious practice somewhere with padded gravel traps. Now, I know that a car that you really have to manhandle is its own kind of fun, but if you decide to give a GT S a bootful on the road with the traction control turned off, you'd better be very sure of yourself and have the oversteer control reactions of a TVR owner. When push comes to shove, the GT S is actually a hot rod. Underneath the tech and golden prettiness, it's a raw-knuckled, bare-fisted brawler.

It took a while to start to understand the AMG, and by this point we'd been all over the Pennines. Run over Meadows Edge and Bale Hill, swept through the villages of Blanchland and Edmundbyers, Steel and Slaley. We popped through Hexham and back down the A69 and along Hadrian's Wall, that great two-fingered salute of a tax-earning engineering project from the Roman emperor Hadrian to the wild and warring Picts of the north. After that, we picked directions at random and simply drove. Around the Killhope Lead Mine - stopping briefly to take a picture in the old lead processing plant (now a bus garage) and finding endless little routes across the moors. You can pick pretty much any direction out of Alston and hit a decent road, by the way, but if you head in the direction of Nenthead or Wearhead and cut north, you won't be disappointed.

In every spot, I gained a little bit more perspective. Merc-AMG could easily have aped a 911 in feel and made this car very different. The engineers could have made the GT neutral, forgiving and safe, or even all-wheel drive. They could have made it sound cultured, instead of like someone kicking a drum kit down a flight of stairs, and they could have given it a huge glasshouse and four seats. But they didn't. They made a car that was indisputably what it is: an AMG. By pretty much any metric, this car does not move the sports-car game on. Its technical competence is hidden behind an immoderate onslaught of combativeness. It's noisy, hard work and hurts a bit. Like trying to hold an explosion. But I guarantee that if you bought one with heart rather than head, because you like the way it sounds, or looks or makes your heart beat like an over-caffeinated shrew every time you drive it fast, you won't be disappointed.