Supercars
Aston Martin wants to keep the manual gearbox alive
Aston bosses give TG the lowdown on how the manual Valour came to be, and confirm the DIY gearbox should live on in special editions
"The birth of Valour came through Victor," says Aston's creative boss Marek Reichman. "The Victor one-off was publicly shown at Hampton Court and it won the future classic award. We were going to give the car to the customer and it would have never been seen again, but it won the award and people noticed it. We had so many people ask whether we were going to do two or three or more."
Reichman is responding to TG's question of where the Valour project started – and we're interested because this is a 705bhp rear-wheel drive Brit muscle car with a six-speed manual gearbox that's been launched in 2023. Fair play to Aston. 
Advertisement - Page continues below
"I think in the marketplace this kind of current passion and desire for old-school or looking back or retrofuturism – however you want to define it – is very popular as well," says Reichman. "So, Victor just hit the mark. Looks incredible, based on the One-77, low, wide, dramatic, sounds awesome, manual box. We had lots and lots of interest. 
"Internally we said hold on, should we repeat that and do a number of them? That as a programme would have probably been much more intensive in terms of the timing. We looked at the availability of how we could squeeze a big engine into a little chassis and spoke to the dynamics gurus to get that Victor driving feel and visceral excitement. 
"Then, when we knew we wanted to do Valour, it was really about numbers. How many or how few we would build, and obviously we wanted to celebrate our 110th anniversary with 110 cars.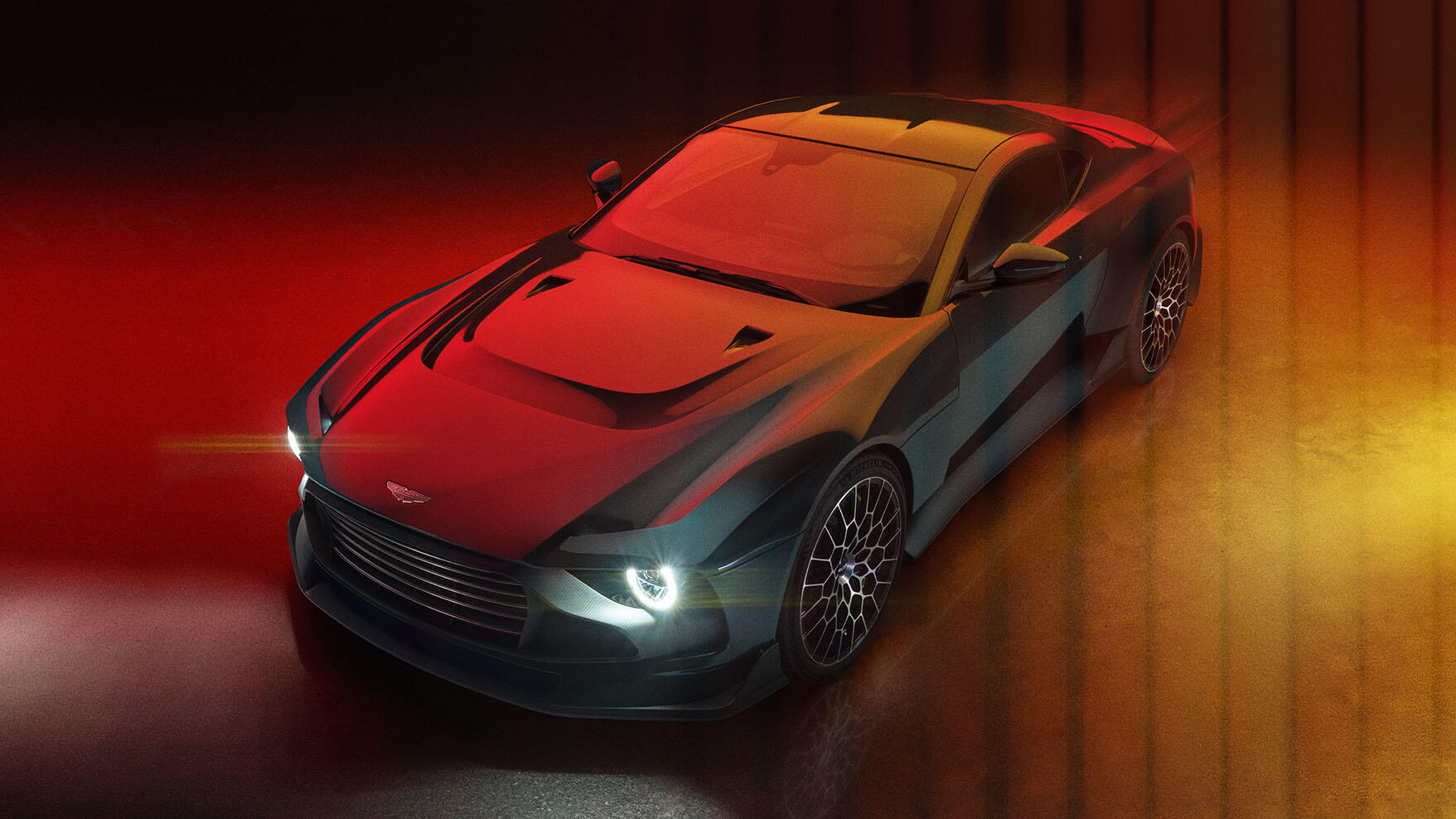 "I had no doubt that we would sell out before the announcement. It's very sold out. I used to get VIP customers coming into the studio and asking what was under the cover. They'd see it and I couldn't tell them anything about it, but they'd say 'when you can I want one'."
Advertisement - Page continues below
And clearly the Valour – which takes inspiration from the original V8 Vantage and the Eighties RHAM/1 'Muncher' Le Mans racer – wasn't just a bit of a dream project for the design department. 
"I won't dress it up, it was brilliant to work on Valour," says Aston's 'Vehicle Attribute & Performance Director' Simon Newton. "I think our appetite was whet from the first time that we saw the concept drawings. We just wanted to get our hands on the prototypes.
"The things that we actually get to work on look nothing like that piece of art, but as you can imagine, the fundamentals of that car are all the raw ingredients that appeal to us. Stick shift, all that torque, a short wheelbase and importantly it has a mechanical locking diff which brings the car to life in the old school way. It's very powerful. It's not infinitely adjustable like the diffs that we deliberately make seamless on the new cars, but it's intrinsic to that retro driving experience. It's not annoying though. 
Top Gear
Newsletter
Thank you for subscribing to our newsletter. Look out for your regular round-up of news, reviews and offers in your inbox.
Get all the latest news, reviews and exclusives, direct to your inbox.
"Often the transmissions that you expect for that amount of torque come with very heavy clutches, but that's not the case in this. And nor is it a dog box. Sometimes that is a prerequisite to meet the torque requirements. Not that that hasn't got its own appeal, but we wanted something that wasn't cumbersome and clunky to live with everyday."
Yeah, it's worth reiterating that the Valour uses Aston's 5.2-litre twin-turbo V12 mounted up front, with a manual gearlever in the middle and 705bhp and 555lb ft of torque going through the rear wheels. 
And although you might not be able to row your own gears in any of Aston's core range these days, that doesn't mean the manual gearbox will die completely. Sounds like it will live on in these special, limited edition projects.
"If that's where the business goes, it would be a pleasure to keep working on the manual," says Newton about projects like the Victor and Valour. "It's an added dimension - you can't be a passenger in the car. You have to be engaged all the time. And I've always liked manuals in really slow speed corners. You can kick the clutch and play with it and it's just great fun." 
Reichman agrees: "I think also whenever the world pushes a trend in one direction, there's always someone that wants to buy something that goes in the other direction. If you're forced down an alleyway, you want to do something different. So, if the world has become electrified and automated, people want something different. 
"It's like with mechanical watches vs Apple watches. There's always this want for analogue when we have digital. I think that's the beauty of Valour, it's a true analogue experience."