Supercars
Can you daily a Ferrari 488 Pista?
We take the most powerful mid-engined V8 Ferrari ever on a long road trip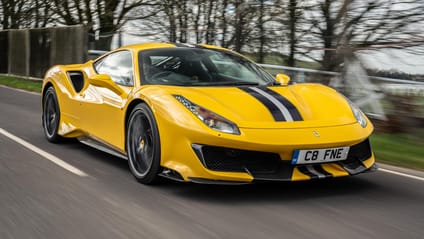 Introduction: the Ferrari 488 Pista

It needs no introduction, in hindsight. The Ferrari 488 Pista is the fastest car to have ever lapped the Top Gear test track. 1m 12.7s. One minute 12.7s for goodness sake! Astonishing pace.

It is the most powerful mid-engined, V8 Ferrari ever built, and – to use boxing parlance because it feels like the correct analogy – carries its power very late into the fight. By which we mean, it never stops trying to rip your face off. Any rpm, any speed, the Pista simply wants to scrap. Or powerslide. Sometimes it wants to do both at the same time and that's only lightly alarming.

But what if you bought one and just wanted to do… like, really normal things in it? Is the Pista – a hardcore road racer if ever there was one – capable of doing normal?

Here are some reasons why, in this twisted, upside down world we live in, we think that's entirely possible. Maybe. Bit of creative licence here if we're honest.

Advertisement - Page continues below

The ride is really not that bad actually

It's not a Rolls-Royce, sure. But for a car that has circuit racing in its DNA (the engine's a development of the twin-turbo V8 from the 488 Challenge car), it's surprisingly supple. You're not weaving or crashing all over the place, and in any case, really bad road surfaces are a pain to every car.

Though the carbon-shelled seats seats can be a little tiring after a few hours trundling along a motorway. That it forces you to sit up straight, is the counter-argument…

It'll also do a spot of light off-roading, too

We encountered a truly terrifying scenario certain to result in doom: roadworks.

As in, the entire road had been dug up in front of us. A big drop-off from the kerb onto exposed drain covers, uneven surfaces and gravel everywhere. We carefully tiptoed the Pista onto the surface and… nothing.

We crept over the uneven ground and… nothing. It just slowly crawled over the surface, back up onto the good bit of road, and we were away. Heart rates may have increased somewhat.

Advertisement - Page continues below

It'll help you reconnect with a loved one or a friend or a family member

There is no radio in a Ferrari 488 Pista. Nor is there any form of satellite navigation. At least not in this Pista. Which means, if flying solo, you have to know exactly where you're going and must perform mental arithmetic to tick away the time.

But your daily routine will most like require additional humans to get through this thing called 'life'. Got a passenger? You will need to have A Conversation. You will need to interact with whoever's riding shotgun. It's not a deafeningly loud cabin, this. Just a bit sparse.

Though, we realise this could be flipped. You could have An Argument. Things could get sour quite quickly. Awkward silences, side eyes. You'll feel the lot because there's no radio or any form of satellite navigation.

The cabin is quite spacious for, essentially, a wacko road racer

We managed to fit quite a lot of luggage in the front boot of the 488 Pista. A couple of big holdalls, some laptop bags, crisps. All the essentials.

And we shoved some bits behind the seats, too (more crisps). For a car borne from Ferrari's track-racing programme, and one packing incredibly advanced software to either stop you from sliding or entertain a lurid, childish one, it's surprisingly practical.

It's quite easy to see out of

Not a silly point, this. Supercars are notorious for being quite tricky to actually manoeuvre in congested areas. The 488 Pista not so much.

So, um, argument made, we reckon. Right?