Supercars
Five reasons why you need this Vanquish Zagato Shooting Brake
This beautiful Italian-designed Aston is coming up for auction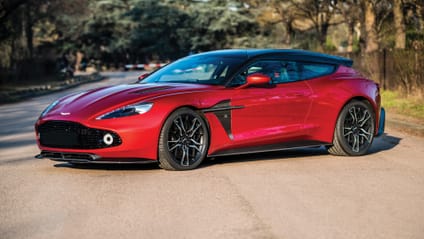 The Aston Martin Vanquish Zagato Shooting Brake – complicated name, drop-dead gorgeous design. 

Quite how an estate version of an already beautiful V12 coupe works so well we don't know, but there's just something about a coachbuilt shooting brake that appeals to the big kid in us.

Amazingly, the very car you see above is coming up for auction at the RM Sotheby's Villa Erba sale in May. Plenty of time to get the pennies together then because it's being offered with no reserve.

Here are five reasons why you should buy it…

Advertisement - Page continues below

1. It's a Zagato

Ugo Zagato first started coachbuilding in 1919 when he set up his namesake company in Milan. Right from the off he applied techniques from aeronautics to automotive design, and in the 100 years since Zagato has produced some of the most beautiful cars we've ever set eyes on.

They also have plenty of history with Aston – the partnership stretches all the way back to the gorgeous 1961 DB4 GT Zagato, one of which sold at auction for £10.1m in July 2018.

2. It's a shooting brake

Aston announced the new collaboration with Zagato back in 2016, but at the time we were only shown the Coupe version of what was to be a four-car family. Since then the Volante, Speedster and Shooting Brake have all made their public appearances – but of course it's the estate that stands out from the crowd.

It was clearly the most difficult engineering challenge of the four too. Whilst the others sit on the Vanquish platform quite happily, the fuel tank in that car is at the back and would have made for pretty poor boot space. The engineers then decided to use the front end from the Vanquish and the rear from the Rapide super-saloon.

It's without a doubt the most stylish way to transport your dogs.

Advertisement - Page continues below

3. You'd never tire of that engine

The 6.0-litre V12 from the Vanquish is an old-school engine. With 580bhp on tap and 465lb ft of torque you'll get from 0-62mph in just 3.5 seconds, but you'll also experience aural sensations of the like you've never heard before thanks to the more open exhaust.

4. The spec is perfect

The beauty of ordering a Zagato-bodied Aston – aside from the fact you were buying a Zagato-bodied Aston – was that each car was fully customisable. Thankfully, this car's current owner clearly had good taste. The exterior is finished in Lava Red with a bare carbon fibre roof and details. Lovely.

5. You'll be part of an exclusive club

This car is number 12 of just 99 Vanquish Zagato Shooting Brakes that were built, and we'd wager that you won't ever pull up alongside another at the lights. Does modern car design get any better than this?