News
Ten things we learned this week: 20 October 2017 edition
Elon Musk: the air freshener, £11k speeding fines, a helmet scrappage scheme and more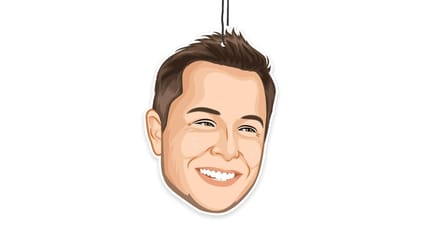 Electric London cabs are nearly here

Well, to be entirely accurate, six already are. After testing in environments as varied and extreme as Death Valley and within the Arctic Circle, a sextuplet of new-fangled black cabs are undergoing final testing – on the streets where they'll spend their lives. 

So, we've covered the ins and outs of the cabs before, including the fact that, as hybrids, they're ready to rock down to electric avenue. And dodge steep anti-pollution taxes in the process. 

Passenger amenities are a bit more involved than the old TX4, including contactless card machines, onboard wi-fi, charge points and panoramic roofs. And, for the driver, autonomous emergency braking, congestion-recognising sat nav and integrated hailing apps make life on London lanes a little easier. 

Advertisement - Page continues below

Someone actually thinks this could be the new Mini

Ever heard of a tardigrade? If not, they're basically a living, microscopic battle tank, able to survive -272ºC temperatures, gamma rays and the kind of water pressure found in the Mariana Trench.

And now, they have another claim to fame – they've apparently been used in the designers' mood room for this. We can speculate as to what else was used in the mood room, judging by the results. 

Anywhos, this – 'the Deep Orange 7' concept – is apparently a modern update for the Mini. Yep, the Mini – perhaps one of the very best miners of nostalgia in the business. Apparently, the other-worldly success of everything retro lately – Singer's reimagined 911s, Fiat's revived 500, BMW's Mini Cooper, and roughly every expensive watch released in the past two years – won't continue to 2025. That's when this car's designers say it would be ready for production.

There are some fairly clever ideas buried under that exterior, such as a modular construction to cut down on production costs, and interior compartments that fold completely flat to free up interior space. And, because it's modular it can accept petrol, diesel or electric engines. But should Mini ditch retro for something like this?

Dacia's lack of features is apparently its best feature

According to a new study by Dacia, cars are just too damn complicated. Apparently, 70 per cent of us can't even figure out the little lights on our dashboards. And 84 per cent of its respondents say that technology has become too confusing. 

Brits apparently spend billions of pounds a year on "technology with functions and features they never use," according to "no-nonsense car brand Dacia". That, genuinely, is how they've described themselves.

But they may have a point - how often do you use all the features of your phone or 'Smart TV'? Well, out of 2,000 surveyed, a third of respondents used less than half of what their phone was capable of, and three-fifths were stymied by their indecipherable washing machine. Seriously, what does the 'Permanent Press' setting even do? 

Unsurprisingly, 60 per cent of us don't muck about with our appliances – how they come out of the box is how they stay. And even less surprisingly, 20 per cent of us have three or more kitchen appliances we never use. Bet that thermomix you saw on Masterchef was a great investment, wasn't it?

A Dacia spokesperson said, "There's a lot to be said for simplicity in gadgets, things that have just a few functions and perform them well... rather than paying for over-complicated add-ons that aren't really required."

Advertisement - Page continues below

The latest Thor movie's spaceships are named after classic Holdens…

…because nothing goes together better than Norse mythology and rear-drive muscle from Australia.

So, apparently, the spaceships that… er, do something among the explosions and Chris Hemsworth's muscles (we'll admit to a paucity of knowledge on the new film) are called the Commodore, Statesman, Torana and Kingswood.

Why? Well, the director, Taika Waititi, grew up with Holdens in his native New Zealand, and most of the movie was filmed in Australia, as he told Australia's rather excellent radio station, Triple J. The end result, at least judging by the trailer, is a kind of like Mad Max: Thunderdome in space. Hmm. Maybe we should watch it…

A British speeder fought the law… and the law won

Have you ever been tempted to challenge a speeding ticket? Well, one particular Brit by the name of David Pickup was keen on the idea of knocking his 101mph ticket – earned in an Audi R8 – on the head, so he went to the courts.

It seems that his argument centred around the accuracy of the in-car speed camera that was used to record his rather brisk driving, claiming that he'd never breached the 70mph limit. 

Now, here's where it gets interesting. The prosecutor decided to knock Pickup's argument on the head, renting an airfield, an R8 and an expert (presumably in speed measurement) to prove that Pickup was telling pork pies. And, funnily enough, it seems that an Audi driver was indeed speeding when he was, er, picked up. 

So, along with six points and a £675 fine, Mr Pickup was also ordered to pay the costs of the petard that hoisted him – namely the airfield speed session – and is now on the hook for more than £11,000 in total. Oops.

There is now a helmet scrappage scheme

Ducati will take 100 quid off any brand-spanking Ducati-branded Arai helmet – so long as you trade in your old safety bucket when you pitch up at one of its dealers. 

The general rule of thumb is to replace your skull-saver every five or so years. The argument is that the glues and resins inside the helmet can degrade to the point of being unsafe after that time.

Now, that's five years of use – the oils, sweat and acids found naturally on your skin and in your hair can affect things much more quickly than if you bought it, never wore it and left it on a shelf. Even so, we haven't seen industry experts recommend using one that's any more than seven years old – partly because the crash structure and construction improve every year, and partly because everything wears out – even plastics. There's a good reason that big brands like Shoei, Schuberth and Arai have five-year warranties…

It's been 30 years since Black Monday

Yep, it's not just our generation that's had the bejesus kicked out of it financially – back before a great many of you were born (and, let's be honest, before most of the TG office can remember), the stock market took a head dive not replicated until Bernie Madoff with everyone's money and everything fell in a heap. 

How does this relate to cars? While the knock-on effects weren't anything like as serious as the 2008 financial crisis – or credit crunch, as witless pundits took to calling it – classic car values took a nosedive as 'smart money' moved to things you'd have to have explained to you by someone who works at Canary Wharf...

Image: Roger Hsu

Advertisement - Page continues below

You can now prove your love for Elon Musk in the stalkiest way yet

No, we don't mean going around to his house and hooking a Tesla Powerwall battery up to a giant LED array that spells out 'Elon, I love you'.

This is far simpler, much cheaper and only a fraction as creepy. It's musk! Elon's musk, in fact.

No, the air freshener isn't made from the sweet smell of success that Elon sweats into his T-shirts; instead, it's a concoction that's "quite leathery, with low notes of rocket fuel". Lovely. 

Future roads might be fixed with frying oil

It appears that people far smarter than ourselves (and with an almost MacGyver-like instinct for making do with what's lying around) have come across a way to repair road surfaces using nothing more than sunflower oil.

Apparently, the oil thins out asphalt, allowing it to flow into fissures in the road surface. Then, as roads shift and crack, small capsules containing more sunflower oil are broken open, releasing even more sunflower oil into the mix. The cumulative effect of this is that the asphalt in the immediate vicinity softens even further, sticking back together and effectively healing the road surface in mere moments. 

So, with a little bit of the good oil (couldn't help ourselves), roads will last longer, self-repair (to an extent) and be able to be fixed more quickly than the agonisingly long process that seems to be omnipresent on the road you need to get home. 

Now, to try and sell the 'oil on the road is a good thing' argument to the public…

Advertisement - Page continues below

Kalashnikov's electric motorbike is actually pretty cool

Remember how we told you about Kalashnikov building a flying car? 

Well, it seems that the company is busily investing in transport, not firearms. Hey – if your most famous invention is a 60-year-old design, you'd want to try and branch out a bit as well. 

So, this week, it's an electric off-road motorcycle, not a battery-powered quadcopter. You might say they've come back down to earth a bit.

The facts are that it's all-electric, has a 93-mile range and looks utilitarian-cool in its desert sand paint and camouflage accoutrements. It also looks supremely dorky in police livery. Nevertheless, it'll be used by both Russian police officers and military personnel, both of whom are probably scary enough that they could pitch up on a penny farthing and you'd still be scared witless. Never mind on a motorbike called Kalashnikov...