Top Gear Advice
10 of the best cars for £2,000: a Top Gear guide
Two bags of sand taking up space in your bank account? Offload them onto one of these beauties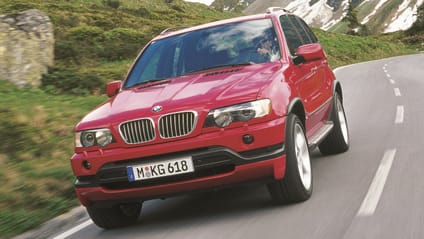 Jaguar S-Type diesel

A slice of Top Gear history, no doubt about it. If you've not seen the wonderful Sabine Schmitz wantonly throw Jaguar's first mainstream diesel around the 'Ring in a mite over nine minutes, you need to head straight down the appropriate web portal to find it.

Suitably impressed? Then doling out two Gs on a mobile tribute ought to seem an absolute bargain, whether you plan to pile on the silky-smooth miles these things were designed for or not. Which might prove handy when the maintenance bills start landing. Still, we know a place to give it a really fitting final fling should those invoices become too disturbing…

Advertisement - Page continues below

BMW X5 (E53) V8

The first SUV that was designed to be actually sporty. And therefore the first SUV, basically. The gen1 BMW X5 looked, at the time, like a slightly gawky 5 Series Touring with its trousers rolled up above its ankles. Nowadays, with hindsight such as 'all of the BMWs that have been designed since', it's a borderline work of art.

There are plentiful diesels around for our money, but there are also a weeny handful of 4.4-litre petrol V8s with a whisker under 300bhp (at least when new…). You know which way to go.

Audi TT quattro

An absolute design classic that's only got better with time. Park an original TT beside any of the cars that replaced it and they look instantly rather tame, the TT's unique character slowly ripped out by a condition known as Volkswagen Groupification.

But the first, which stuck so closely to its striking 1995 concept car, looks nearly as bold now as when it first launched. They're pretty abundant at £2k, too, and you've a choice of coupes or roadsters. We'd be tempted by the latter to admonish all notions of 'sharpness to drive', simply wafting about admiring how daring the interior still feels instead.

Advertisement - Page continues below

Mini Convertible

Oh yeah, we're still in tarty territory. But TG is not in the least bit ashamed to welcome the flowing wind through our incredibly thin hair at any opportunity. A single grand buys all manner of early BMW-era Mini Coopers, and doubling that allows the four-seat cabrio into the mix too.

Yeah, the roof folds like a pram's and the boot lid looks weird. But these are a carefree, fun-to-drive sponge to toxic masculinity. Relax, have fun and don't give a stuff what everyone else thinks as the sun bounces off the top of your bonce.

Renault Laguna Coupe

Heard the one about the Renault that looks like an Aston Martin? We'd recommend cutting up chilis then rubbing your eyes first, but there's certainly a passing resemblance between the oddball two-door Laguna and a contemporary DB9. From a very specific angle we wouldn't want to commit to identifying in print, mind.

Still, it's the proverbial 'lots of car for the money', a plush-riding luxe coupe that's barely a decade old yet costs absolute buttons thanks to PFCDS (Posh French Car Depreciation Syndrome). Plenty of 2.0-litre 4cyl diesels loiter at two grand, but double your budget and you might get the much rarer V6, which boasted four-wheel steering long before Porsche and Ferrari made it cool.

Lexus IS200

We more recently know Lexus as a rather bipolar company, one which once simultaneously sold a woolly rebodied Toyota Prius and a V10-powered hypercar. It was arguably even more niche in its earlier days when this launched, mind, a Toyota Altezza sports saloon with a veneer of premium applied as it made its way west for European sale.

Back in the late Nineties, it lost on style to the Alfa 156 and gave too many inches to the E46 3 Series when it came to handling. Nowadays its chronograph dials and quirky 2.0-litre straight-six engine lend it a delightful level of intrigue. And flashbacks of virtually flinging one around Grand Valley Speedway surely make a bargain IS tough to turn down.

Toyota iQ

If you want a teeny tiny city car for £2k, there are a lot of Hyundai i10s about. Which is rather poetic given most of them exist on British roads because they were bought with the help of the infamous £2k scrappage scheme.

How about showing solidarity for all the prematurely binned Pumas by going for something smarter and cooler in the shape of Toyota's 3+1 seater iQ? Buy some Aston Martin badges from eBay then stick your oven cooling rack between the front lights and you might just convince passers-by you're a brilliantly bonkers Cygnet buyer, too.

Advertisement - Page continues below

MG TF

You can have a Mazda MX-5 for two grand. Mind the rust and it might just prove an exceptional investment. Or at the very least, a summer-day and track-day toy that brings untold joy to your life for a couple of years. But its power source famously sits up front, and two grand can also buy you a mid-Noughties roadster with a mid-engined layout. Y'know, like racecars.

Yeah, it's an engine with the kind of reputation that's seen far too many wannabe wisecracks refer to the MGF as the HGF (head-gasket failure). But the F and its more assertively styled TF replacement aren't in short supply at this sort of money. So even with tight purse strings, you can actually afford to be choosy.

Honda FR-V

The six-seat Fiat Multipla – a former Top Gear Car of the Year, no less – was an exceptional idea wrapped up in extremely decisive styling and delivered with a side order of Fiat dependability. The Honda FR-V improves upon the formula by taking the same three up front, three in the back layout and wrapping it in unutterably bland sheets of metal while being, well, a Honda.

We'd say 'when was the last time you saw one of these?!' but chances are you've never even noticed seeing a single one. But there's a dash-mounted gearstick, like a contemporary Civic Type-R. Ostensibly to stop you grappling the thigh of your front-middle passenger, but it looks cool too. If you've produced slightly too many children, this is how to cart them around on a thin budget. Alternatively you can pluck out most of the seats and fill your FR-V with dogs instead…

Advertisement - Page continues below

RenaultSport Clio 172

Upright shoulders and sternest voices at the ready, for this one will require negotiation if your budget is firmly capped at two grand. Which never used to be the case, but an uncrashed, unrusty French hot hatchback is now as rare as such an improbable description might suggest. Accept a moderate level of either fate and bargains can be had, of course.

Almost every RenaultSport product made in the last three decades rides and handles impeccably, whether it's a £72k Megane Trophy R or a slightly wobbly Clio costing 1/36th as much. And surely you'll have a ton more fun at your local track evening dicing with shoddy E36s in something that cost you less than a trip to Center Parcs.