Top Gear Advice
10 of the best used cars for £2,000: a Top Gear guide
Two bags of sand taking up space in your bank account? Offload them onto one of these beauties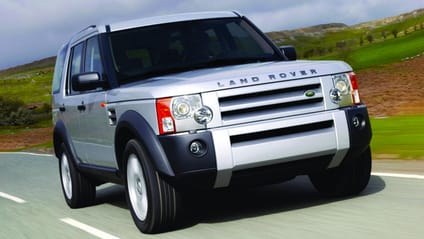 What the Mazda MX-5 lacks in the attitude carried by the GT86, it more than makes up for in a whole heap of other ways. Launched in 1989, it's lightweight with plenty of driving character. The front-engined, rear-drive roadster has proved itself especially capable across road and track, and its enduring brilliance has resulted in more than a million sales worldwide across four generations.

The MX-5 is a good-looking, highly recognisable sportscar and picking up one up for under two grand is a veritable bargain for something that's also very cheap to run. Mind the rust and it might just prove an exceptional investment.

Advertisement - Page continues below

A slice of Top Gear history, no doubt about it. If you've not seen the wonderful Sabine Schmitz wantonly throw Jaguar's first mainstream diesel around the 'Ring in a mite over nine minutes, you need to head straight down the appropriate web portal to find it.

Suitably impressed? Then doling out two Gs on a mobile tribute ought to seem an absolute bargain, whether you plan to pile on the silky-smooth miles these things were designed for, or not. The latter might prove handy when the maintenance bills start landing. Still, we know a place to give it a really fitting final fling should those invoices become too disturbing…

An absolute design classic that's only got better with time. Park an original TT beside any of the cars that replaced it and they look instantly rather tame, the TT's unique character slowly ripped out by a condition known as Volkswagen Groupification.

But the first, which stuck so closely to its striking 1995 concept car, looks nearly as bold now as when it first launched. They're pretty abundant at £2k, too, and you've a choice of coupes or roadsters. We'd be tempted by the latter to admonish all notions of 'sharpness to drive', simply wafting about admiring how daring the interior still feels instead.

Advertisement - Page continues below

A single grand buys all manner of early BMW-era Mini Coopers, and doubling that allows the four-seat cabrio Mini Convertible into the mix too.

Yeah, the roof folds like a pram's and the boot lid looks weird. But these are a carefree, fun-to-drive sponge to toxic masculinity. Relax, have fun and don't give a stuff what everyone else thinks as the sun bounces off the top of your bonce.

Ok, so on a list as sporty as this began, the Ford Mondeo may jar the eyes, but not all drivers have the luxury of a second car for weekends and frankly, some of us don't want the family going anywhere near something we care more about.

The 2007 Ford Mondeo was blinking good, though. Winning TG's award for best family car in its heyday - a unanimous decision at that - the Mondeo's aged enough now to hit the ultimate target to make this list. Not only available to buy for less than two Gs, Ford, despite going all futuristic on is of late, is still a brand that carries the reputation for cheap repairs. Winner.

Sure, picking up the BMW 3 Series for a mighty cut price might squeeze you into a diesel - though there are several petrol versions out there for £2,000 - but if you're covering a decent mileage and you value your German badges, you'll be hard pressed to find any genuine rival for BMW's best-selling benchmark-setter.

The generation which welcomed the BMW 3 Series 'compact' are retailing at that golden price point and have a good rep for reliability - provided the thing hasn't been standing to rust for a long time. Higher mileage isn't always a bad thing, if the alternative is a low-mileage mausoleum entrant exposed to all the elements for the last decade. This is a car for driving, no?

Keen drivers looking for a premium hatchback could do worse than the Audi A3. Ok, so you're going back a couple of decades now and a low-mileage sought-after Sportback will likely be just out-of-reach for those with a £2k budget, unless you're looking purely for spare parts or willing to go super-aged. Yet, for Audi enthusiasts, the A3 is a stylish, spacious, speedy choice, excluding class while also keeping fuel economy reasonable.

There are a fair few examples of these future classics flying below the all-important 2k price tag and the long-standing evolution of the Audi A3 means that these older iterations of the car don't look that different from the newer models. In fact, one of our only criticisms of the latest models is the fact it looks just like the old one. Right, then.

Advertisement - Page continues below

The Land Rover Discovery 3 launched back in 2004 and marked a pivotal moment in the Landy Disco's evolution. Aiming into the American market, it was bolder and bigger. Featuring a 2.7-litre V6 turbodiesel engine, the quality, durability and off-roading kit means the Disco 3 is still as decent today as it ever was.

While it'll never sport the same luxury prowess of a brand-new Land Rover Discovery, or some of the hot infotainment features that the JLR Pivi Pro system suite, two thousand pennies will clinch a Disco 3. Though we wouldn't be surprised if there's some serious mileage on your selection, this SUV makes a fab family runaround with the space to comfortably haul your life from John O'Groats to Lands End.

The six-seat Fiat Multipla – a former Top Gear Car of the Year, no less – was an exceptional idea wrapped up in extremely decisive styling and delivered with a side order of Fiat dependability. The Honda FR-V improves upon the formula by taking the same three up front, three in the back layout and wrapping it in unutterably bland sheets of metal while being, well, a Honda.

We'd say 'when was the last time you saw one of these?' but chances are you've never even noticed seeing a single one. But there's a dash-mounted gearstick, like an old Civic Type-R. Ostensibly to stop you grappling the thigh of your front-middle passenger, but it looks cool too. If you've produced slightly too many children, this is how to cart them around on a thin budget. Alternatively you can pluck out most of the seats and fill your FR-V with dogs instead…

Advertisement - Page continues below

With a definitive shrug to the SUVs of today, the Volvo V40 estate lives up to the Swedish brand's reputation for safety. Even today, it still earns a four-star safety rating, going to the moon and back mileage-wise in a cocoon of safety... until the end of time, probably.

Granted, it's perhaps looking a little dated from the outside, but this 1.9-litre workhorse will slog hard for you, even two decades on. There's plenty of kit Volvo integrated, which thankfully dates at such a glacial pace, even features like leather seats and Xenon headlights, which come with their own little wipers, still feel relatively modern. Super comfy for longer journeys, spend two grand for a superbly sensible motor.