Top Gear Advice
Top Gear's guide to buying a used Volkswagen Polo
Great for first-time drivers and families alike, a VW Polo from the secondhand market is worth a test drive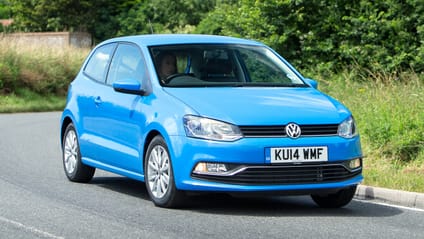 It's the Volkswagen Polo, a model that's been going for just shy of five decades, and one that's great for smaller families and first time drivers.

The story began in the mid-Seventies, when the Volkswagen developed the Audi A50 after buying cash-strapped NSU, a bike manufacturer that had sputtered into making front-engined cars.

By rebadging the Audi A50 - an NSU design released to compete with the Fiat 127 - the Volkswagen Polo was born in 1975. It had a lower spec and more affordable price point than the A50.

VW already had huge success with the Beetle and had launched the Golf in a bid to replace it. Focusing on a supermini was a bit of a gamble, but the bet paid off. The repercussions of the global oil crisis of 1973 were continuing to be felt across the world and escalating fuel costs opened up a gap in the market for a cheaper family hatchback.

Volkswagen has always been careful to market the Polo in such a way as to not cannibalise sales of the ever-popular Golf, though the growth of the VW Group itself from the 1970s to today means that the Polo has shared its platform (and has faced/fended off competition) from models in other brands, such as the Audi A2 (RIP), Seat Ibiza and Skoda Fabia.

Advertisement - Page continues below

What's so good about the Volkswagen Polo?

We're now into the sixth generation of the Polo. The boxy shape from the '80s and early '90s disappeared mid-decade, and gave way to more aerodynamically friendly curves. Where one exudes retro cool, the other still carries enough contemporary style to make buying an older used one today an attractive enough proposition.

Through redesigns and interim facelifts, the build quality has stayed pretty consistent over the years. Older Polos are refreshingly easy to use - they might not feature all the fancy tech of today, so given the way we feel about VW Group's latest technology integrations (nb, frustrated) that's only a good thing.

It's capacious inside, there's a wide range of engine and trim choices and maintenance and repair costs aren't obscene. It also helps that VW has dealerships aplenty, so unless you're living on a remote Scottish island, you won't be far from OEM support, should you need it. Decent to drive, too.

What's so bad about the Polo?

If you're looking for a sense of fun, the Ford Fiesta is where it's at. The VW Polo has always been The Sensible One. It is a practical all-rounder.

What's more, competing with Seat and more recently Skoda stablemates has pushed the Polo's value-for-money credentials to the brink of "too expensive".

Having said that, when maintenance and repairs are quantified across the years, costs remain reasonable when cross-referencing mileage and annual average bills.

Advertisement - Page continues below

What are the common problems?

There have been some VW Polo recalls over the decades. Misfiring was a bit of an issue for older Polos, as was a leaky sunroof and electrics. In 2014, a small number of vehicles had an airbag sensor issue and there's been numerous frustrations with electric windows, among other electronic niggles.

In 2015, the 1.4-litre TSI engine quenched oil a bit too readily and in that same year, there was a problem with child locks on the rear doors.

While dealerships recalled and replaced the faulty locks, it might not have happened on all affected cars.

When it comes to corrosion, Polos generally escape with minimal issue, but it's all about care, right? The inclement British weather and the growing lack of properties with garages has not gone unnoticed by the avid used car buyer.

Since these superminis make good first time driver cars, they can often have minor dings that can quickly become corrosion pools, if you're not careful (or don't have aforementioned dry-store garage).

The good news is, there's a broad selection of Polo listings on the secondhand car market to pick from. Be choosy.

What engines and trims are available?

The Polo comes with a wide choice of fuel-efficient petrol and diesel engines for you to choose from. Pick from a 1.2-litre non-turbocharged runaround if you don't enjoy driving very much, or hunt out more powerful versions from 1.4-litres right up to the 2.0-litre turbo GTI for slightly more enjoyment. Well, as much as you can have in a Polo.

There's a fair bit of choice when it comes to trim, too. More recent entry-level 'S' trims are more generously specced to justify that higher price-tag, but which trim to opt for is entirely dependent on the kind of driving you do, how comfortable you want to be and how much your audio experience matters.

In general, a VW Polo is safe.

In 1997, the year Euro NCAP was created, the VW Polo earned three stars for safety. That climbed to four stars within three years.

It took almost another decade for the Polo to get the fifth star that it holds today. In that time, the Euro NCAP scores have changed in the way they are calculated but since 2000, the Polo has tended to score 'good' and 'adequate' for adult occupant protection.

How economical is the VW Polo?

Over the years, with the exception of Dieselgate, the Polo has carried a competitive level of fuel efficiency. Post-2009 mpg ranges between 48 and 52 in the real world, around 85 per cent of the claimed economy. In fact, fuel economy is one area where the Polo tends to pip the Skoda Fabia and Seat Ibiza to the post.

Like everything in this world, some engines are better than others and how you drive them makes a difference too. The Polo's 1.0-litre TSI 95 engine will suit most drivers, with enough power for tootling about town and taking on some motorway miles on occasion. It gets almost 50mpg when tested in the real world. That's competitive, even in comparison with today's new cars.

Advertisement - Page continues below

Like we've said, the Polo isn't the last word in driving smarts. It's always been decent, a little sensible, compared to the playful Fiesta. Indeed some models with the 1.0-litre non-turbocharged engines are underpowered and sluggish.

If you're in the business of buying a used Polo, you'll get a less frustrating experience with a bit more power or a turbo, or ideally, combining both of those things. Recent GTIs have been fun, respectable things - if a little grown up.

Since more power means higher insurance though, and you could be well making this consideration for a youngster with a newly minted licence, a lack of power might be just what the doctor ordered.

How fast is the Volkswagen Polo?

Back in the '70s, upon launch, the first-generation Polo had a top speed of 132mph and smashed 0-62mph in a very chilled 21 seconds.

In contrast, the 2018 GTI 2.0-litre TSI puts out 197 horses and achieves 0-60mph in a pacey 6.5 seconds. The GTI's top speed is a glee-inducing 147mph.

Advertisement - Page continues below

What's the interior of the Polo like?

Honestly... a bit basic. Aside from introducing electric front windows (which in some cases could end up being a malfunctioning nightmare, see above) VW has always kept the interior of the Polo functional.

That's not to say the components used have been flimsy (well, not in all cases). On the contrary, Polo interiors are generally robust and highly practical, but not necessarily the epitome of comfort, especially when considering the price point.

With rivals edging in, a need to remain competitive has seen VW improve things in places.

The VW sensory safety driver assist package and the infotainment system have arguably improved in recent years, though VW was one of the slower auto makers to adopt over-the-air software updates, so anything before 2021 is likely to look and feel fairly dated.

How reliable is the Polo?

In the early days, the Polo benefitted from the general perception that German engineering was more reliable than British... which it, er, was. As time has gone on though, Polo reliability and perception of it has somewhat diminished, though it hasn't been decimated.

Of course, the Polo was one of the models wrapped up in the Dieselgate scandal between 2009 and 2014, which affected engine EA189. While fuel economy won't have changed, models from these years may have had some software updates so CO2 emissions readings are more accurate.

This notwithstanding, Polos have a reasonable level of reliability.

 

How much does the VW Polo cost to insure and tax?

The VW Polos born between 2017 and 2022 will clock the flat rate that everyone pays, currently £165.

Some, like the 1.0-litre S trim registered between 2014 and 2017 qualify for the £20 a year tax bracket, based on meeting the CO2 emissions for the rules back then.

Invest in a classic Polo from 1982 or before and you'll be eligible for the historic vehicle exemption from road tax and pay nowt.

Insurance is another matter. The choice of engine sizes, power and gearboxes mean the insurance groupings are across a wide range too. The 1.0-litre non-turbo Polo engines sit in Group 1 and for a 30-year-old driver living in an average risk location, it's around the £500 mark. It'll be more for inexperienced drivers with no no-claims-bonus and those living in higher risk areas.

However, a GTI+ 2.0-litre TSI sits in Group 28 (out of 50). Those mid-table groups still mean that same 30-year-old is still looking at over £1,000 a year.