Used cars
Here are 30 used TG hero cars we found this week
Celebrating our 30th anniversary by showcasing three decades of TG's 'Car of the Year'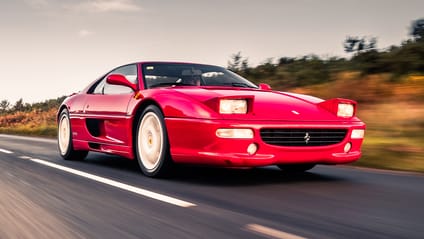 The Fiat Coupe was an iconic '90s two-door, four-seater showboater. Early first-gen models are hard to come by, of course, but this treasure from 1995 could prove a shrewd investment.

Advertisement - Page continues below

This 1996 Berlinetta, imported into the UK in 2015, is as close as it gets to TG's 1994 winner. This particular example features the classic red bodywork and black interior combo. Yes please.

Advertisement - Page continues below

The simplicity of the Elise has always underpinned its sporty appeal. Upgraded without losing the character of the thing, this example is a surprisingly affordable future classic.

This fine example of the first-gen Ford Puma has had one owner, who clearly kept it in tip-top condition, added a genuine Ford bodykit and rarely used it (judging by the low mileage).

Turns out first-gen Focuses aren't common. Somehow, we found this 1999 example – we've seen much younger cars in worse condition.

Advertisement - Page continues below

Future Multiplas will return in electric guise. This well-known TG guilty pleasure is readily available in Mainland Europe (and for great prices). Here in the UK though, there's less choice. Hence why we've gone for a second-gen car, which - if you have Strong Opinions about the way the Multipla looks - you may thank us for. This 2005 WAV-adapted example has low mileage and is in great nick.

Advertisement - Page continues below

Amazingly, this 4.4-litre TD6 complies with ULEZ-exemption criteria. A sub £5k price tag and V8 goodness should make you happy.

If you're in the market for a Ford Focus RS Mk1, good luck. With auctioned examples going for almost £77k, this sub-£45k listing looks like a bargain.

In 2005 the Bugatti Veyron was a joint 'Car of the Year' winner with, you've guessed it, the Toyota Aygo. Unsurprisingly, there aren't too many Veyrons on the market (read: any) but you can pick up a decent Aygo for a good price – just like this one.

Upon launch, Ian Callum's Jaguar XK looked good, drove well and sounded sublime – it was so easy to love (and crown Car of the Year). Today, it still looks just as good and listings like this £12k one are very tempting indeed.

When it first hit the market, the 2007 R8 delivered head-turning looks and first-rate handling. A five grand discount makes this low-mileage model extremely appealing.

The gorgeous 458 Italia is powered by a multi-award winning, all-time great Ferrari V8. Good reason alone to step into a version of this powerful, well-equipped mid-engined supercar.

Toyota's GT86 defied convention. It was low-priced, average-looking and small-engined. But with those skinny Prius wheels and Subaru boxer engine, it became a classic. Here's a 2012 example.

The raucous little Fiesta ST and its 1.6-litre EcoBoost engine offers the most supercar fun you can have without a supercar (or a wallet-draining supercar price tag).

At a time when electrified models were peculiar variations on a 'glorified golf cart' theme, there was nothing golf-carty about BMW's hybrid pioneer. The i8's no longer in production, so it's now a modern classic. Buy a gold-wrapped example like this and consider yourself a pioneer by association.

The Focus RS proves that hitting the world of parenthood does not mean the end to all things petrolhead. Here's a 2016 version with only 20k miles on the clock and bags of optional extras.

Alfa Romeo Giulia Quadrifoglio

Last year's COTY from Team TG earned the award for its exceptional talent for being a daily driver and a ton of sporting fun. The only downside was the £10k mark-up. Hitting the used car market for a pre-reg edition can mitigate that by £7k so the savviest of petrolhead commuters can enjoy the best of both worlds.