Motorsport
What did Moss, McQueen and Siffert wear?
Discover the timepieces of choice of motoring legends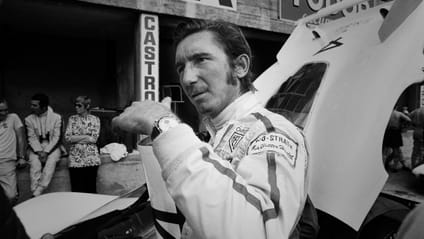 Watches and motorsport go together like, well, two things that go really rather well together. These days, a driver wears whatever watch he's contractually obliged to. He may even have a ridiculous fake one stitched on his driving gloves to maximise his sponsor's TV time. A few decades ago, it was the drivers themselves who got to choose…

This feature originally appeared in the Top Gear Watches supplement. 

Images: Francois Gragnon/Paris Match via Getty Images, Ranier W. Schlegelmilch/Getty Images

Advertisement - Page continues below

Heuer Autavia

Even with a couple of F1 wins to his name, as well as victories at the 24hrs of Daytona and Targa Florio with Porsche, it's not often someone mentions Jo 'Seppi' Siffert without at least making a passing reference to his watch. It was a 1969 Heuer Autavia – the 1163T Chronomatic Calibre 11, with its unusual blue-accented white face and tachymeter bezel. It used one of the world's first automatic chronograph movements, which Heuer developed in partnership with Breitling after a decade-long battle with Seiko and Zenith. And why is Seppi so closely linked to the Autavia? Famously of limited means, he helped fund his career by selling Heuers to fellow drivers. Jack Heuer remembers him as a natural salesman. He said the deal with Siffert was "one of the best marketing moves" he'd ever made. One account has it that by the early Seventies most of the paddock was wearing a Heuer. 

Hanhart

McQueen's indelible link to the Heuer Monaco is well documented, and we wouldn't blame you for assuming he wore nothing else. But if you were to assume such a thing, you would be wrong. McQueen had a bit of a thing for Hanhart – a Swiss-German watchmaker which made its name crafting exceptionally accurate stopwatches and then, during WWII, Flieger watches for the Luftwaffe. McQueen's was a 417ES. One of only around 500 ever made, it was supposedly the actor's timepiece of choice whenever he fancied a go on one of his bikes. It appeared on his wrist in The War Lover, and he was pictured wearing it during the International Six Days Trial, in which he competed in 1964. 

Advertisement - Page continues below

Chopard

Chopard didn't really get into motorsport until 1988 – when it started sponsoring the Mille Miglia. But by then, Moss had been wearing one for decades. His was a rattrapante – a chronograph with an added second hand used to time several cars at once – with a metal bracelet in place of the usual leather strap. "Chopard made a rattrapante when few companies did," he told The Daily Telegraph.