Retro review: the bonkers Audi Q7 V12 TDI

(2008-2009)
Take one for a spin or order a brochure
Powered by
motoring.co.uk
This review was originally published in Issue 184 of Top Gear magazine (2008)
The day of Top Gear's test drive of the £96,290 V12 diesel Audi Q7 just so happened to coincide with the collapse of Lehman Brothers and forecast of an economic depression in the US unseen since 1929. There might have been a better moment for Audi GmbH to launch the world's most powerful diesel SUV. The linch-pin here is that word 'diesel'. As we revealed in the October issue, the R10's success in the American Le Mans series is a stroke of grand strategic cunning to soften up the US market to this still-alien fuel source. Audi is about to launch a raft of diesel vehicles in a country hooked on gasoline, and has put the Q7 V12 TDI at the cliff face. This is a car built with the American market in mind, now fitted with an engine born of an American race series, ready to prove to a sceptical nation that the black stuff is the new black, if you will. And, boy, does it make a good case. The Q7 has been around for a couple of years now, although its price, exclusivity and sheer size ensure it remains a comparatively rare sight on British roads. The transition of Audi's R10 TDI racing engine into a road car, albeit a technology-sharing exercise rather than a straight swap, has arrived at a time when the car's status as vulgar SUV
du jour
was on the wane. Now it's right back up there, not least because of the price and size of the engine, but also because of what that engine does. The 6.0-litre V12 produces 500bhp and 737lb ft of torque. That's 1,000Nm in today's money, almost as much as the racing car that has won Le Mans for the past three years on the trot. This means that you have a five-metre long, seven-seat SUV weighing an unladen 2.7 tonnes that will hit 62mph in 5.5 seconds with top speed restricted to 155mph. For reasons not just of ethics and economics but of simple physics, this car shouldn't be happening. But it's right here.
The advantage of diesel is that all that torque is available from just 1,750rpm. Acceleration is almost instant in the Q7 and utterly belies the car's vast dimensions and kerbweight. A gentle prod of throttle is always enough, but give it a good wallop, and once the transmission has negotiated a slick kick-down, you and the other 2.7 tonnes involved are whipped towards the horizon with the sort of bellicose vigour normally reserved for salt flats and land-speed records. Refinement at any speed is simply staggering too. Nail the throttle, and the V12 rumble will build briefly to an angry crescendo; but back off again, and serenity and civility are immediately restored. Whether a good thing or not, it is certainly more impressive, and more terrifying, to be flattened into the leather armchair of a luxury V12 SUV than into the bucket seat of a V12 supercar. It feels so unlikely, so otherworldly, so… wrong.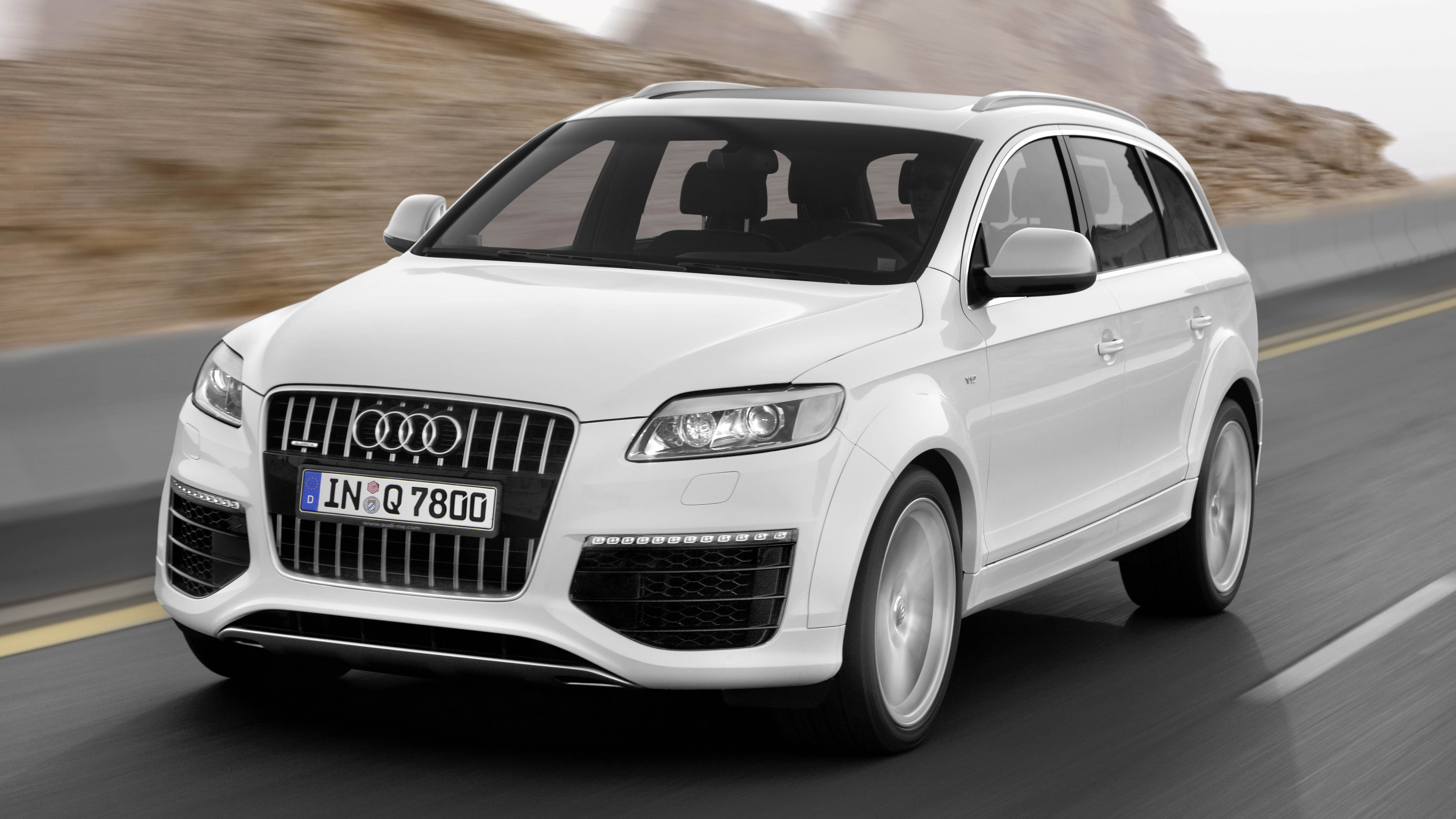 And that'll be because it is. There's no getting away from the fact that the Q7 V12 TDI is a ridiculous enterprise. The Q7 in more modest trim is a very hard car to justify building or buying, but like this it's nothing short of insanity. If you want epic scales of performance from a car, you want a sports car that also handles well and will fit round corners. The Q7 doesn't. It simply can't. And if you want a seven-seat SUV, then presumably you have three or more children and definitely won't want to be showing them how the 420mm fibre-reinforced ceramic discs can brake you down from a cheeky tonne in the blink of an eye. Remarkable, the Q7 V12 TDI is. Sensible, it isn't. But then, we're not Americans, and that might be what makes all the difference. Here is a nation for whom common sense is by and large bygone. One whose dependency on oil is bringing it into conflict with a new country every other week. And one that (hopefully) now thinks that diesel is quite cool. And out there in the Big Country, where you get a V8 pickup just for passing your test, the Q7 isn't an SUV at all. More of a small hatchback. And it manages 25mpg, as good as a V8 diesel Range Rover, and way ahead of the average local petrol-driven SUV. If Audi needs a flagship for diesel in the states, this is one hell of a way to go about it. There is one little problem to surmount, though. If the Q7 costs £96,290 in the UK when it goes on sale next January, what on earth is it going to cost across the pond? Diesel might provide a means for the US to tighten its belt, but ultra-premium German SUVs aren't going to be top of many shopping lists. As part of a much bigger picture, particularly for the American market, the Q7 V12 TDI is a masterclass in Audi's engineering genius. But as just another diesel in an ever-expanding catalogue, it feels like a joke in slightly bad taste these days.
Verdict:
Might strike a chord with a few rich but tight Americans, but expect a lot of blank looks round these parts 6.0-litre V12 diesel
500bhp, AWD
0-62mph in 5.5secs, max speed 155mph
2,635kg 
£96,290
The competition
How about an alternative?
What you have here is a car that's been conceived to support family life and that alone. It's a winner
The best off-roader in the world might be the best luxury car in the world