Electric
Electric twin test: Hyundai Ioniq 5 vs Jaguar I-Pace
On the face of it they have little in common, but dig a little deeper and interesting things start to emerge...
Group tests are fascinating. The opportunity to drive cars back to back against each other throws them into sharp focus. It's not just that character traits are magnified or driving differences more obvious, it's that small unexpected internecine battles emerge. And the more cars you have, the more chance of that happening.
11 cars. That's how many we gathered as part of our Tesla Model Y welcoming party. More than enough to reveal some less obvious local rivalries. We've already written about the Model Y vs Mach-e GT – they're clear rivals on many levels. But Hyundai Ioniq 5 vs Jaguar I-Pace? On the face of it, little in common.
Advertisement - Page continues below
Even the most comparable Ioniq 5, a twin motor (so over-ordered at the moment that Hyundai has had to take it off sale) with a squeak over 300bhp, is still 100bhp and well over £15,000 short of an I-Pace, but park them next to each other and interesting things start to emerge.
Both clearly place great emphasis on design. They're a similar size and have interesting, unusual proportions that make them hard to pigeon-hole.
But before we get stuck into this, a word on the Jaguar I-Pace (I've written about the I-Pace dozens of times and I still have to look up the right style for it – does it have a dash? Is it a lower case 'i'?). It's been on sale almost unchanged since 2018. What's going on at Jaguar? Why no second model? Surely it makes sense to remove the front motor to create a less powerful, rear-drive entry-level model? A light refresh and software upgrade is all we've had, the base price is still £65k. Getting that down would surely make sense, make the car seem alive and competitive against the latest arrivals.
Advertisement - Page continues below
That's very different to Hyundai, perhaps the boldest, most energetic mainstream car company operating today. No scratch that, there's no perhaps about it – Hyundai is on a continuous roll. Look at the visual swagger built into the Ioniq 5. Personally I reckon it's going to date terribly, but right now it looks a million bucks.
Provided you have it in the right colour. This one. You need to see the creases, go dark and it looks like a fat blob. The Jaguar isn't colour sensitive, but does have its own spec quirk. Wheels. An I-Pace on 18s is a terrible sight to behold. And normally with cars, that's the one we'd tell you to have for the sake of your spine. But Jaguar is different. It does suspension and ride quality better than almost anyone (see also Alpina BMWs). Have the big wheels with the little sidewalls, there's barely any drawback.
The Ioniq 5 is content to be a style statement. In that way its arguably far more forward looking, dropped in from a tomorrow where driving doesn't matter as much as on-board life. It's content to move, but has no particular interest in doing it well. The ride is clunky, the brakes soft and spongy, the steering twirly light and distant.
You can pick holes in the quality, but the overall feel of being in this tall, domed, light cabin is a vision of the future beamed in from the 1980s. Useful storage, a sliding console, good button-to-screen ratio all set into a cabin full of interesting shapes.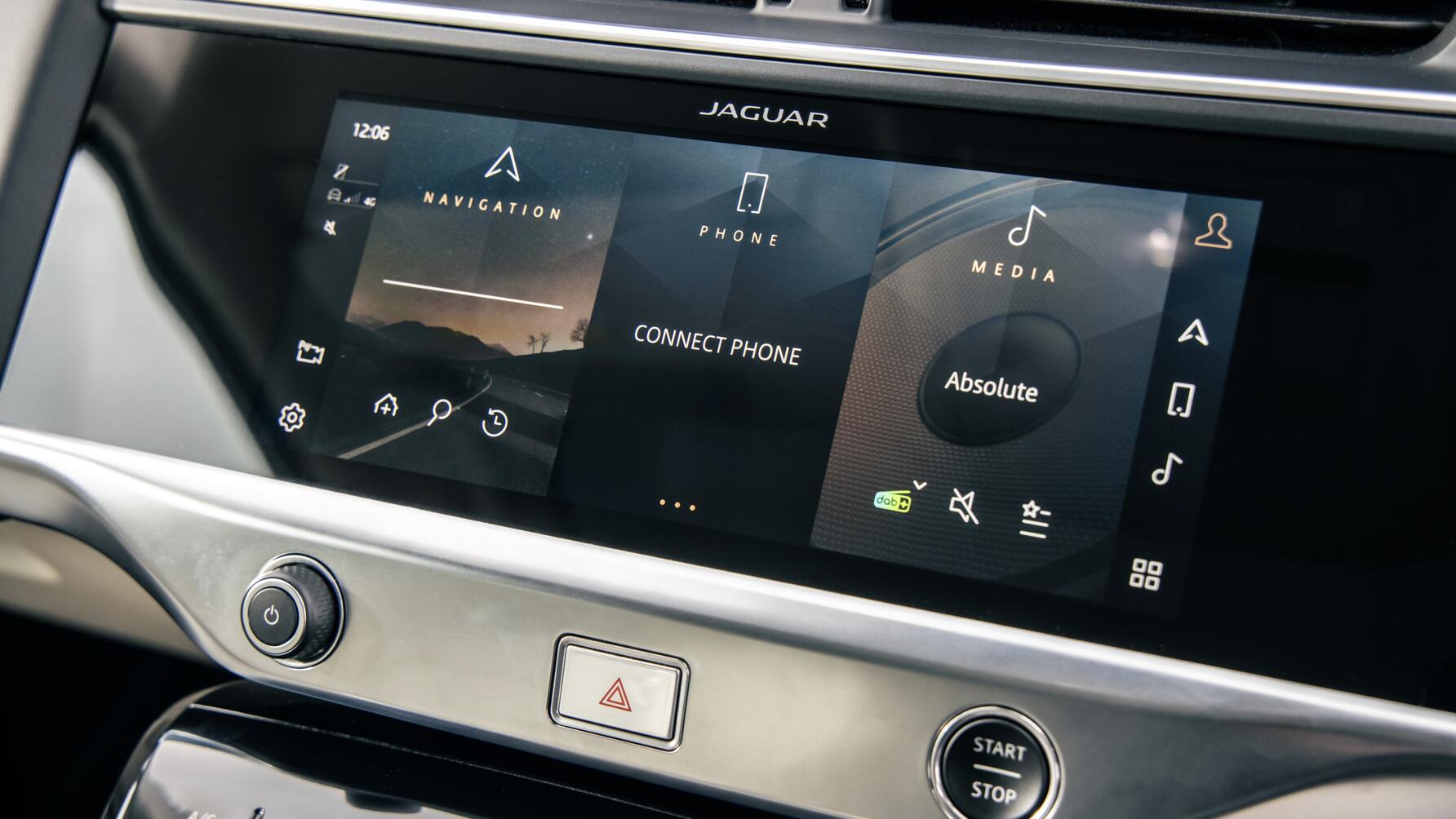 And good space. Big in the back and generous in the boot. I know the profile is hatchback, but it's been scaled up way beyond Golf size (it's 400mm longer, 150mm taller and over 100mm wider), which ensures a 527/1587-litre boot. It feels a bit cheap back there, and the sloping pillars do limit versatility, but on visual inspection you'd swear it was bigger than the Jaguar's. Not so. That's measured at 557 litres (the advantage largely gained by its parcel shelf sitting higher). Still, it is worth pointing out that the I-Pace is a more load capable machine than you might expect. 1453 litres with the seats folded.
The lower roofline means it feels slightly… cosier for passengers. Not cramped or claustrophobic though – this is a well-sized car for four people. And although the design is a) more traditional and b) far more tactile, this is not a fusty cabin. It's less fussy and confusingly ornate than most German rivals, easier to get on with than the Hyundai, more comprehensively thought through.
And of course it drives with real brio. Forget the 0-62mph in 4.5secs headline (this Ioniq does it in 7.4secs, the twin motor in 5.2secs), it's the way the Jaguar heads down a difficult B-road, how composed and engaging it is, that distinguishes it. It might be four or five years old, but I honestly think the only electric car that betters it currently is the Porsche Taycan. It inspires confidence, leans evenly through corners, manages to feel and behave like a Jaguar should. It highlights just how disinterested in driving the Hyundai is.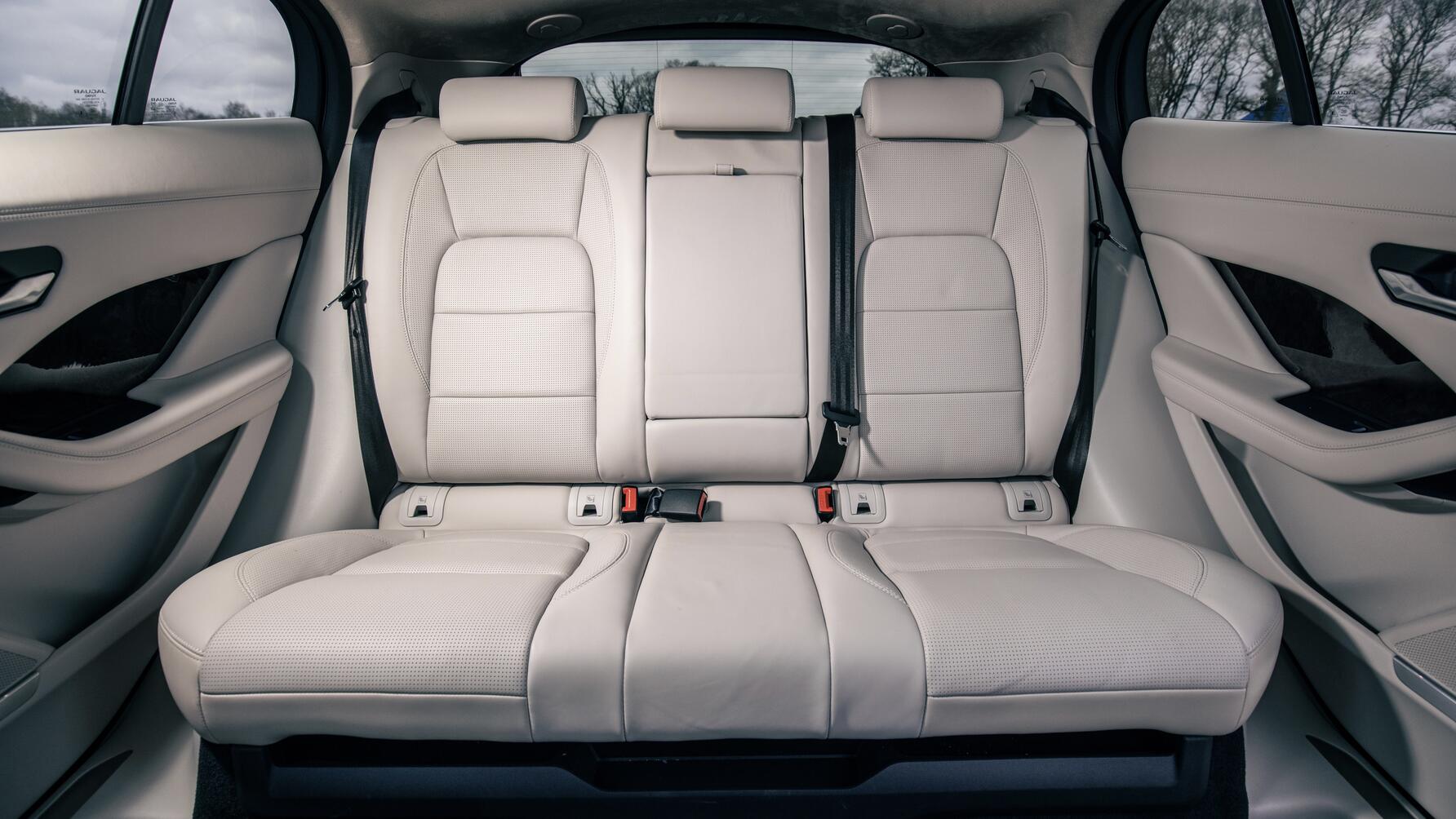 Range? The Jaguar claims 292 miles, the Hyundai 300. Call it 200 for both, the heavier Jaguar less efficient since it has the bigger battery (85kWh plays 73). But this isn't really a test to assess which is better – more to point out that the I-Pace, despite its age and lack of development in this ridiculously fast-moving market is still a very complete and capable EV, and that we're at a stage now where you can credibly line a Hyundai up next to a Jaguar and ask which is the more desirable.
Top Gear
Newsletter
Thank you for subscribing to our newsletter. Look out for your regular round-up of news, reviews and offers in your inbox.
Get all the latest news, reviews and exclusives, direct to your inbox.
The Ioniq proves that the usual measures of luxury and comfort are shifting. Good quality, materials and ride used to be key for luxury cars, but the Ioniq shows that you can – at least in part – make up for that with cabin ambience, technology and functionality. Beyond that, it's designed to make driving easy and cool, not engaging and rewarding. And since no-one, not even Porsche, has genuinely found a way to make electric nearly as charismatic as petrol, maybe that's a more intelligent way to approach the future.
And that's the thing with the Hyundai, regardless of whether it dates badly or not, it comes across as the first step on a bold new path, not as an electric answer to a petrol question. A similar philosophy is why we're not hearing much from Jaguar at the moment, why there's been little, if any, development. Jaguar has tacitly admitted that the entire brand is basically on hiatus for the next few years, set to emerge butterfly-like from a chrysalis in 2025 as an all-electric, re-formatted and fresh British brand. Expect a new take on electric luxury.
Not an outing from which a winner can legitimately be declared then, but a sign that although the automotive old world order has proved it can turn its hand to electricity, the concepts of brand strength, technology, desirability and design are being globally reconfigured by more forward-looking firms. Maybe the coming resurrection will put Jaguar on a similar success trajectory to Hyundai. As of right now though, the I-Pace is the only car that looks forwards rather than back. That needs to change, and soon.