Big Reads
World's best toy car? £55k Bugatti Baby II driven (and raced)
Keep your Teslas: this 55mph all-electric Bugatti is the most fun you can have with a battery
It is said by some that we don't stop playing because we grow up, we grow up because we stop playing. Not by us at TopGear.com, though. 
Tom Harrison – who for today's purposes has assumed (with alarming ease) the charming alter-ego of Harrison Maximillian Tumblebottom-Smythe, 4th Viscount of North Witheringshire – and I, the dastardly yet devilishly handsome Bounder Caddington von Kewpiddle, are very much big kids.
Advertisement - Page continues below
Today we must play with – or rather I mean to say, dutifully assess – this year's Christmas list must-have from The Little Car Company. 
Words: Ollie Kew & Tom Harrison / Photography: Mark Riccioni
We give you the Bugatti Baby II – a fantastically accurate three-quarter scale replica of the iconic Bugatti Type 35 pre-war racer. The Type 35 is a motorsport great, winning over 1,000 races in its day, and pioneering lightweight features like alloy wheels and a hollow front axle. We have an original here today, just to set the scene, and it's utterly beguiling, to adults and overgrown kids alike.
Advertisement - Page continues below
Even Ettore Bugatti's four-year-old son Roland wanted one, so his dad and older brother fashioned him a half-size replica way back in 1926. But the thing with toys is that people are prone to jealousy. Visiting customers were so charmed by the miniature electric runabout, they commissioned their very own. Beats a hoop and a stick, doesn't it, what-what?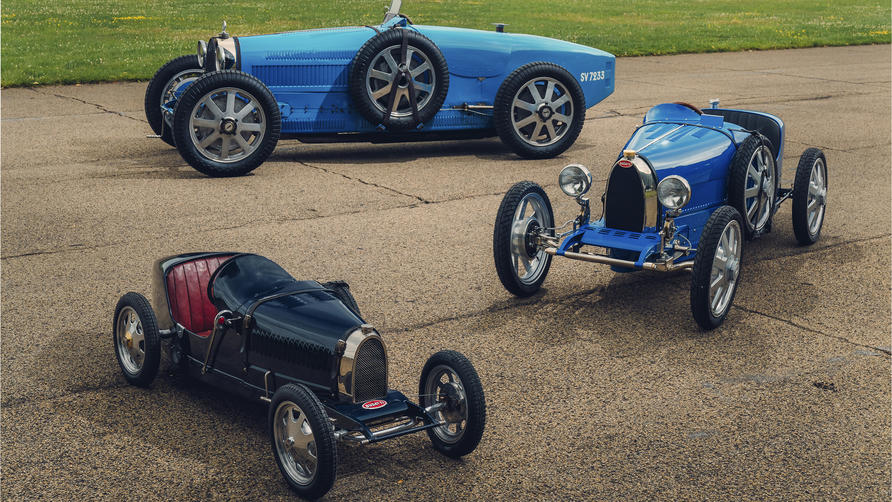 Around 500 were made, making it by far the most common Bugatti, though far fewer survive today. We have one present for our little sporting showpiece. It's cute, patinaed, and beautiful. Estimated value: £80,000. For a one-wheel-drive electric antique. That's craftsmanship for you.
Neither Harrison or myself can fit a shoe inside the old one (whether that's a gentlemanly suede brogue or a fireproof racing boot), but we can certainly have a jolly-good dice in the two brand new Baby IIs. And their spec is rather more serious...
Only 500 of these larger Type 35 tributes, fastidiously copied from a digitally scanned original, will ever exist. Much like the original Baby, they're powered not by a tiny straight-eight engine, but an electric motor. The coachwork on the base model is posh fibreglass, makes do with a 4kW (5bhp) motor, a 13-mile range and costs £27,300. 
But do you really expect Tumblebottom-Smythe and Caddington von Kewpiddle to slum it in the standard car? With our reputation? Heavens. I've made haste towards the carbon fibre-bodied Vitesse version, costing £41,000. 
Its uprated motor delivers a much more proper 13bhp. In Novice mode (selected via a beautiful dashboard key) the top speed is a piffling 12mph. In Expert mode, it's good for 28mph. And this example, I note smugly as I secure the detachable Nardi steering wheel and settle onto the luxuriantly upholstered bench seat, sports the Speed Key, lovingly copied from a Bugatti Chiron's vmax key. 
Top Gear
Newsletter
Thank you for subscribing to our newsletter. Look out for your regular round-up of news, reviews and offers in your inbox.
Get all the latest news, reviews and exclusives, direct to your inbox.
The second key opens the door to a frisky 55mph, with no doors, no wind protection and no seatbelt. It's not for kids. Harrison my dear boy, you haven't a hope on God's green Earth. Pip-pip, cheerio!
TH: Kewpiddle, such dishonesty! You haven't chosen the Vitesse for its carbon-fibre body, but because its glossy red paintwork matches your vulgar racing booties. Most unwise – you could have had a Pur Sang like mine, with its exquisite hand-formed aluminium body. It's the connoisseur's choice, and just as fast as yours. It's £14,000 more expensive, yes, but that's nothing if, like me, you own most of Berkshire. 
OK: Crivens. Your Old English wheel-turned bodywork is majestic. Takes 200 hours per bodyshell, I hear. Certainly, it appears to squeak considerably less than my Formula One-grade lightweight weave.
Still, since we're in my Oxfordshire garden and we've an ex-RAF bomber station to explore, shall we stake fifty guineas on a race? My mount feels ripe for a damn good thrashing. These regenerative drum brakes are better-modulated than the brakes of the Toyota hybrid my butler drives, and the Michelin motorcycle tyres cling on gamely. How's yours through the corners, old bean?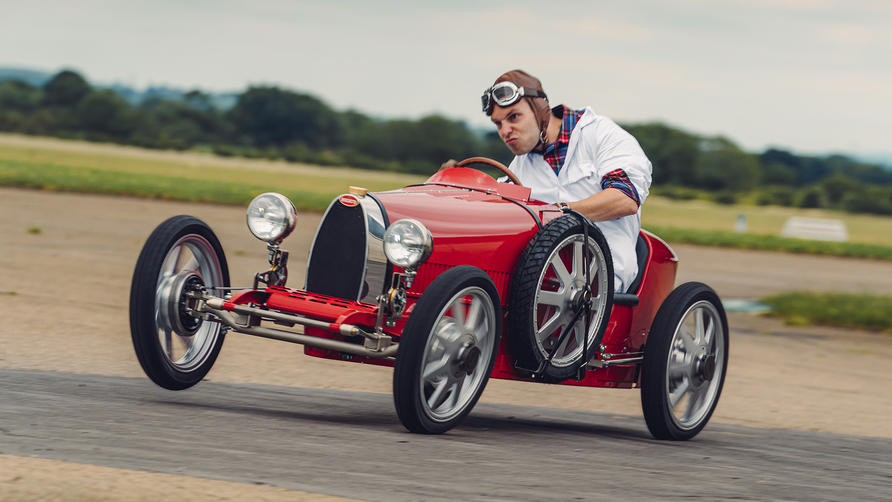 TH: Absolutely spiffing – the steering arm, custom leaf springs and hollow front axle are faithful recreations of the big Type 35's. It has adjustable dampers, and there's a limited slip differential on the rear axle so that childish louts with no sense of self-preservation can theoretically drift the car through corners. It is hilariously over-engineered and damn good fun for it.
A beautiful object, too – I'd be happy to have it sat on a plinth in one of my drawing rooms, such is the artistry on display here. What's your favourite detail on the Baby Bugatti, my good chap? 
OK: Childish lout? I prefer raffish rogue, thank you very much. Well, besides the shrunken milled pedals paying homage to my 1,500bhp Bugatti Chiron, I'm rather taken with the machined steering components that are all so wonderfully on display. Watching them haphazardly go about their job as the front tyres skitter about and paw at the air is delightful.
And that side mounted handbrake lever glinting in the sun is just too tempting – wonder if I can reach yours down the back straight? Aha! Ahead! Onward, to victory. I only wish this darn seat had a bolster 
to stop me damn near sliding out the thing when we round the top bend...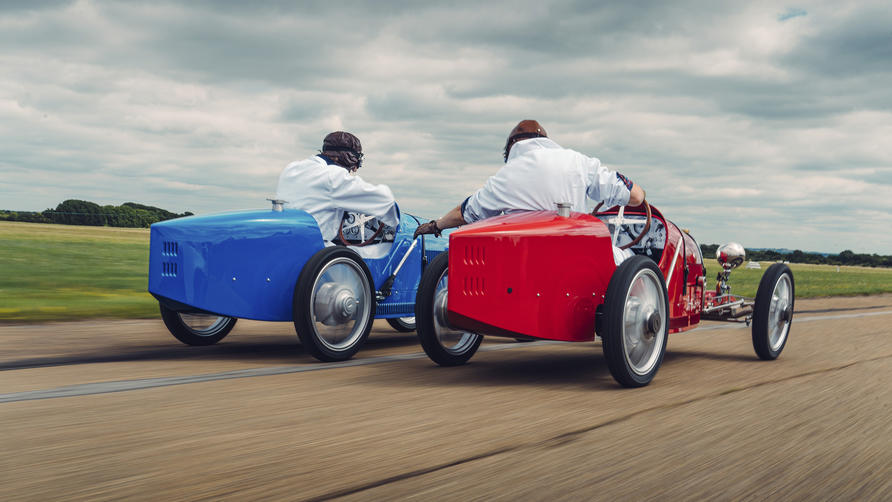 TH: You cannot win, Kewpiddle! Your dirty tactics have no place in this hard-fought automobile race which, thankfully, is nearing its end. While I, a strapping 6ft tall gent, certainly fit in the new Baby Bugatti, I'm not really sure I'd want to thoroughly test this version's supposed 30-mile range without an extended pit stop. What I'd give for your extended steering column...
OK: Quite, but for the intended customer who will purchase it for their angelic pre-teen heir to tour the mansion grounds, it's just the ticket.
I hear they'll even offer a 'road package' with functioning indicators and mudguards, to go with the new-fangled LED headlights and rather raucous horn. Much as I'm impressed at how rapidly this thing gets a lick on, I think we're happier just pootling about at a more leisurely rate of knots and... oh, cripes! The chequered flag! I'm afraid you owe me half of Wiltshire, old bean. Or how about your vanquished car?
TH: No can do, you cheating rotter. All 500 of these new Baby IIs are pre-sold. Looks like you're walking back to Kewpiddle Manor, in your horrid racing boots.