Concept
Gallery: ten of Mazda's coolest ever concept cars
The lovely RX-Vision has been given an award. Here are some of its predecessors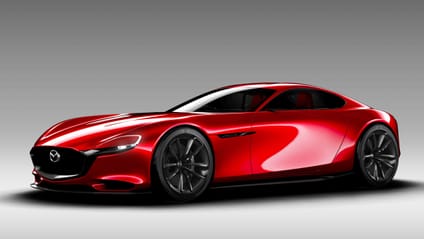 Late last year, Mazda unveiled its RX-Vision concept at the Tokyo Motor Show. It's a rotary-engined concept that previews a future sports car, and will return the 'RX-7' badge to Mazda's line-up for the fourth time in its history.

Time to get excited then. With a box-fresh, next-generation rotary engine and dimensions shorter and wider than the RX-8, the RX-Vision deploys Mazda's 'Kodo' design language to rather delightful effect. You'll no doubt agree that it's rather cool.

Now, we understand it has been awarded the "Most Beautiful Concept Car of the Year" at the 31st Festival Automobile International. What were the other nominees, you ask? None other than the Bentley Exp 10 Speed 6, Peugeot Fractal and Porsche Mission E.

It's not for the first time either, that Mazda has wowed us with a stunning concept car. Here, in this non-exhaustive gallery, is a round-up of ten more cool Mazda show goers.

Including, um, one that became a bit on fire...

Advertisement - Page continues below

This could have only originated from the 1970s. The RX-500 was a gullwing-doored supercar with a small rotary engine capable of 247bhp and a redline of 14,000rpm.

It was built as a safety concept, though, not a madcap supercar-slayer. As such, there were many lights to display braking and accelerating events, though we suspect BTTF's Doc Brown would admire the style...

This 2006 small sports coupe was based on an MX-5 underneath, with a 3+1 seating arrangement and a 2.0-litre petrol engine powering the rear wheels.

Then came the two-piece glass hatch, which pivoted up thanks to an electric motor. How very 007.

Advertisement - Page continues below

This 2006 concept was the first in a succession of cars modelled on Mazda's then new design language, Nagare. "We want to suggest where Mazda design will be in 2020," the company said at the time.

The four-seater concept car featured butterfly doors, a centrally positioned driver's seat, a wraparound lounge in the rear and a hydrogen-fuelled rotary engine. Natch.

The name translates as Japanese for 'gracious flow'; the side surfaces were inspired by Japanese dry gardens, the headlamp is shaped like morning dew dropping from a bamboo leaf (you'd spotted that, though, hadn't you?), and there are 21in wheels with different spokes left and right. This is to impart the theory that there are many torques on board.

Power came from a 2.5-litre Mazda E85/petrol flex-fuel engine.

One of Mazda's finest moments, based on an LMP2 racer underneath and packing a mid-mounted, 450bhp rotary engine modified to run on E100 ethanol.

Mazda's then design chief Laurens van den Acker said at the 2008 unveil: "It's really important that we create some cars that end up on an eight-year-old kid's bedroom wall."

Sadly, as you'll find out here, it ended up in a bit of a fiery mess...

This didn't preview a successor to the RX-8, sadly, but the two-seater concept car displayed at the 2007 Tokyo motor show featured an enlarged rotary engine – 1.6-litres – together with more torque than the RX-8.

The styling? It "visually expresses the atmosphere (called Taiki in Japanese) that wraps the Earth in its protective mantle". Yep.

If that doesn't click, perhaps this will. The design was "inspired by the image of a pair of Hagoromo – the flowing robes that enable a celestial maiden to fly in Japanese legend."

Advertisement - Page continues below

No, not the drink. The 2008 Kiyora – which means 'clean' and 'pure' in Japanese - was designed as a lightweight, dinky city car built for youngsters, featuring a 1.3-litre engine and, um, butterfly doors.

Designed using Mazda's then Nagare design language, it actually translates as "swirling winds". Hence the swoopy, swirly, compact-crossover body meant to "evoke lightness".

Advertisement - Page continues below

This 2010 entry was the first of Mazda's concept cars to feature its Kodo design language. Kodo means the "soul of motion", and as such, this four-door, four-seat sports coupe is said to express the "powerful movement of a lean body with highly developed muscles". Happily, the current Mazda 6 bears more than a passing resemblance to the Shinari.

Built for Gran Turismo, this stunning racer references Mazda's 1991 Le Mans-winning 787B, which wore the number 55.

It's not just the name that references that rotary-engined racer either; the LM55's looks too, have paid homage to its granddad.

There's a monocoque chassis underneath and lightweight carbon fibre components, and one of the finest racing shapes we've yet seen.

Special honourable mention: Mazda Secret Hideout

OK, so this technically makes it 11 concepts, but who cares when it's got a name like this. The van-like Secret Hideout featured a 1.3-litre engine and a push-button auto 'box. Though we'd argue its yellowness cancels out its, um, secrecy...