Electric
11 cars you need to know about from the 2021 Munich motor show
Cars as we know them are changing. And changing fast. Here are some highlights as to what the future holds…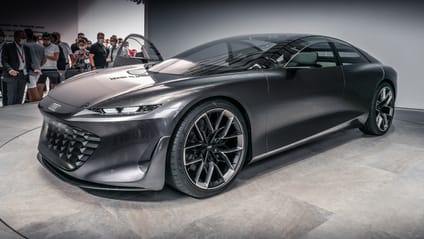 Last week Munich played host to the first major motor show since... The Thing. And having been there, the realisation that there's been a big gearchange in the industry was incredibly apparent.

To give it its official 'IAA Mobility' title, the show was a real blend of tech, cars and all things mobility, including three halls of e-bikes, scooters, buses and autonomous pods.

With public perception, legislation and politics changing the role and DNA of a car, there were very few cars with actual engines there. And if they were, they were left to feel embarrassed in the shadows of a manufacturer's stand.

Cars as we know them are changing. And changing fast. So here are some highlights as to what the future holds…

Advertisement - Page continues below

Audi grandsphere

The future apparently doesn't have shift buttons or caps locks, as this – the Audi grandsphere – doesn't care about puny details such as formatting.

Like the open-topped, extending-wheelbase skysphere that we saw back in August (and the presumably city-sized urbansphere that is set to be unveiled next spring), Audi's latest grandsphere concept doesn't much care for capital letters.

Unsurprisingly, this 5.35m elongated whopper (it's even longer than the stretched version of Audi's A8) is fully electric. And has a tech-laden interior inspired by a private jet. You can read more about it here.

Cupra UrbanRebel

This baby race car with its cheesegrater wheel spates, big wing and stripped out interior is a properly funky little thing though. The concept is 4,080mm long, 1,795mm wide and 1,444mm tall – about the same size as a Volkswagen Polo – and has the equivalent of 429bhp. Cupra claims it can accelerate from 0 to 62mph in (a no doubt theoretical) 3.2 seconds. There's no way the production car is going to be that fast, sorry. Or have that rear wing. Click here for more details.

Advertisement - Page continues below

Porsche Mission R

Where does Porsche go with electricity after the success of the Taycan? Well, here. And there may be more going on here than meets the eye. And there's a lot going on: a 1,073bhp racing concept for now, but Porsche will "find a way to realise a car such as this". The Mission R is Cayman sized. Surely there could be a connection. Is this the new Cayman in disguise? Read more about the future racer here. 

E-Legend EL1

If you're too young to have seen and heard the golden age of rallying – Group B – and the mad cars that headlined it, don't worry. As cars like the E-Legend EL1 are bringing the rally titans back with a modern, electric twist.

You may recall first seeing pictures of the Audi Sport Quattro themed EL1 back in June, and you can read that story along with all the important details here. If you did, you're probably still having sweaty dreams about it because this entirely new, carbon-bodied, pure-EV retro tribute is a thing of rare beauty.

We can confirm this because we've now had the chance to walk around an actual model in three dimensions at a small off-shoot event at the Munich motor show. Trust us, it's good. Click here to see it in non rendered form.

Mercedes EQG

Talking of legends getting electrified, this is the Mercedes EQG. A battery-powered G-Wagen that proves Mercedes is really turning its whole toy box electric. And this one will be central London's hottest must-have accessory when it morphs out of concept form. 

The EQG will keep the ladder-frame chassis and live rear axle of the regular G-Class. So it's absolutely not some wimpish crossover and will maintain its off-road chops. But would you have this or a G63? If you're unsure, here are all the details to help you make your mind up. 

Mercedes EQE

There's no need to adjust your monitor. As much as it may look like it, this is not an EQS. It's the slightly smaller EQE but looks pretty much exactly the same.

You know the drill. Just as the bigger EQS is a fish-slippery luxo-saloon with all the high-end decadences of an S-Class, so the EQE is an electric car of roughly E-Class size complete with a MASSIVE hyperscreen inside. But don't you think there should be more differentiation between all these models? Here's more pics so you can make your mind up. 

Advertisement - Page continues below

Ioniq 5 Robotaxi

Hyundai has unveiled the brilliantly-named Ioniq 5 ROBOTAXI – a commercial vehicle that'll be used as a fully driverless ride-hailing taxi from 2023. Not very far away that, is it?

The Robotaxi is the result of a partnership between Hyundai and Boston-based driverless tech company Motional. It's now a Level 4 autonomous vehicle thanks to the addition of more than 30 sensors – including cameras, radars and lidar. Would you hail one of these down? 

Dacia Jogger

Meet the Dacia Jogger. Sure, jogging may not be the most high-octane of hobbies to name a practical lifestyle-y car after, but perhaps – for most of us – it's a nicely grounded, realistic one. It matches most of our aspirations – and Dacia's general no-nonsense vibe – quite nicely.

Could this be the most practical niche buster ever? A hybrid-estate-SUV-people-carrier. Click these blue words for all the details on the four-wheeled jogging bottoms.

Advertisement - Page continues below

Ora Cat Race Car Concept

Remember the awesomely named Chinese car company Great Wall? Well, it's got a new brand: Ora. It's an all-electric car brand that will be coming to the UK next year with its first model, the Cat. And they've made a racing car. Just because. 

It looks like a breeding experiment between a Porsche 911 and Mini but it kind of works. The standard car will rival things like the VW ID3 and is expected to have a range of around 250 miles from a 63kWh battery, with a 169bhp electric motor powering the front wheels to get the car from 0-62mph in 8.5 seconds. Would you have one over an ID3 or electric Mini? 

BMW i Vision Circular concept

Want to know what BMWs may look like in 2040? Well, soak it up, peeps. And you thought the new BMW M3 had overly large kidney grilles. Check out the face of the BMW i Vision Circular concept. Some moustache that.

The i Vision Circular is what BMW predicts a compact, all-electric luxury car could look like in the year 2040. Apparently, the aim is to use 100 per cent recycled materials in its construction, with 100 per cent of the resulting car able to be recycled at the end of its life. Circular, get it? More info here.

Mercedes-AMG One

Here's something for people who like engines. Good engines. Formula One engines. It's the AMG One. But those good, Formula One engines are complicated and this project is still suffering delays. We've been told we won't have long to wait until we see it driven in anger. And boy that new kid on the block, George Williams. Now that's worth the wait.