Electric
Gallery: Audi's five best wins at Le Mans
The German marque has won at La Sarthe 13 times. Here are their best victories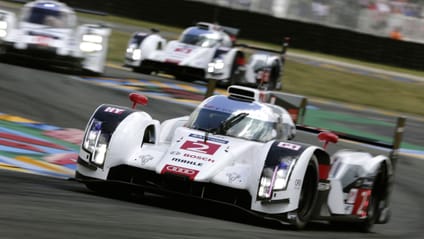 Audi shocked the world of motorsport by announcing that it was ending its endurance racing programme after 18 hugely successful years.

In the words of chairman Rupert Stadler, they are turning their attentions to "the race for the future on electric power" by focussing resources on Formula E instead. "As our production cars are becoming increasingly electric," he continued, "our motorsport cars, as Audi's technological spearheads, have to even more so."

Okay, so the news wasn't a complete surprise: rumours of their departure began to intensify during the Six Hours of Fuji earlier this month, and the decline in relevance of diesel technology has been clear for some time.

But after 13 victories at Le Mans since the turn of the millennium and two titles in the WEC's World Manufacturers' Championship, their decision to quit has left the LMP1 class looking threadbare for 2017.

Currently only Porsche, Toyota and privateers ByKolles Racing have entries planned for next season, and while the ACO says "others will soon be arriving", it isn't yet clear who will step into the void, or when.

Whoever decides to have a crack at LMP1 will have very big shoes to fill. To get an idea of just how big, here are five of Audi's most impressive displays at Circuit de La Sarthe...

Picture: Le Mans 2014

Advertisement - Page continues below

2000

There's nothing like that first win. Having entered the twice-round-the-clock race for the first time in 1999, Audi cracked Le Mans just 12 months later in the top LMP900 class (later LMP1) in a revised R8 racer. Led by Danish driver Tom Kristensen – already a champion at La Sarthe with Porsche in 1997 – the #8 car travelled 5,007.99km en route to victory, with its sister cars completing a podium lockout.

Kristensen's teammates Frank Biela and Emanuele Pirro tasted success at Le Mans for the first time that year, and the trio would go on to dominate the race by claiming overall wins in 2001 and 2002 as well. Although others have come close, it's the only time a driver partnership of any kind has won Le Mans three years running.

2006

If there was one thing that everyone knew in 2006, it was that if you wanted to go fast in a car, you filled it with petrol and not diesel. Audi disagreed.

Fitting the R10 TDI with – you guessed it – a diesel engine, they proved that this different approach could make them faster, more reliable and more economical; all key factors in endurance racing. The V12 reportedly produced 650bhp and sent 811lb ft of torque to the rear wheels: enough to propel the #8 car of Biela, Pirro and Maro Werner four laps clear of Pescarolo Sport's C60 Hybrid after 5,187km of racing.

Petrol wouldn't get another sniff of the top step of the podium at Le Mans until Porsche's triumph nine years later.

Advertisement - Page continues below

2010

After losing out to Peugeot the previous year, Audi came back with a bang in 2010. Completing 397 laps of the famous French circuit, Mike Rockenfeller, Timo Bernhard and Romain Dumas set a record distance of 5,410.71km in car #9 to lead home a 1-2-3 for the manufacturer.

Peugeot meanwhile, who had been favourites to win having secured the top four positions with their 908 HDi FAP in qualifying, failed to finish the race with any of their entries after suffering multiple faults along the way.

2011

Thirteen wins in fifteen attempts makes it sound like Audi were in a league of their own between 2000 and 2014, but that wasn't always the case. At Le Mans in 2011 Marcel Fassler, Andre Lotterer and Benoit Treluyer crossed the line in their R18 TDI just 13.854 seconds ahead of the Peugeot 908 of Sebastien Bourdais, Simon Pagenaud and Pedro Lamy, making it the fourth closest finish in the history of the race. Yikes.

The battle for the win was dominated by the characteristics of the main contenders: Audi were quicker but less fuel efficient, whereas Peugeot were marginally slower but capable of going an extra lap between pit stops. This should have handed the latter an advantage, but this was diminished after nearly five hours of the race were spent behind the safety car.

Of three R18 entries, two crashed out before the half-way mark, leaving the #2 vehicle to fight it out alone. Luckily for Audi it came out on top, if only by the skin of its teeth.

2012

Six years on from its landmark win using diesel instead of good old-fashioned petrol, Audi achieved another feat by claiming victory at La Sarthe with a hybrid electric vehicle for the first time. After taking pole, Lotterer, Fassler and Treluyer defended their title in the #1 R18 e-tron quattro, beating the team's other hybrid by one lap and its conventionally powered sister car by three.

The winning machine covered a grand total of 5,151.76km over the course of 24 hours, making 33 pit stops along the way. It had been hoped that Toyota – returning to Le Mans after an absence of 13 years – would give Audi a run for its money, but their challenge never materialised thanks to a double DNF for their TS030s. Their luck at La Sarthe hasn't improved much...