Electric
Opinion: Extreme E brought more questions than answers
Rowan Horncastle reckons the first race of Formula E's off-road cousin didn't deliver
Like many, I spent most of my Easter bank holiday weekend topping up my stomach with a never-ending emulsion of beer and Creme Egg goo. But I also took time to literally watch new ground being broken. This weekend saw the inaugural Extreme E race take place in Saudi Arabia. I watched it with interest. And not just because it's my job to do so.
 
I've found the new-fangled all-terrain electric offshoot of Formula E equally fascinating and beguiling since first hearing rumours of it a few years ago. How did it do? Well, it properly pretzelled my brain and left me wanting more. Unfortunately, not more racing – rather, more answers.
 
Now, I fully understand the championship's intentions: it wants to use entertaining yet sustainable electrified motorsport to help raise awareness of climate change. No one could argue that isn't a positive thing. But there's so much visual hypocrisy and vagueness that – to me – the championship fundamentally just doesn't add up. From the opening broadcast (complete with spangly promo video peppered with smiley, rich racing drivers, diversity and spoonfuls of positive sentiment) there were plenty of distractions to slather over the questionable cracks of ethics.
 
For instance, a race series that's built from foundations surrounding activism and force-for-change statements shouldn't be racing in Saudi Arabia. With the help of some fancy graphics, the Extreme E commentary team outlined a handy infographic of the 5.5-mile Al Ula desert circuit and declared the 'issues' facing the place were 'desertification'. What about Saudi Arabia being among the world's top executioners, with dozens of people being executed by the state every year, many of them in public beheadings? Or the lack of protests, free speech and abhorrent discrimination females are subjected to? A practice that flies completely in the face of the mandatory mixed-gender teams Extreme E has been PRing. If this is an educational racing series there to widen the eyes and minds of the public, why discount these things?
 
But my overriding objection is that if this so-called sustainable, green and environmentally friendly championship is nothing but carbon neutral from day dot, is there any point to it? My generation (and younger) have had it force-fed to us that big ships sailing across the world = BAD. Racing across endangered landscapes with fat tyres chewing up the terrain = BAD. No matter if you cover your tracks, which Extreme E says it's going to do.
The sight of a former Royal Mail cargo ship chugging along with a pair of 57-litre turbodiesel engines and a literal boatload of racing buggies to thrash through the most tortured landscapes on Earth (the Arctic, the Brazilian rainforest, the Senegalese coast, Tierra del Fuego on the southern tip of Argentina, and the desert in the northern region of Saudi Arabia) looks and feels a bit wrong. We were told the St Helena "is as new as she was when she came out 30 years ago".
Advertisement - Page continues below
For a series that's meant to be so forward-thinking and futuristic, that doesn't sound like progress, does it? We were also told it drinks "the champagne of shipping fuel". But anyone who's been to an office Christmas party knows there are some properly ropey bottles of champagne out there. And even the finest marine fuels give the planet a hefty hangover.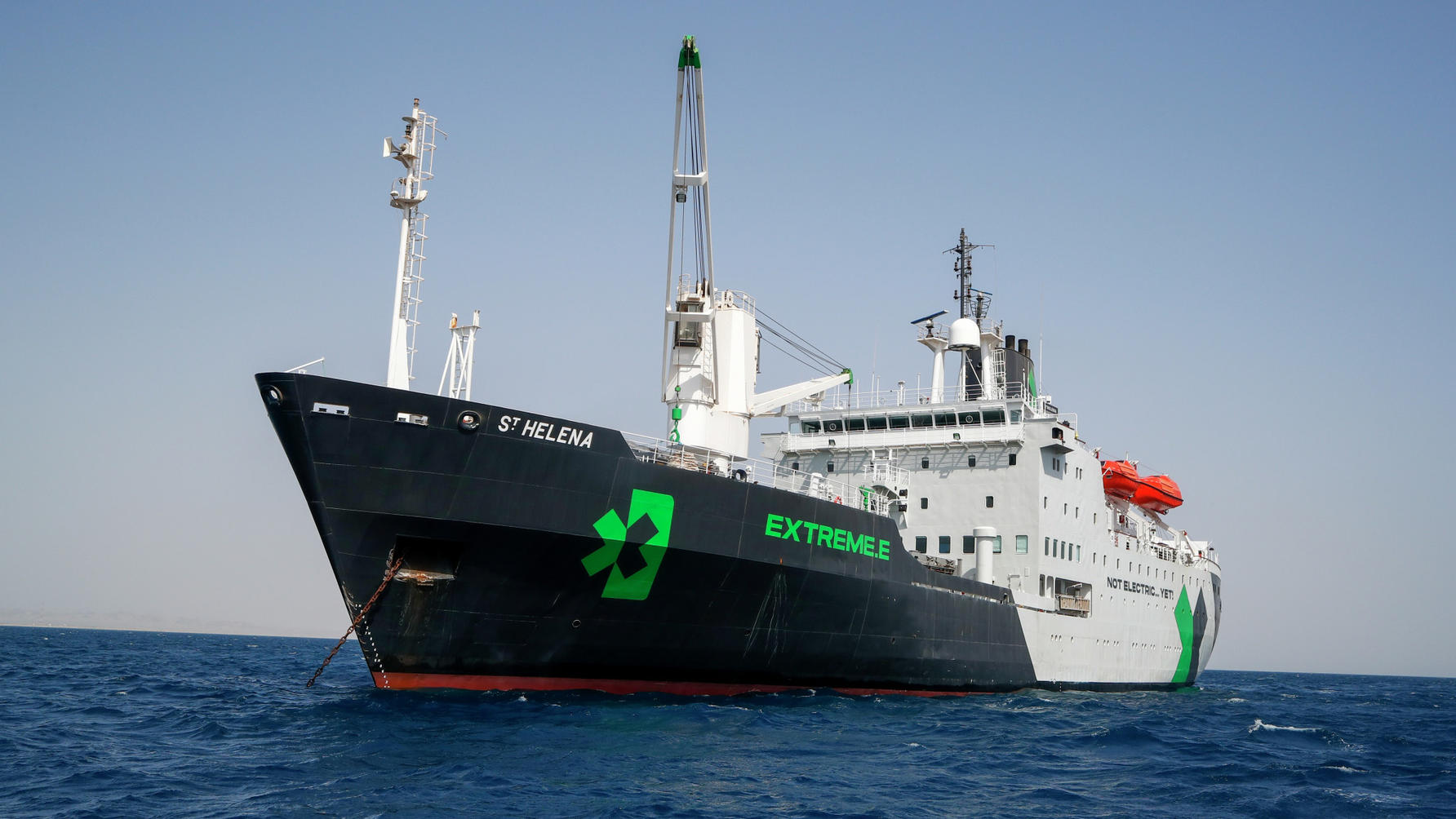 But that's just one element. How sustainable is the infrastructure around the race? And the contributors? And all the logistics? Given Extreme E is trying to shine the light on others, surely it will be aware that some of that light will reflect back on itself at some point? We didn't get any answers to that. Just that the EV buggies use a hydrogen-fuelled charging station. But what about the V8s lugging people to the hospitality? And what's powering the fridges to keep the drinks cool in the hospitality? 
Over the weekend there was very little in the way of actual facts and justification for them "leaving the place better than when they arrived". It doesn't take much digging to find that a lot of sustainability can easily be offset with greenwashing hyperbole, carbon credits and incentives. A lot of this is often a load of bullsh*t and loopholes anyway, so how clean will Extreme E actually be? There are just too many visual contradictions and old-school environmental baddies on show that I can't compute Extreme E being as clean and 'good' as its preaching material stipulates. We need numbers and comparisons. 
Finally, in an era where unnecessary travel has been put under a microscope, mooring up in dubious states like Saudi before setting sail to Patagonia, then floating over to the polar bears to partake in what could be seen as cocking around in cars can appear a bit… wrong. And is the action we witnessed this weekend necessary that far away? You can get racing like that by putting those EVs and drivers around Lydden Hill. And if they wanted to do a beach clean-up to educate 20 selfie-taking, clout chasing racing drivers that throwing their Yakult in the recycling bin is better than the sea, surely they could do it down the road in Ramsgate? Then show the global problem with visuals and the beardy scientists they have on hand. 
Now, I love racing. And really love cocking around in cars over cool terrain – especially off-road buggies. I've been to the Dakar, competed in the classic Baja 1000 and driven Steven McQueen's Baja Boot. But given that Stage 11 of this year's Dakar was held exactly where Extreme E was racing this weekend, I'm intrigued at how much dirtier that event was in comparison when everything is taken into account.
And who is actually keeping count of such things? And how can it be audited? Why doesn't the Dakar just incorporate an educational aspect and some time for Carlos Sainz to take a bin bag to the shores of the Red Sea? Rather than sending two motorsport events to the same place within the space of three months. That doesn't sound very 'clean' to me.
The whole championship needs to be open and combat questions rather than glaze over them
Advertisement - Page continues below
From where I'm sat, Extreme E needs to be less 'suss' (as the 13-year-old kids who really care about this stuff would say). The whole championship needs to be open about everything and combat the questions rather than glaze over them. They need to confront the critics like me and prove me wrong.
 
I also can't help but think that Extreme E boss Alejandro Agag has some ulterior motive. I don't know what it is, but he's a man who seems too interested in commercial and marketing success to be some holier-than-thou environmental activist and force for good. He's more Alan Sugar than Greta, that's for sure. If not, why didn't he see Formula E through if he was such a campaigner? And how much money did he make off it?
 
All weekend the education side they were so forcefully promoting appeared to be inclusive to the drivers only. And we were told frequently from the commentators that the landscape was "stunning" and "incredible". Aren't these meant to be the wastelands of greed from years of pillaging the planet? And it's not just the language that could be improved, but also the racing.
 
That was hardly ground-breaking. The tight racing we saw to the first corner (before everyone was caught in a blinding cloud of dust) wasn't anything new. Excitement has always come from competition; whether you're in a running race in the school playground or sinking a pint against a mate. So we shouldn't be applauding the tight racing we saw from evenly matched cars with some of the world's best drivers in them.
 
And it doesn't matter if your car is powered by a thirsty internal combustion engine or an EV put together with recycled sequins and dreams, crashes do big numbers and get headlines – so they can't say that Claudia Hürtgen's somersaults on day one, then her collision with Chip Ganassi Racing's Kyle Leduc, was Extreme E's invention. And it didn't take long for the sexist comments to start sprouting forth from the internet. Where was Extreme E to confront and help educate the audience on that?
 
To me, the key to Extreme E's success is creating a new, sustainable racing infrastructure – so that's what we should be judging it on and whether this weekend was a success… and I don't think it was. For the casual observer, there are too many unanswered questions. Hopefully they'll be answered in rounds to come. If not, they certainly will be by my colleague Jason Barlow, who has been on the St Helena for the last week and was on the ground in Saudi. You can read his thoughts here.
 
But what did you think of Extreme E and the race this weekend? Let us know in the comments below.
Top Gear
Newsletter
Thank you for subscribing to our newsletter. Look out for your regular round-up of news, reviews and offers in your inbox.
Get all the latest news, reviews and exclusives, direct to your inbox.